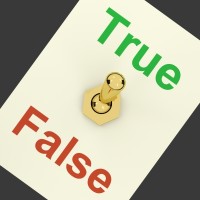 Many people have the wrong perception of what being a freelancer and working from home actually means. I think it's completely wrong to see freelance work as something temporary or as a desperate way out of the financial crisis. Let me draw your attention to the 5 most common myths about being a freelancer.
Myth #1: You cannot earn enough money being a freelancer
Often an independent consultant would make more money as a freelancer than on a regular 9-to-5 job. How come? Well, as a freelance consultant, you are hired for your services from time to time and the lack of continuity or stable workflow from the same client is often compensated by the higher flat rates that client is willing to pay. If you are a full-time employee, you have your set working hours and salary regardless the work you actually do – here it's to the contrary so the more you work, the more money you make – your choice how much you will work and make.
Myth #2: Only people who cannot find a job become freelancers
If you are working from home, chances are you don't have colleagues to ask for help or to cover for you if you cannot do your own job. To be successful as a freelancer, you need to have experience; you need to be a proven expert in your field – otherwise, you won't be able to do your work – if the quality of your work is poor, your reputation will suffer, and you won't succeed as a freelancer.
Being a freelancer is a matter of choice (and some bravery even!). Not only it isn't true that people who cannot find a job become freelancers; to the contrary – only good professionals who are sick of having incompetent bosses and being told what to do can excel at being freelancers 😉
Myth #3: You don't need any self-traits to be a successful freelancer
Not everyone is cut out to succeed as a freelancer. You need to be organized, to take initiative but also to follow instructions if/when needed. You need to be flexible, decisive and with excellent communication skills so that you can work with different people from various countries and cultures. And finally, you must be good at time planning and time management or you won't get awarded any projects.
Myth #4: You don't need to look for a job – work finds you
As in every business, here as well you need good marketing. Every freelancer needs to know how to sell their services and themselves. We talked about the freelance profile as a key to our success. What else? Tell your friends that you are a freelancer – they might recommend you to someone who needs your services. Share your profile on social media – people live on Facebook and Twitter these days! Register to forums and blogs in your niche of expertise. Be proactive on those platforms – only this way you will be noticed.
One day, work will find you but until that day comes, you will have to do your own legwork – every starting freelancer does it to succeed 😉
Myth #5: Being a freelancer brings in quick and easy money
The money you'll earn as a freelancer, especially in the beginning, would be neither quick, nor easy. To succeed as a freelancer, you have to be patient and determined, to believe in your skills and capabilities. In due time (weeks, maybe even months) this self-motivation and confidence will pay you back in the form of high hourly and flat rates and excellent reputation.
Let me make a small side note though –
these statements are myths only if you are planning to make a living as a freelancer. If you are after a few bucks in your free time and plan to click on advertisements for a few cents every day after work – maybe those are not myths; but you won't be a true freelancer either 😉
Your turn – what other myths about being a freelancer you could add to this list?