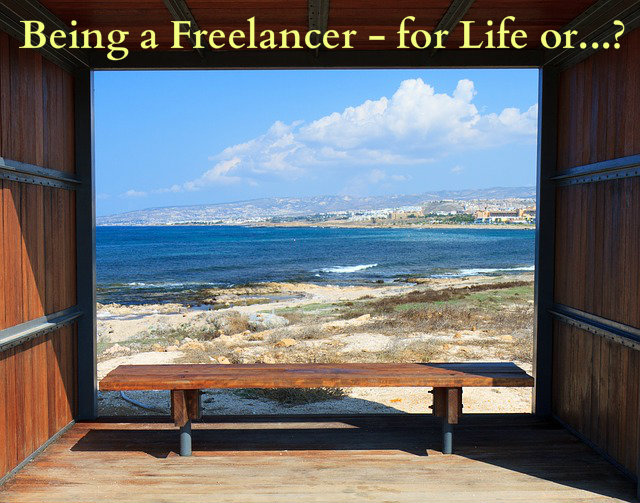 If you read the blog regularly, you already know that freelance for me is not just a job or a career path; it's a way of life. I have principles which I stand by as well as requirements for both clients and freelance projects I take on. Being in control of my time is crucially important for me.
So you can imagine how I felt when a reader sent me a note not long ago stating it's not true being a freelancer brings you freedom. I paused – did she really call me a liar?  😀
It's good that I don't judge too quickly –we exchanged a couple of emails and I found out what she really meant had nothing to do with the control over your time and the freedom per se. It had to do everything with financial independence.
Yes, freelancing can lead to both personal and financial independence but without passive income that freedom is not quite real – you still have to work for the money you get.
So that's today's question – freelance, but for how long?
There is no retirement age in freelancing. You can retire like everybody else – or work until your last day on earth.
You won't be forced to retire based on your age and if your mind is sharp, your clients might not even know you are 97 years old 😉 Or you can retire and turn freelancing into a hobby. Or not work at all, ever.
For the latter though, you'd need passive income. If you don't want to freelance for life, start today with small steps in that passive income direction…
Get out of the here and now!
Do not focus on the immediate job at hand. Focusing on the next deadline, searching for the next project, closing the next deal – these tasks, combined with your actual work drain your strength and prevent you from breaking free from the vicious cycle.
Plan your future – on a monthly and annual basis! To name a few ways you can do that:
Build relationships with loyal and repeat clients
Adjust your freelance prices accordingly when your skills improve or your role in the project becomes more significant
Develop a network of satisfied clients who actively recommend you to their partners and colleagues
Keep in touch with fellow freelancers with whom you have worked successfully – they may need professionals like you in their next project.
This attitude will help you move away from the "here and now" focus and look more globally at your work and life.
If you don't plan on being a freelancer for life, set long-term goals!
How much are you earning now? How much do you set aside? Do you invest? When do you want to stop working? How much money will you need to do that? What do you want to do and how much would it cost? What do you need to change or improve in your actions to achieve the desired long-term goals?
Even if the long-term goals seem tough or too optimistic, the answers to these questions will make you think about them. You will lay the foundations of an "exit strategy", which would guide you towards even greater freedom and independence.
If you don't want to freelance until your last day, set some money aside!
As a successful freelancer you will earn enough money to cover your monthly expenses, plus some entertainment and leisure items, travelling and whatnot… and you will have plenty of money left! Begin to set money aside. It's up to you if you'll set a flat sum or a percentage of your earnings as long as you do it consistently.
You won't really miss those $100 every week but in 1 month, those would be $400. In one year those would be $4800. In 10 years you would have already saved yourself $48K. And that's if you just keep it under your mattress with no interest whatsoever.
Put that money where you can't spend it frivolously because you had a bad day. Open a savings account. Take out a life insurance policy. Invest in property, or develop your MLM business: it doesn't matter. The important thing is to invest a certain portion or a percentage of the money you earn in that "fund for your future".
Do not forget your long-term goals, they are the motivational fuel for your work today and for saving these funds, right? With the right attitude and a bit of creativity, being a freelancer will be an enjoyable, profitable and secure way to ensure a wonderful life after freelance 😀
And what would you add to "the tricks" of planning for your life after freelance?