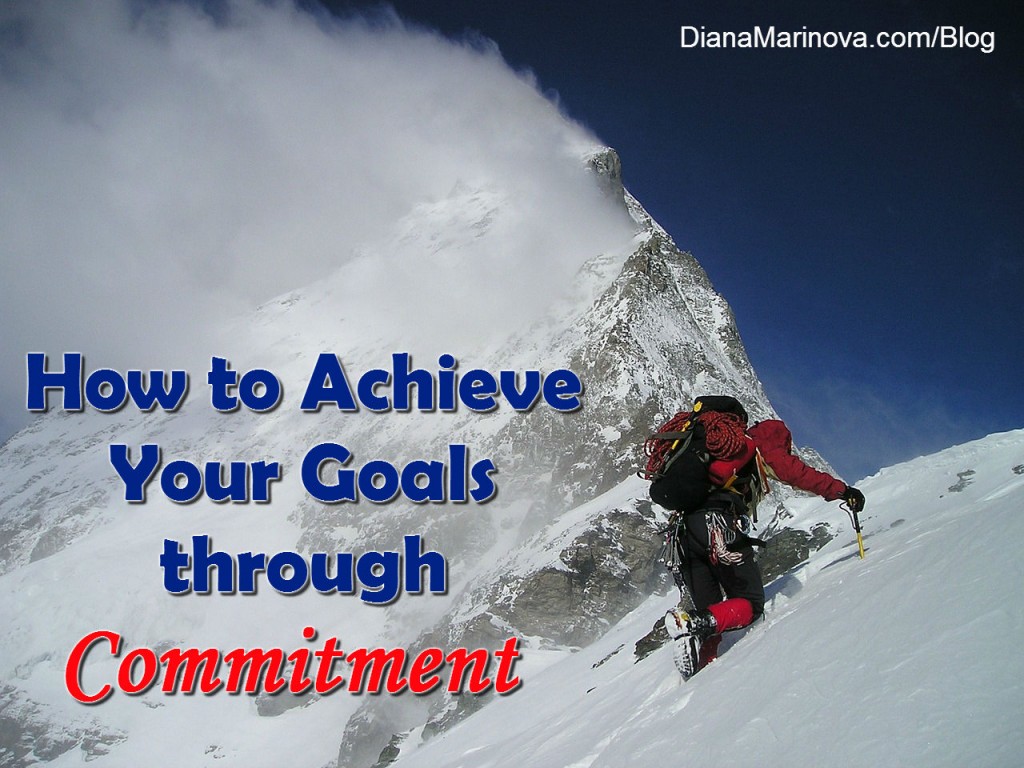 If you want to make any real progress in whatever it is that you do, you already know setting SMART goals is your first step. However, too many people fall short on actually achieving those goals because (they think) they lack time, fail to stay motivated, can't visualize the benefits they would have once a goal is reached, etc.
So today's post is aimed at helping you achieve your goals through commitment. Be sure to read until the end to find out a great resource to guide you through the whole committing process to your freelance success.
What does commit mean?
If you open Merriam-Webster online dictionary, you will see several definitions of the word "commit". In the context of this post and your goals as a freelancer, it is "to pledge or assign to some particular course or use".
Being a freelancer, you are probably quite familiar with the idea of committing. It has a lot to do with determination – one of the qualities you need to succeed as a freelancer, remember?
However, it is one thing to commit to land that new client you like and it is a totally different story when you need to commit to growing your freelance income from zero to $5K per month by the end of the calendar year by acquiring 20 new clients on oDesk and retaining at least 5 of them in the long-run. (Yes, this is a SMART goal. You can use it if you like it ;-))
Both goals require your commitment but the first is relatively easy to do.
You have to focus on that one client and do the impossible to get their attention and help them bring their business to the next level. You will reap the benefits of your commitment relatively soon – get paid more money the moment that new client awards their project to you, feel instant gratification when that new client says YES to your proposal, obtain a new testimonial and recommendation to add to your website or LinkedIn profile upon successful completion of the project, put-here-whatever-you-feel-once-you-acquire-that-new-client.
On the other hand, achieving the said SMART goal can be overwhelming. If nothing else, you have to work toward that goal for months. There is no guarantee you will achieve it. You don't know yet what exactly you'll have to do to reach it.
You will probably have to sacrifice some things, like less time watching your favorite TV show, or fewer girls or boys nights out with friends. And when the reward is so far out of sight (a few months can feel like a very long time) – you are more often tempted to take shortcuts or to postpone your action.
It just happens so that I found a great solution to keep you motivated and committed to achieving your SMART goals – it's called Commit: How to Blast Through Problems & Reach Your Goals Through Massive Action. 
Commit – the book
I must admit – it's been almost two months since Linda Formichelli, the author of The Renegade Writer blog, sent me her book and I put the topic about committing on my blog editorial calendar. It's ironic that it took me so long to commit to write about committing 😀
I started reading Linda's book in February. Then life got in the way and I only remembered about it today. So I finished it and I gotta tell you, it's worth it every minute. It gives you structure and a super methodical guide how to attack a problem to solve it for good or how to approach a goal to achieve it in the said time frame.
It walks you beautifully though all stages – preparing to commit, making (hard) choices, tactics to use to achieve your goal or solve your problem, and let's not forget – how to keep yourself motivated during the process.
I had to reverse my perspective. Twice.
You know how I always recommend breaking up big tasks into smaller chunks so that they are more manageable; or making small steps every day and consistently so that you don't overwhelm yourself. Naturally, I have always thought the same approach works fine for achieving your goals, too.
It turns out Linda's approach works better. It seemed kinda reversed at first. Her definition of committing is "overwhelming your problem or blasting toward your goal, using every ounce of energy, resources and knowledge you have". Slow and steady doesn't win the race – you have to be all in.
And when I read through the book, silently being skeptical about the whole massive action approach, it all started to make sense.
Making small steps every day will help you not be overwhelmed, right? So it is only logical to throw everything at your problem or goal so that it is overwhelmed, not you.
And if you are thinking right now, "Yes, right, I will overwhelm the problem, alright, but wouldn't that overwhelm me as well?" Not at all – to the contrary.
The commit approach Linda suggests will give explosive fast results, boost your motivation, automate your goals and make you feel good about yourself.
Biggest takeaway for me – commit first, work out the details later.
This was anti-intuitive for me and it marks the second time I had to reverse my perspective.
I am a planning freak. So much that I often fall victim of my perfectionism. I sometimes get lost in planning and never take action. So naturally, I was ecstatic to see that Linda talks about that in the book, too.
Here's a quote I wrote down (that's how much I liked this section):
"And even before seeing success, the momentum of standing super strong will push you through that initial resistance many of us feel when we start a new project."
That's right – motivation comes with action, not the other way around. If you wait to be inspired to take action (as I often do), you may very well spend all your time planning and never start implementing your plan.
By making the first step and throwing all your resources at the problem or goal, you will start a chain of events which will inevitably bring you inspiration and motivation you so much need to succeed. But you must commit first, figure out the details later.
Linda gives a superb methodical guide how to commit to achieving your goals.
She has included many tactics, which may or may not apply to you, depending on your personality and specific situation. But don't worry – she does you one better. Linda doesn't tell you what to do; she helps you build your own commit plan to succeed.
In the end of each chapter, she has included some things for you to do – let's call it "a commit journal". She walks you through each stage of the committing process and if you follow her advice diligently and write down things in your commit journal, your plan to achieving your goal will shape up nicely even before you have read the whole book.
Seriously – this book is the only thing you need to learn how to commit and achieve your goals.
Linda includes personal stories and examples how she used this tactic many times to succeed with both personal and professional problems and goals. I also tested it with a personal goal.
I didn't pay much attention to my heath (more specifically, physical exercise) when I was starting as a freelancer. As a result, I have wanted to get rid of some extra weight for ages. So I set a goal to lose 20 kg by the end of May. (This is a ridiculously high goal for me – I have not been in such a good shape since high-school!)
In February, I had gone through the first few chapters of the book and diligently populated my commit journal. Although I had not finished the book yet, I could already see the commit approach is working – I am 5 kg. down in a month and a half. It's good I finished the book now because it's time to find a way to stay motivated and lose those 15 kilograms left to achieving my goal.
I sure will be testing the commit approach following Linda's guide for professional goals – promoting my first book, building an email course, reviving an old site of mine and making our latest startup successful. I bet you will be hearing more from me about this book and putting its tips into action.
Are you ready to commit? Buy Linda's book on Amazon.
It's super easy to commit by following the guidelines in this book. It is all in your hands now – you choose what to do. Commit and you'll succeed 😀