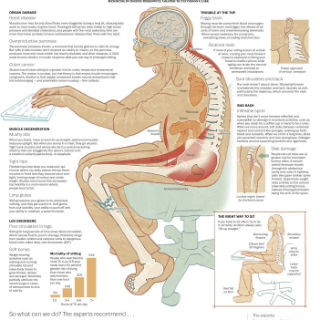 Not long ago I blogged about the occupational hazards of freelancers. Today I'd like to add one more to that list – lack of exercise and excessive (improper) sitting.
I know what you're thinking… "Right, I am desperately trying to find clients and a way to get money to pay my rent, she's nagging me about my sitting. As if I don't have bigger problems?!"
I thought that, too!
Don't underestimate the lack of exercise!
I have never been the one to go to the gym every other day taking good care of my physical shape. However, before I started my freelance career, I walked to the office and back every day. These were 5 to 7 km on a daily basis, Mon through Fri, no exception. (For my American readers, Google says it converts to 3-4 miles per day.) And if I went out with friends after work or went on a picnic over the weekend, the mileage was even higher.
Right before I started freelancing, I was a hostess/waitress in a hotel-restaurant for one summer in Greece. You can imagine how much exercise working was back then. 😉
In other words, I was in relatively good shape when I decided to work from home.
I started my freelance career in the autumn. Soon after, it started snowing, it was cold… I didn't have anywhere to be, neither did I have much money, so I simply stayed mostly at home for a while.
I gained 5 kilograms for less than 2 months! (This is 11 pounds, if you're wondering…)
Who would've thought I'd miss walking to the office and back so much, right? 😉
I didn't think about this then. I had so many other and more important things to do – make money to pay my rent, pitch that new client, land that other gig, calculate my price for yet another project I am trying to get – you know, important stuff!
Today, 5 years later, I eat better and I move more, but I am still trying to shed that additional weight I gained in my first 2 months as a freelancer.
Bottom line – no matter how much work you have, what your problems are as a starting or experienced freelancer, get out and move at least once per day.
Walk your dog, run with your kids, ride your bike or just walk around the neighborhood. You'll thank yourself later that you didn't sit around at home all day every day.
(If you already regularly go to the gym or practice a sport, that's cool – do that!)
And if you are still on the fence about the importance of moving and not sitting around all day every day, here's an inforgaphic I found on Lifehack about the dangers of excessive (improper) sitting!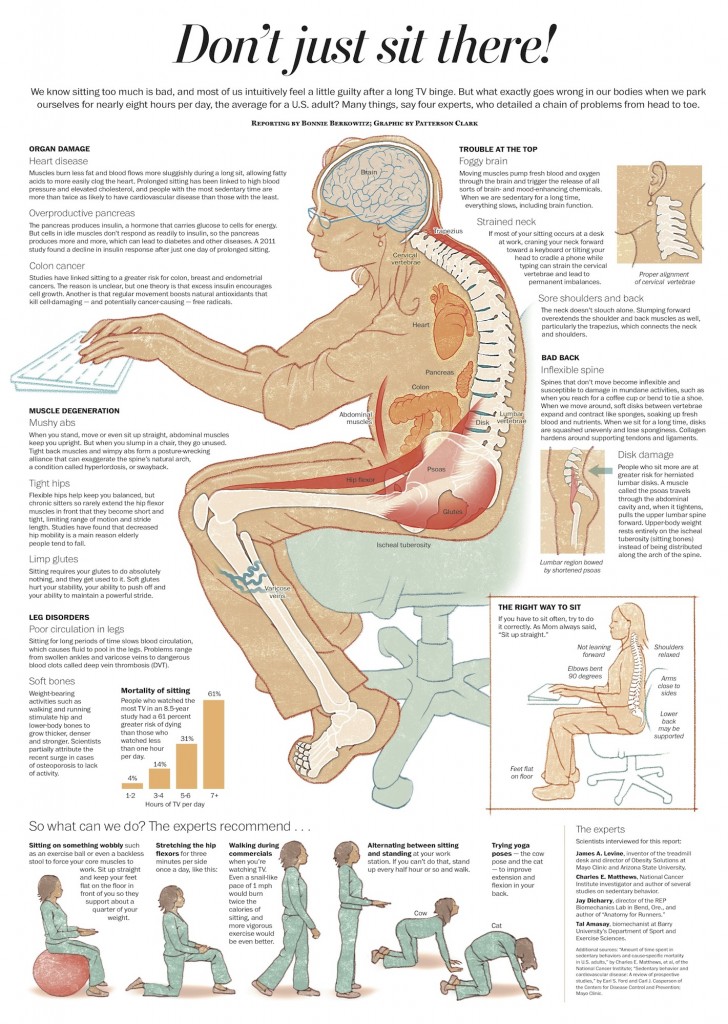 Find the original infographic and the post that goes with it here.