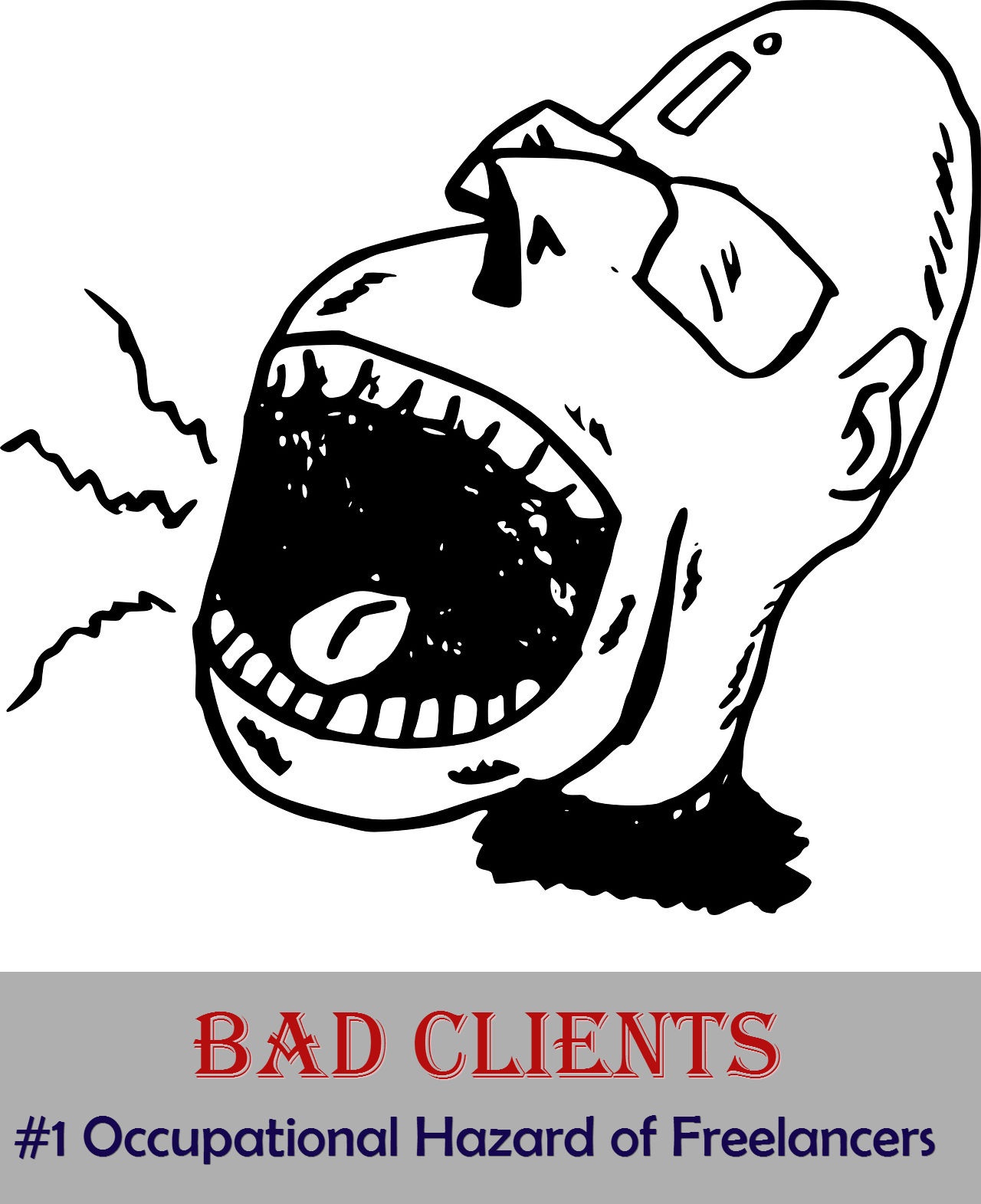 Most freelancers work entirely online and from home. Although we are not at the same risks as firemen, police officers or even bank tellers and store cashiers (armed robberies happen more often these days!), we still have occupational hazards such as bad clients, lack of work, too much work, and alike. Today, I'll talk about top 5 occupational hazards of freelancers the way I have seen them during the past 5 years or so of my freelance practice.
Bad clients are the top occupational hazard of freelancers.
Bad clients are a freelancer's nightmare come true. Every freelancer should learn to spot bad clients as early in their career as possible, so that they enjoy their practice. Here are a few types of bad clients you should stay away from:
Clients who don't pay on time (or at all)
Clients with poor communication skills who turn the collaboration in a full-time nightmare; beware – poor communication by the client may cause the freelancer to question their own integrity and intellectual capabilities
Clients who don't know what they want and poison the working relationship with constant complaining, unreasonable last-minute changes, etc.
Micro-managing clients or control-freaks who want you to account for every second spent working on their project – they want you to be at their disposal 24/7, require constant reporting and don't really respect your free time or ability to plan your work
Egocentric clients who always know everything best; they even think they can do your job better than you; they believe that whatever you do, it will never be top-notch and it will definitely not cost as much money as you want for it
Check out an old post of mine about spotting bad clients – make sure you read the comments section as well, as there was some good advice from my readers' community, too!
Bad projects are the next occupational hazard of freelancers in today's list.
I call these "bad projects" not so much because the projects themselves are bad or irrelevant to your professional skills, but because the projects' requirements and payout doesn't really fit your own interests and expectations. Here are a few examples of so-called bad projects:
You have taken on a short-term project with relatively low payout – part of your glory work strategy. However, you find out eventually that the project is long-term and you are now forced to do a lot of work with high quality at a far lower price than you think you deserve.
You have accepted a blog post writing project but you failed to agree in advance on the time-table of the blog posts assignments – will there be an editorial calendar to follow? Will writing briefs accompany the blog post topics? How many edits does the price per post include? What's the turn-around time of a blog post? And so on. As a result, you have an interesting project with great potential but with so many unknowns that you can't plan your time in advance; you can't really write when you have time or inspiration, or both. Instead, you are at the edge of your seat every day, wondering if you will get a new blog post assignment and if you will be able to keep its deadline.
You have been awarded a very interesting project with excellent pay rate, but! 2 weeks in the project you notice the client is very busy; the communication is very slow, often unclear; the team structure and workflow is very cumbersome, etc. In short, the project is very interesting but you can't really do your job because you depend on too many people who are not clear on what they need to do. What's even worse – you often get mixed signals and contradictory feedback from various team members about edits that are needed.
These are just a few examples of bad projects and I am sure you can list more of them, depending on the specifics of your work, personal qualities and other factors. Please, add some examples from your practice in the comments 😉
Lack of work or not enough workload is another occupational hazard of the freelancer.
Many freelancers report business getting slow in summer months. Check out this post for ideas what to do then.
Also, many are afraid to leave their cubicle and become freelancers because they don't know how they'll handle the lack of work when monthly bills are due.
With time and practice, every freelancer learns how to handle themselves when business is slow. Better yet, successful freelancers plan their business in such a way, that they never have to really feel negative effects of decreased workload.
For example, you can work on a few ongoing long-term projects with small weekly workload, so that you have income even in slow months. You can build a client's waiting list, so to speak, so that you always have work in the pipeline. Also, you can find alternative income sources (small but consistent – e.g. advertising, affiliate sales, etc.)
Nevertheless, the lack of work is a real risk freelancers face at one point and you should consider this and have a contingency plan when deciding whether to be a freelancer and how to go about it.
Too much work is yet another occupational hazard of freelancers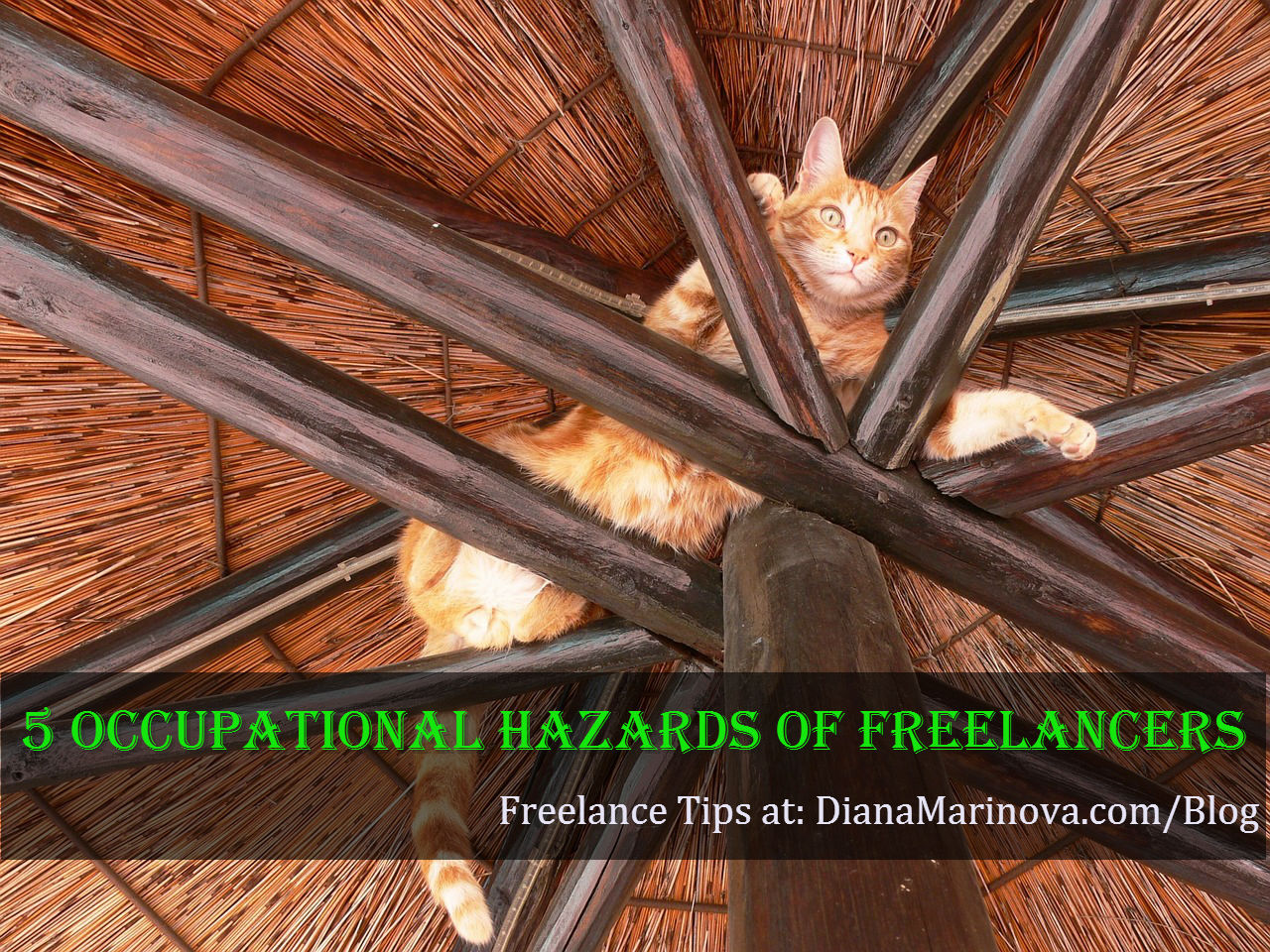 This is the other side of the coin. After you have spent countless hours reaching out to clients and sending hundreds of cover letters to no avail, the time comes when you land every project you want and get tens of invites on a weekly basis. This was one of the phases in the freelance cycle I blogged about a while back.
Be careful not to say YES to too many proposals – you don't want to end up working for clients 60+ hours a week, right? After all, most of us became freelancers to have control over our time, to earn more while working less; to find and maintain work-life balance.
60-80 working hours per week hardly qualifies as the dream freelance life but it is one of the occupational hazards a starting freelancer could face. If you have not yet developed good time management skills and don't yet estimate rightly the time needed to complete a task, you can easily overestimate your ability and take on more projects than you can complete in a healthy manner.
And finally, (the lack of) security and social life – the worst of all occupational hazards of freelancers, or so I hear 😀
If you are wondering why 'the lack of' is in brackets – wonder no more. Because I simply don't agree with this popular myth about freelancing.
Many consider being a freelancer an insecure career choice – and they are right to some extend:
You have to find your own clients and work
You don't have a salary which is due in the end of the month, regardless what you have done during the month or how much work you have really completed
In most cases, you don't have a paid leave and you need to make sure you have enough money to pay for the holiday and make it through the coming weeks upon your return (you know, when you were on a holiday, you didn't earn any money!)
You are planning your own time and if you make a mistake or miss a deadline, it is you who bear the consequences (a bad review, a lost client, etc.) – you don't have a boss or a colleague to take responsibility for you
As a freelancer you are prone to all occupational hazards I talk about in today's post – you are the one to find a way to deal with them (and any other problem you might have along the way)
Many consider being a freelancer a lonely endeavor, too. Depending on your point of view, it might be true:
You don't have colleagues with whom to share your desk – and if you are used to make friends only at your work place, social isolation can be a challenge for you
You often have free time in the middle of the day or the middle of the week – time, when most of your friends are busy at their day jobs. As a result, you don't have anyone with whom to have a cup of coffee at 3 pm on a Wednesday
During your working hours, you actually work instead of wasting time around the water cooler with your colleagues every round hour
So, all of these may be true for some but they are not necessarily true for everyone. It is totally up to you if you will be socially isolated or financially insecure…
Check out my posts about social isolation and financial security for freelancers – why both are well within your reach if you put your mind to it.
For the last 5 years that I have been a freelancer, I feel better secured when working with clients all around the world, as opposed to having a single employer in Bulgaria. Also, my social life is richer. I meet like-minded people based on our shared interests and not forced by workplace circumstances. I have time and energy for hobbies. I travel more which in turns leads to more free time and opportunities for cultural experiences. Is it the same for you?
What occupational hazards of freelancers would you add to this list?