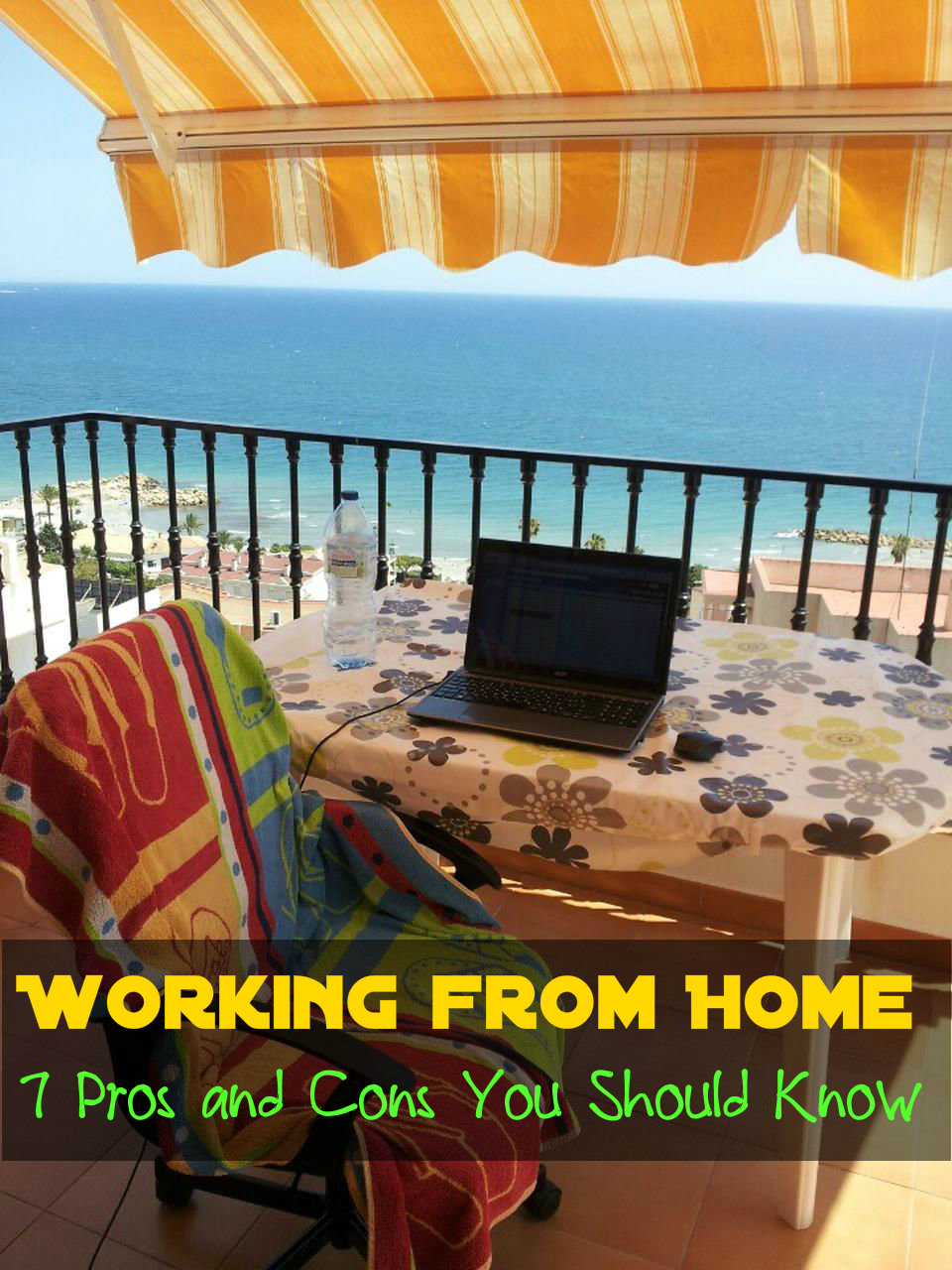 Before I start with the working from home pros and cons, let me make a note – this post is about working from home as a freelancer. They may or may not be true for telecommuting employees who have flexible working hours or work from home. Read on.
Recently I find many people question the whole idea of being a freelancer for odd reasons – like social isolation, or crazy working hours, or fast and famine cycle which is supposedly a characteristic of every freelancer's life (which it isn't)… I once blogged about some popular myths about freelancing – so today I'll build on that and shed some light on 7 pros and cons as I see them.
#1 When working from home, I have the freedom to plan my own time
Since I started freelancing, I find myself with more time for my family, friends, hobbies, and basically – anything and everything I want. Furthermore, I am not wasting my time in commuting to the office or spending hours in traffic jams.
I am not forced to follow somebody else's work schedule. I choose when it is best for me to work or play. This allows me to work whenever I am most productive, when there's nobody else at home, when the neighbors are gone, and so on.
This can be a different time for each of us. It can even be a different time in the day every day. But that's the beauty of working from home – the freelancer is in charge; we decide when to work and on what to work.
#2 I can follow my inspiration whenever it hits me
As a freelancer and a blogger, I often need inspiration – to write new posts, to work on new campaigns, to create copy for new products, and so on. But we all know there's no ON and OFF button for inspiration. You either feel inspired, or you don't.
I have worked in an office at a regular 9-to-5 job for almost 10 years. During those years I felt inspired to write something only once… I had spent 3 days thinking about an article I had to write for a magazine (part of my day job) and I couldn't – I had no inspiration.
One night inspiration finally hit me – but it was in the middle of the night and I was really worried I won't be able to wake up the next morning to go to work on time. So I let the inspiration fade away while I was falling asleep.
I did write the article, eventually – but I am sure it wasn't as good as it would have been, should have I followed my inspiration that one night.
If I look back, during the past few years since I'm working from home – inspiration finds me at night quite often. Just last week I wrote a first draft of a book which I had not even planned before. It just came to me one night so I got up and started writing. I wrote all night. And then the next night, and the next night. Until I finished it in less than a week – I didn't even know this was possible 😀 (If you're curious, you'll be hearing about this book early 2015.)
What I am saying is – since I started freelancing, my mind is open for ideas and I am ready to follow those ideas no matter when they come. This is a great pro of working from home for me. Just be careful not to lose track – keeping work-life balance is important and you should not stay up all night every night. It's not good for you, nor for your writing 😉
#3 When working from home, I can make sure I have variety in my work
I never liked re-doing my work only because my boss was not in the mood for a positive piece. I never liked re-doing my co-workers' work either. And I sure didn't like manually keeping track of all the calls I made in a day because accounting was trying to determine who's to blame for such a big phone bill.
As a freelancer, I no longer need to do any of it. I choose what projects to work on and with whom to work on them.
I don't like a prospect? No problem – I don't take them as a client. I don't like a product? No problem – I don't take on the marketing project the client offers me. I don't like the project manager of that client's project? No problem – I decline the project and never have to deal with that person again.
When working from home as a freelancer, I really have the freedom to choose with whom I work and on what projects. Those of you who are still fighting for their first contract probably cannot really understand this freedom to choose, but trust me – it exists. Freedom to choose is one of the main differences between being an employee and being a freelancer. The earlier you learn to appreciate it and manage it – the better.
#4 As a freelancer, I am able to travel more and frequently
For this you need to be a traveler by heart but I am, so it made it to the top of my working from home pros list 😉
But even if you are not a traveler by heart, the same principle applies to whatever your passion is – you will be able to see more movies at home, or hang out at the mall to watch people go about their lives, to ride a bike in the mountains, to sunbathe on the beach, or anything else you feel like.
My point is – once you master the art of managing your time well, you will have more than enough time for work and play alike. And if it is not a problem for you to work away from the comfort of your designated home office, you can grab your laptop and start traveling the world while still making money as a freelancer. But I digress. 😀
#5 When working from home, I can eat well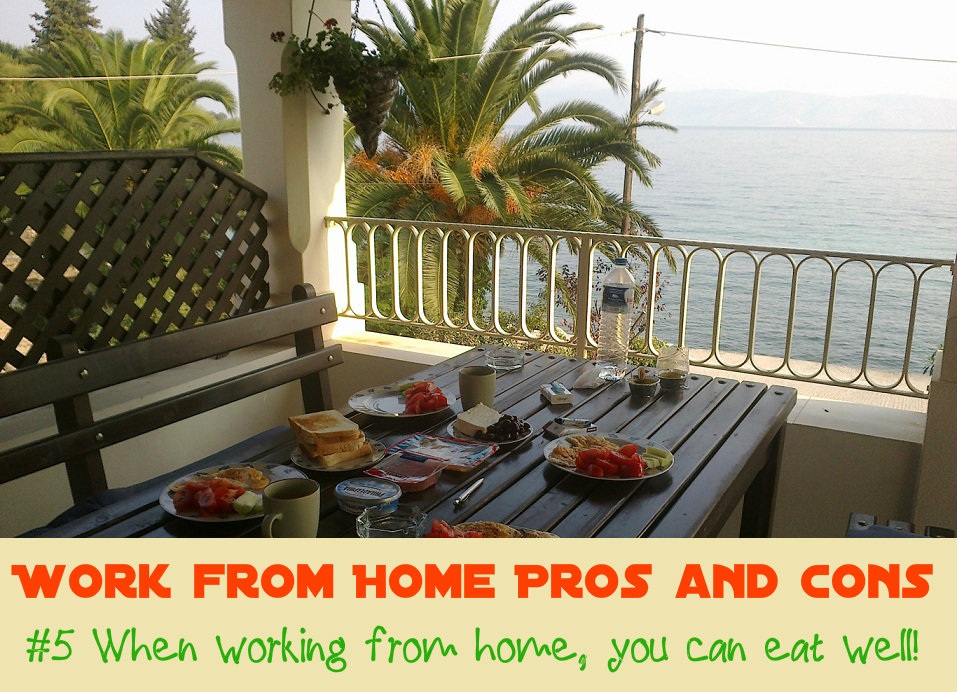 Gone are the days when I had only 5 minutes to grab a bite for lunch and that would be a slice of pizza because the only available food place nearby was PizzaHut.
When working from home, my stress levels are drastically reduced as well – so I no longer need to have 10 coffees every day only to go through the day.
To the contrary – I can prepare myself a breakfast for champions, cook for lunch and dinner, if I feel like it… In short – I can take a good care of myself or at least eat healthy.
#6 When working from home, watch out for the trap of physical inactivity
Now I know one of the biggest risks of being a freelancer is spending too much time at home and the lack of physical activity as a result. Not for everyone, of course… If you are used to going to the gym 3 times a week, probably working from home won't change this habit.
However, if your exercise for the day was 1 hour walking to the office and back, and climbing up those 3 floors of stairs to your 'cubicle' in the business building – watch out. Before you have the chance to figure out how much you miss that walk to the office and back, it will be a-few-extra-pounds late 😀
When I started working from home everything was so convenient for me that I neglected myself. It was winter, we had a lot of snow, it was cold and I didn't really have anywhere to go so I stayed mostly home. As a result, I gained some weight because I didn't have the habit to exercise. I am one of those people who like walking to the office for an hour 😉
Anyways, fast forward to today, I finally have the time not only to exercise but to actually enjoy it. My advice is you start doing it too – from day 1. Remember you have the freedom to plan your time as you like – just make sure you block a time slot for outdoors activities, every day, be it a walk in the park, time with your bike, swimming or whatever else you like doing. Your body will thank you.
#7 I bet you've heard about social isolation when you work from home.
It's true – sort of.
I disagree with the popular believe that when you work from home, you become socially isolated due to the lack of colleagues at the desk next to yours. This is a pro, if you ask me 😉
But another type of social isolation really may be a problem for you if you work from home. For example, it's 2 pm on a Wednesday and you feel like walking in the park. But all your friends are at their day jobs so you have to go on that walk alone.
Another example – you get an irresistible last-minute offer. They are practically paying you to go on a vacation – but get that! You should go on Wednesday and Thursday. Now, as we established, all your friends are at work during the week so you either don't go on that unforeseen vacation or you do it on your own.
I hope you have found yourself a soul-mate with flexible working hours and a few good friends who are freelancers like yourself. Otherwise, you may end up going on vacations all alone or in the busiest months when the entire touristic crowd hangs out.
(If you haven't found freelance friends, don't despair – there are plenty of ways to do that – I see another blog post being born as we speak!)
These are my top 7 working from home pros and cons – what are yours?