I used Google Tasks heavily a few years ago. Then I moved on to using more complex project management tools (more on this in the coming weeks!). However, if you heard of Google Calendar when I blogged about it and not earlier, maybe the Google Task manager is what you need as next step to bettering your time management. Read on.
Where to find Google Tasks
When you open your Google calendar, to its left, you see:
a calendar
a list of "My Calendars" and
a list of "Other Calendars"
Under the list with "my calendars", you will also see your Google Tasks. Click on the icon and the Google task manager will appear to the right side of your calendar.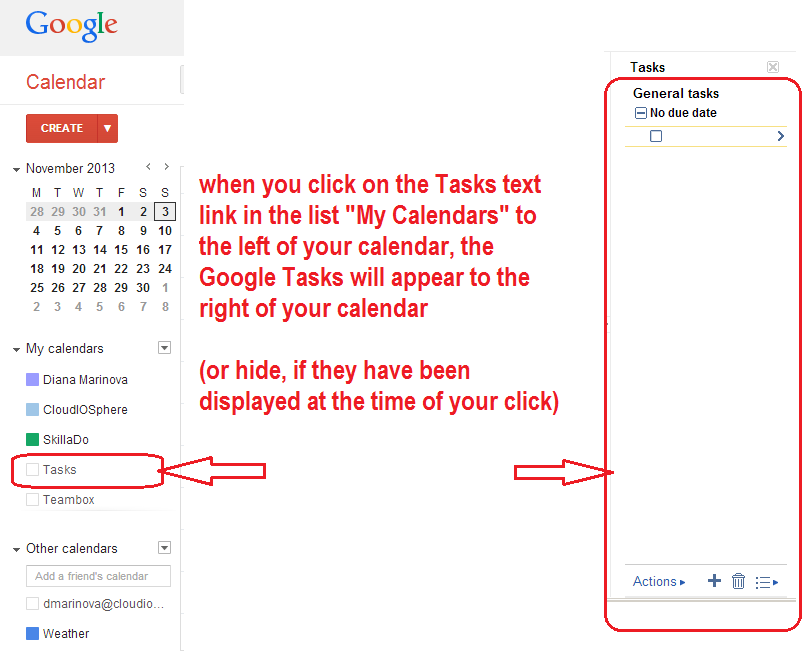 Note that if the Google tasks are visible, a click on the Tasks from the left sidebar will hide the task manager.
How to manage your Google tasks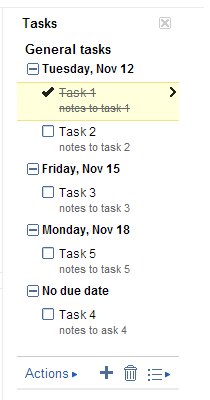 For the purposes of this post, I have added 10 dummy tasks from 1 through 10 and have created 3 task lists – General tasks, Task List 1 and Task list 2. Here are a few screens how the Google task manager looks depending on the due dates or completion of each task:
This is the list with General Tasks – visible to the right of your calendar.
You can see tasks are ordered by due date. Each task has some notes along with it – on click you can see or edit those notes to your liking.
If a task is completed, you can tick the checkbox next to its title and the task will be crossed as completed.
From the Actions button in the bottom you have control over what's visible and how. You can also clear completed tasks (so they are not visible any more on your list).
From the list-like icon in the bottom right, you can switch between lists – remember I created Task List 1 and Task list 2? Here is where I can switch between them!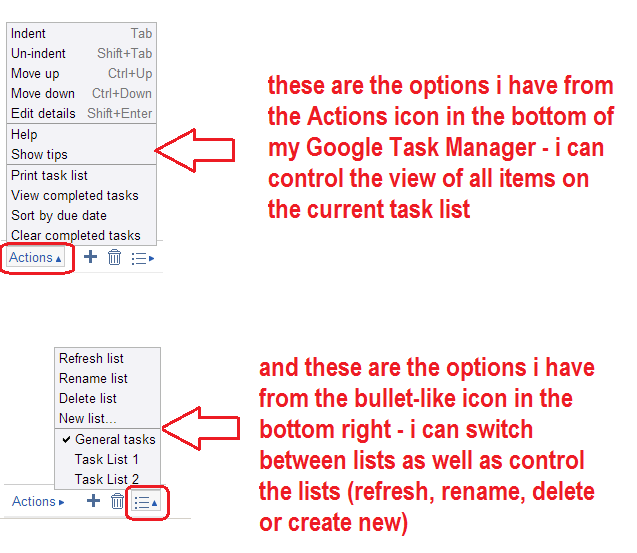 Remember though – unlike other Google services, once you delete a task in your task manager, there is no undo – it is gone forever.
So better check them as complete and clear completed tasks so they are hidden – you can still get all the info about them in the future if needed (which you won't be able to do if you delete them altogether!)
Oh, and by the way – your Google tasks appear within your Google Calendar as well – on top of the day when the task is due:

Let's see Google Task Manager in action!
As I said I have moved on to using project management tools but for those who use pen and paper for their to-do lists, the Google Task manager might be a good way to make the transition online 😉
Let's see how exactly we can use Google Task Manager to help us better our time management skills.
Let's say I have a blog where I post regularly. This would be my Blog List. On this list I would also include all the blog related tasks like writing new posts, researching for topics, blog commenting, etc. Here is how my tasks would look on my calendar:

The tasks will be visible as a list to the right of the calendar as well.
Let's say I also write a book. Here I should probably include daily work on the content, research, reaching out to book reviewers, talking to publishers, etc. I have added 2 tasks for the week related to my book and here is how they will look on the calendar:

Let's say I also have a job – remember, the one that brings me money and pays the rent 😉 Since this job can be anything, I will just name the related tasks with job task 1, job task 2, etc.

Let's say I also have a dog and I need to take her out for a walk twice a day. Aaand, I exercise twice a week. And I have to take my dry cleaning… and other household work. This is whole another list of to-dos, or even better set them as reoccurring events 😉
A small con of Google Task Manager I see
Two actually.
1st, you cannot view all of your tasks lists simultaneously – you need to switch between them to see all pending tasks.
2nd, you cannot have different colors for different tasks – maybe because you cannot see them simultaneously. Tasks do have different color than your calendars (if you want them to).
As a workaround, you can have just one task list – General – and put all tasks there. Then your calendar would look like this:

A bit too much, but it would be easier for you this way to convert some tasks into events. For instance your call with the publisher is really a meeting which would take an hour or so and you better block a time slot on your calendar! While finalizing your blog editorial calendar for Q1 2014 is an ongoing process and you need to finish it by Friday – so when you do, just mark the to-do as complete 😉
This is all I can share for Google Tasks right now. Be on the look out for my posts about project management and project management tools but in the meantime – tell me in the comments –
Do you use Google Tasks and how it helps you better your time manage?