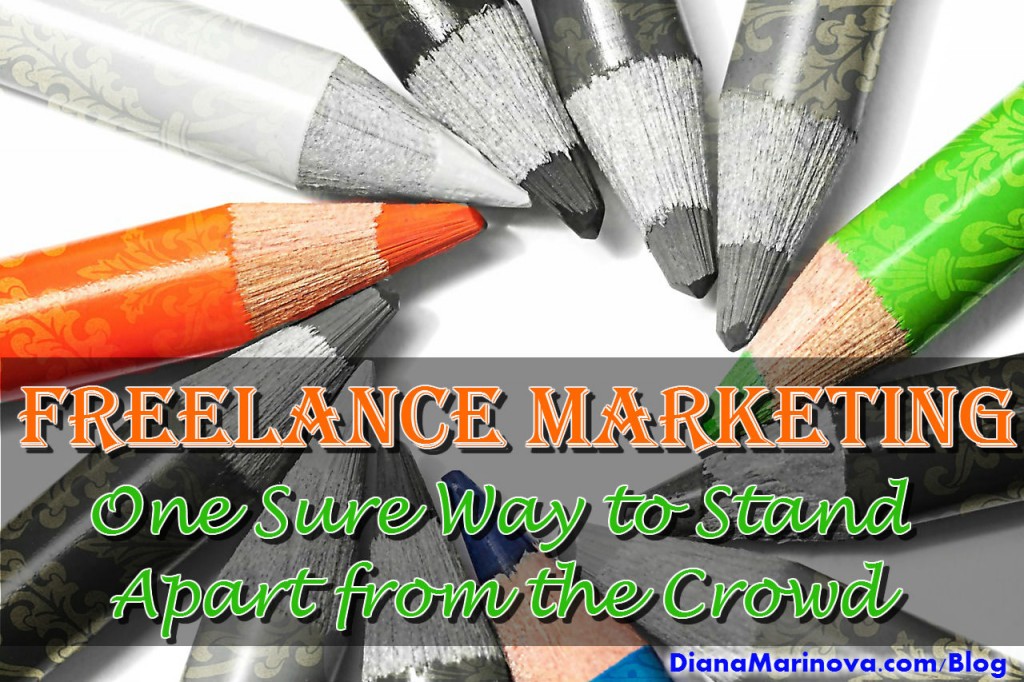 If you use freelance websites like oDesk and Elance to find work, you know tens and sometimes hundreds of people apply to the same project. Many starting freelancers can't bear the level of competition and quit before they have even started.
If you are pitching clients directly, you don't battle competition as directly as on the freelance job boards but you are still battling competition. There are many qualified freelancers out there looking for work and quite possibly pitching the same prospective clients you do.
In both cases, the key to your success is to stand apart from the crowd.
Many freelancers think when they reduce their rates, they will differentiate themselves; they will land the job because who doesn't like saving money, right?
Well, no.
Clients know way too well they will get what they pay for. Getting into a price war is never a good tactic.
You don't want clients who will hire you because of your low prices. Those are clients who don't care for quality or what expertise you have. Their highest and quite possibly only priority is low cost.
Even if you land a few gigs with the lowest-bid tactic, you will not be able to escape the vicious circle of low paying jobs – unless you stop bidding under the competition and focus on your value proposition.
Giving a price discount is a tactic many people use. But it inevitably forces you to compete on price and as we established, you don't want that. Let's face it – there will always be someone who charges less money than you. Why try and beat them on price then?
Your goal should be to focus the client away from the price and on to the value you create for them.
Don't cut your prices – offer value-add service for the same price. Give your client something "for free" – everyone loves a good deal. And if possible, let it be something which your competition doesn't have or at least doesn't offer as a value-add service.
Let me give you a couple of examples.
Let's say you are a social media marketer.
You discuss with a prospective client the opportunity to manage their Facebook page, Twitter handle and LinkedIn page for the next 6 months. You negotiate the terms of your cooperation – strategy, overall goal, milestones and objectives, frequency of posting, type of updates, networking tactics, etc.
Every social media marketing (SMM) freelancer would do the same.
So here are a few ideas what your value-add offer could be in this case:
Free assessment of their social media properties and five tips to improve their overall SMM presence.
Two hours consultation on a monthly basis to discuss their overall SMM performance and directions for improvement.
Free review and optimization of their personal LinkedIn profile.
You can offer one of these, or something else entirely. Whatever you choose, majority of candidates wouldn't have offered anything extra. So you will instantly stand apart from the crowd with your value-add service.
Make sure that you don't do your value-add service in advance. Have all the details of your agreement in written and only after the project has been awarded to you, should you start working on the milestones and the value-add services, in whatever order the project requires or you see fit.
Here's another example.
Let's say you are a freelance writer.
You negotiate the terms of the collaboration with a prospective client. The assignment is writing two blog posts per week for the next three months. You discuss details like availability of writing briefs, schedule of writing assignments, time table of first draft feedback, number of edits included in the price, payment schedule, and so on.
Majority of writers who apply for the job will discuss all these things, too. So how can you stand apart from the crowd this time?
Here are a few ideas:
If you are tech-savvy and familiar with their blogging platform, you can suggest inserting the blog post in their blog at no additional cost. This will save time for your client – or money they would have to pay a virtual assistant to do this task for them.
You can offer to find and spice up the contextual images for your blog posts. Tell them the benefits of optimized images, e.g. better search engine optimization (SEO) and user experience, and let's not forget SMM benefits.
Mention your SEO knowledge and that while you write and format your blog posts, you have in mind search engines and readers alike. This means more search traffic and higher readers' engagement – which in turn translates into more return on investment for your client. (If you want to learn more about formatting your blog posts for search engines and readers alike, grab a free copy of my ebook on the topic!)
Make sure you calculate all the extra work in your price though.
The idea behind offering a value-add service is not to work more for less. It is to focus the client away from the price and on the value you create for them. When you win clients with your expertise and promise for great results (or saved time and money), your hourly rate or project price quote is less relevant in the decision making process.
What freelance marketing tactics you employ to stand apart from the crowd?