Now that you know how to differentiate yourself from the competition, it's time to put yourself in front of the prospective clients you want to work with. You can get freelance work in a few ways – freelance job boards, pitching clients, LinkedIn networking, referrals, and by letting your clients find you. Depending on your profession, skills, experience and comfort zone, you can do either.
5 Ways How to Get Freelance Work
#1 – Applying to projects on freelance job boards
As a starting freelancer, you might not be confident or experienced enough to go pitch clients directly. For starters, you can bid for work on freelance sites like Upwork and Elance.
Be careful though not to fall victim of the false belief that the lowest bid always wins. Sometimes that holds true but only with clients who are interested in cheap labor and don't care much for quality. You don't want to work with those clients.
You should value your time and skills and should never allow yourself to work with clients who exploit you. Pick your clients carefully and start as early as possible. I give away my ideal prospective client checklist and I invite you to join my community to get it, too!
There are certain steps you should take in order to succeed and make a good living on bidding sites. The seven steps would be:
Set your SMART goals.
Build a strong profile.
Take relevant skill tests.
Position yourself on the market and form a pricing strategy that satisfies you.
Learn how to pick your clients.
Master the writing of cover letters to stand apart from the crowd.
Be great during interviews to land the jobs you want.
I discuss these seven steps in detail in my book, Diana's Freelance Tips – How to Succeed on Upwork and Elance, get it on Amazon. I have also included some hard truths and homework exercises in each chapter so that you master each skill and complete each step properly, to lay a solid foundation for your freelance practice on Upwork and Elance.
#2 – Working with clients directly
Although I like using freelance job boards because they save me and my clients a lot of time by handling most of the paperwork, I won't deny that working directly with clients often yields better results and higher rates. So if you are confident or experienced enough, you can skip the freelance websites altogether and go straight to pitching clients directly.
Before you approach any potential clients, you should do two things – figure out your value proposition, create your own website and a good portfolio to showcase your freelance services.
Regardless your profession (designer, programmer, content writer, marketing consultant, accountant, translator, or anything else), to succeed you need to have experience and proven track record in your field. Take your freelance services and experience and put it all in a "virtual folder" – a portfolio, a personal website, or both!
I would recommend that you buy your own domain – e.g. yourname.com – and not to rely on free hosting services like something.wordpress.com, or somethingelse.blogspot.com. It impacts the perception of your services.
It's one thing when a potential client checks your own website and a totally different thing when they see a free hosted website. Purchasing a domain and hosting is a small yearly investment you can and should make.
In the beginning, when you're starting your freelance journey, clients won't look for you to hire you. They won't even know you exist, right? Before you prove yourself as a reliable freelance consultant, you will always have to make the first step and reach out to potential clients. This doesn't mean "cold emailing" though – nobody likes spam and that is how cold emails are most often perceived by small business owners.
Research some venues where potential clients gather together to discuss issues and actively participate there. These websites can be forums, message boards, blogs, groups, etc. Do your homework first and research the venues where potential clients discuss their business initiatives, open positions, ideas to improve their business culture and habits, even tricks for reducing business costs (especially those related to HR!).
Finding such websites and actively participating increases your chances of being noticed and eventually hired. Consistence is paramount if you want to succeed with this approach so remember to check regularly the forums for new discussions, questions or comment opportunities.
Furthermore, include a link to your portfolio and/or website in:
your email signature
your profile on various forums you take part in
your Facebook profile or page
send it to your friends and ask them to send it to their friends
The more people see your website, the bigger the chance of hiring your freelance services.
Exchange ideas with other like-minded people, a.k.a. freelance consultants. Ask and answer questions. You never know to whom you'd help and who will notice you online. Besides, when you are an active member of the freelance community, you show your support to others and additionally you better yourself both as a person and as a professional freelancer.
And don't forget social media. Creating profiles and nurturing an active community on Facebook, Twitter, Google+, LinkedIn and any other channel you like is yet another means to get in front of potential clients and fellow freelancers who could refer you.
#3 – Networking on LinkedIn
Develop your LinkedIn profile. Unlike using social media to reach out to clients, here you can use your profile as a tool to let clients find you.
Complete your LI profile and update it regularly.
Ask for recommendations as you complete new projects. Actively participate in LinkedIn groups in your area of expertise. Being an active member of professional groups puts you in front of potential clients' eyes.
You don't actively reach out to clients and you don't pitch them anything. Instead, you add value to the discussions through valuable comments. You build your authority and you establish yourself as the go-to person for certain matters.
This way, potential clients take note of you and when the need arises, they know where to find you and they reach out to you – because they have seen your comments and they are convinced you know what you're talking about.
This approach can be adopted and used on any social media platform, professional forum or group.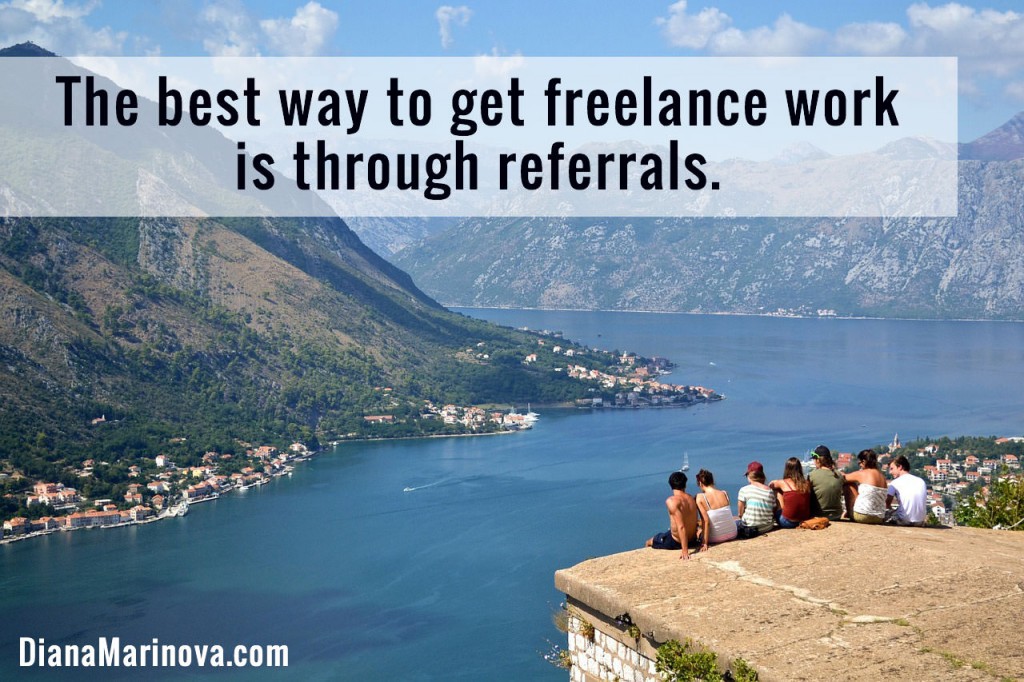 #4 – Being referable
If you are just making your first steps as a freelancer, you probably don't think about referrals at all. You have more pressing issues like landing your first gig. Nevertheless, I urge you to think in perspective.
Every time you complete a project, ask for a recommendation on LinkedIn, a review on a bidding site or simply a reference in an email which you can use on your website. Nothing speaks about your professional skills better than a review by a happy client.
Ask your clients for referrals. Some may refer you even if you don't ask but asking increases your chances. When you complete a project successfully, ask your client if they have a friend or a colleague that might need your services. They won't be just sending business your way; they will be doing their friend a favor by getting them the right freelancer to help them out.
To be referable, you should not only be good at what you do but also, you should play nice with others.
Whatever your profession, chances are there are hundreds of thousands of people who do the same thing equally well. Don't view them as your competition. See them as your friends; as people from whom you can learn. Share your experience with them and help them be better. The next time a colleague has an inquiry from a prospect but doesn't have time to take on the project, they may send the client your way, knowing you will do your job well and because you were nice to them once when they needed your help.
#5 – Letting new clients find YOU
This is the best approach to finding new clients in the long run along with getting referrals. However, as a starting freelancer, you don't really have this option yet. This is a viable option when you have made a name for yourself.
Nevertheless, to give you a glimpse of what awaits you if you do the hard work and stick to your plan to a successful freelance career, I will discuss this briefly.
Make your own website and take good care of it. If you can write – blog regularly, too!
Making your own website was a tactic when pitching clients directly. So why am I saying this here and now once again?
I'd like to outline the difference between making a website and making a website the right way in order to attract clients in the long run.
If you are using your website just to showcase your work and all you do is give a link to it to clients whom you pitch – you can create such a site in less than an hour. However, my advice is to look at the bigger picture here!
As a starting freelancer, I bet you have plenty of time on your hands. Invest some of it in your own website. First and foremost – set clear goals.
Define the purpose of your website – why do you create your own website? E.g. to showcase your portfolio, attract new clients, establish yourself as authority in your niche, list your professional recommendations, collect payments for service packages, etc.
Once you have clear purpose in mind, research the competition and decide the first steps – what platform you will use, how you will structure your website, what content you will include in your main pages, and so on.
Use your own website as a platform to convey a message to your target audience which is in line with your goals. This is your best tool to self-promotion and marketing your freelance services.
Remember though that your own website does not overwrite all the reviews and recommendations you get from clients and fellow freelancers you work with.
Naturally, you have 100% control over your own website and what you publish on it. This makes all the content there subjective. If you say on your site you are "a professional freelance marketing consultant with excellent communication skills and attention to detail", it does not make the statement true. Your clients' feedback and reviews on the other hand do.
Having said this, treat your website as a marketing tool which backs up all the good feedback and references you already have from other people. It is supplemental to your reputation – not a self-sufficient tool.
One more thing, and very important: READ!
Today's world is changing so quickly that there's something new to be learned every day only to keep up. Read about freelance best practices. Read news in your professional field. Read about social media and how people communicate with each other, online and offline. Read about psychology. Read everything that you think might come in handy at some point and will help you better yourself as a person and as a freelancer.
And if you're now thinking "hm, this isn't that hard", let me warn you – all of this can take up a lot of time. No doubt a day will come when you won't be able to blog regularly, maintain your website and portfolio, participate in forums, and read news, all in the same time.
It isn't a big deal if you check the communities and take part in forums more rarely than before, but my advice is – never stop marketing yourself, no matter how scarce your time is and how big the demand for your freelance services is at the moment.
It's better to decline new projects (which by the way makes you only more desirable as a freelance consultant – it creates the notion you are busy and in high demand) than having no propositions, leaving all the time in your hands for marketing.