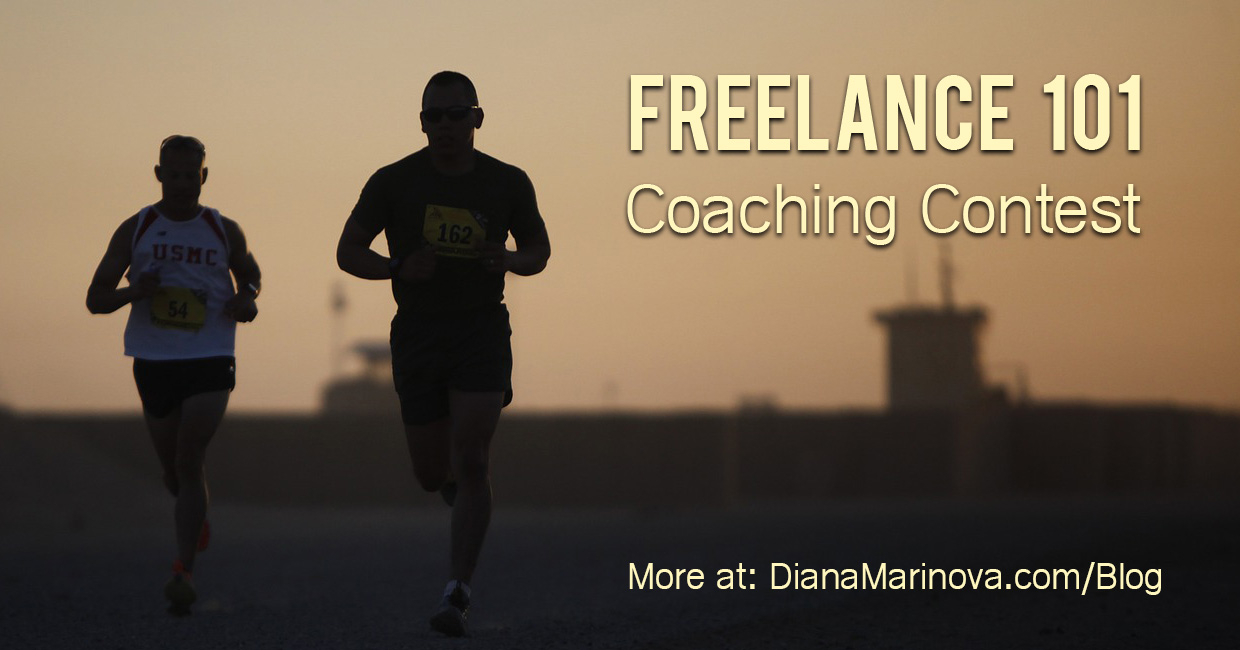 It turns out a lot of novice freelancers read my blog but my tips are mostly somewhat advanced. While I help freelancers who have achieved some freelance success and need to take their practice to the next level, many of you struggle with the first steps. So I've decided to mix things up a bit and start blogging on Freelance 101 topics.
To make sure I do help novice freelancers indeed, I'd like to ask you – what are your struggles? Leave me a comment with your immediate problem as a starting freelancer and I'll be sure to include it in my blog editorial calendar.
And if you think you cannot possibly share your problem in a brief comment or a blog post won't be enough help, I have a contest for you. 😉
Send me a cover letter, answer five questions (below), and you can win a free coaching session with me 😀
If you are a new-comer here, you might ask yourself –
"Why would I even want a coaching session with Diana? I have enough things to do already … Who has time for Skype calls with a stranger anyway?!"
Fair enough. Here's why.
I enjoy the freelance lifestyle in full. I work about 15 hours per week on clients' project and that is how I pay my bills, cover my travel expenses (yes, I travel, a lot), invest in my startup ideas, and spend on my own side-projects and hobbies.
I am very picky when it comes to choosing the clients I work with and the projects I take on – many novice freelancers consider this a luxury.
I charge top dollar for my services and use price as one of the mechanisms to filter the bad apples among prospective clients who contact me on a daily basis. This is another luxury I have and novice freelancers don't (yet).
I enjoy work-life balance in my life; I am happy with what I do, and I am willing to help you, FOR FREE – I usually charge for coaching, too…
If I weren't a successful freelancer, I wouldn't have this blog that you came for advice to – because I wouldn't have the time and money to run it, and because I wouldn't have anything to share in the first place.
In other words – I am living my dream life and I am offering three of you to pick my brain and find out how you can start living your dream life.
If you want to know more and possibly be one of the three winners, read on. 😉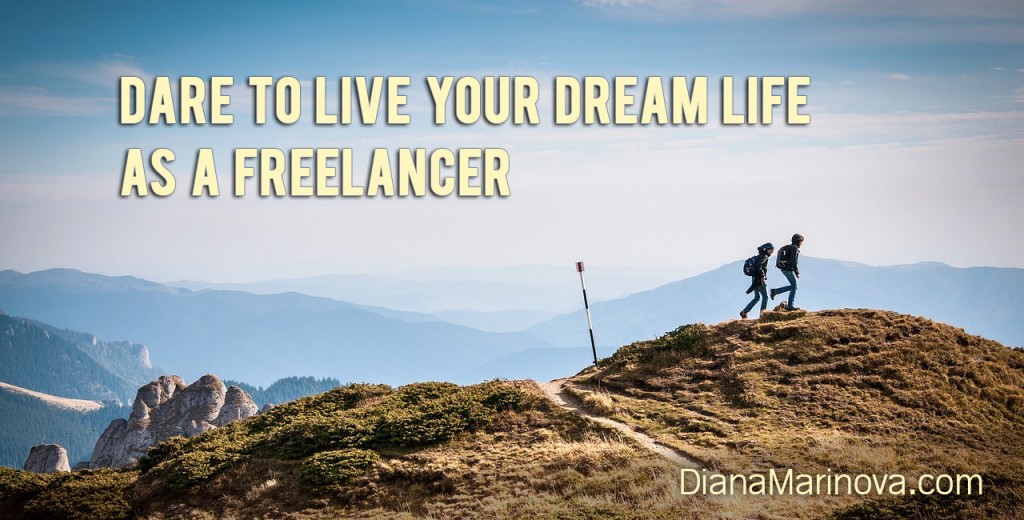 Who is this Freelance 101 Coaching contest for?
Everyone is welcome to join and send me a cover letter and their answers. However, I'd like to help three novice freelancers and give them a methodical approach how to lay a solid foundation for their freelance practice.
If you are serious about becoming a freelancer but don't quite know where to start and what steps to take, this contest is just for you.
If you have done some work but don't seem to be able to land your first project, this contest is just for you, too.
Note that I will not teach you how to do your job though. This coaching session will not help you be a better programmer, designer, writer, marketer, virtual assistant or whatever your profession is. To really benefit from my help, you need to be good at what you do for a living and to believe that offering cheap labor with questionable quality to shady clients is not the right approach to freelance success.
What does the free coaching session entails?
If you are among the lucky winners, you'll hear personally from me via email. I will send you a questionnaire to pin point the problems you have and to determine what help exactly you need. Then we will have a 60-minute one-on-one voice call on Skype to discuss where you are at, where you want to go, and how to get there.
If English is not your mother tongue, note that you need to be fluent in spoken English. We won't be effective if we don't speak in real time so chatting on Skype or exchanging emails using Google Translate is not an option.
How will I choose the three winners?
There are two key factors which I will consider when going through your emails and picking the winners.
First, I am looking for classic cases, so to speak – people who are in the very early stages of building their practice and struggle with problems which are common for most, if not all novice freelancers.
And secondly, I will be on the look for your passion. I want to see in your cover letter that you are really motivated to succeed. (You cannot fake that, I promise!) From the answers you give to my questions, I will be able to tell if you are ready to work hard to change your life for good.
If you are not committed to succeed or think that I will just put wisdom in your head and you will become a success overnight, then your chances to be picked are non-existent.
How do you enroll in the Freelance 101 Coaching contest?
Send me a cover letter, explaining in a couple of paragraphs why I should pick you for a free coaching session.
Then answer the following five questions – under each question I have included some details to guide you what the answer should entail. Be as detailed as possible.
Q1: Why do you want to become a freelancer?
For example, do you want some extra cash to complement your day job income? Or are you in college, looking for some quick cash from your hobby? Are you looking for a way out of the rat race and the corporate world? Are you unable to find full-time employment locally and want to work online with clients abroad? Are you looking for a career change? Do you want to regain control of your time and life?
Be honest – think about what inspires you and motivates you to go freelance, and tell me why you want to become a freelancer.
Q2: What do you expect of being a freelancer?
For example, do you think it will be easy? Do you think being a freelancer equals quick and easy money? Or do you think freelance success requires some long hours and hard work? What are the lifestyle changes you think you'll have when you become a freelancer? How would you define "freelance success"?
If you have answered the first question truthfully, answering this one shouldn't be hard …
Q3: Have you done your homework about becoming a freelancer?
For example, have you read my blog? Have you read other blogs on freelance topics? If yes – which ones? Favorite posts and why? Have you worked on your skills – professional, personal, or other? Do you have a profile on LinkedIn yet? What about profiles on freelance job boards? Do you know what qualities you need to succeed as a freelancer? Which ones do you possess? Which ones you are yet to develop? Do you have a plan yet?
In other words, tell me what you have done so far to become a freelancer …
Q4: How do you think you'd benefit from a coaching session with me?
In other words – what do you expect of me as your coach? Do you think I can give you a secret formula and help you achieve freelance success with a magic wand? Or are you looking for guidance where to start? Do you have a specific problem you need help with?
Be as detailed as possible – tell me what you expect to know or be able to do after a coaching session with me.
Q5: And finally – what is stopping you right now from getting started or succeeding?
For example, do you not know where to start? Are you overwhelmed with the information available online that you simply don't know what the first step is? Or have you built a freelance portfolio and online profile but for some reason you can't land your first project?
Be specific – what is the problem you cannot solve just yet that is standing between you and your freelance success.
Some final words …
Due to email overload, I probably won't be able to reply to each and every one of you personally, I hope you'll understand. However, I'll read all emails and consider everyone for the Freelance 101 Coaching contest.
The information I gather would be incorporated in my blog editorial calendar as blog topic ideas, case studies and other useful materials which I can share to benefit the whole community further down the road.
UPDATE: I have extended the timeline of this contest so that more novice freelancers can take advantage of this opportunity. Don't be shy – please, send your cover letters and answers to diana(at)dianamarinova(dot)com by Sunday, August 30.
On Monday, August 31, I'll announce the three people who'll get a 60-minute free consultation with me via Skype.
The consultations would take place in September or October.
Please help me manage all entries and put in the subject of your email "Freelance 101 Coaching Contest – Your Name". (Substitute 'Your Name' with your actual name, e.g. John Smith.)
Looking forward to hearing from you and thanks for being a loyal reader of my blog 😀