Provided you already know a bit about spotting bad clients, we will make a step further today and see how to learn more about our potential freelance clients by looking at their job posts. For the purposes of this blog post, I will look through random job posts on oDesk and post screenshots from there or illustrative purposes.
Here are a few questions we should ask ourselves to learn more about the potential freelance client before applying:
When did the client register at the freelance job board
If the freelance client is a long time member of the website, most probably they also have a verified payment method as well as spent amount of money on the platform. If you calculate the ratio between money spent and time since registration, you will find out how active the client is in realty.
For instance, a better freelance client is the one who has spent $20K during the last 6 months than the other who has spent $5K for the last 2 years. The latter obviously hires very low paid workers or doesn't use the oDesk platform as often.
Be aware though that the time of registration out of context may or may not mean anything… See the snapshot below: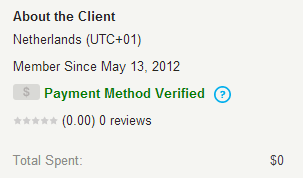 This is a freelance client who registered over a year ago but has 0 spending for the moment. This doesn't make them a bad client but combined with other facts, this could give you plenty of information about the type of client you are about to deal with. Read on.
Second question to ask yourself is if the potential freelance client has verified their payment method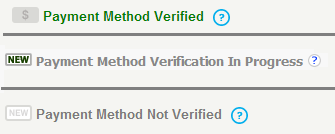 Again, if they are registered for a long time, most probably they do have a verified payment method.
If the freelance client is newly registered and their status is "payment method verified" or "payment method verification in progress", this usually means the client is serious about hiring a contractor through the platform.
If the freelance client is newly registered and has status "payment method not verified", it does not necessarily means they are not a serious client but it certainly means they are less serious and won't bother verifying their payment method before actually finding the right fit for their project.
If the freelance client is registered long time ago (few months or more) and still doesn't have verified payment method – I wouldn't bother applying, unless the job post is extremely interesting and suitable to my interests and needs at the moment.
Next question – what's the ratio of this client between published job posts and hired freelancers?
As you most probably know, there are a lot of freelancers from countries with low socioeconomic standards who are willing to work for very little to no money per hour. Sometimes, it is very hard to filter low quality workers and find suitable candidates if the client needs specialized and quality work done. Having said that, here's how we can use the ratio number of posts / hired contractors for the specific client.
If the potential freelance client has hired someone for every single job post they have published, most probably that client is looking for cheap labor and wouldn't care for quality. Move on.
The lower the ratio, the better the client. If the potential client has published many job posts or at least, one job post and republished it many times, but have hired just a handful of freelancers – then, this client would be more likely to pay higher pay rate as long as you have proven track record and are a good specialist in your field.
Let's see a random job post on oDesk as an example. This is a client who has good ratio of job posts to hires but doesn't look like a good prospect to me.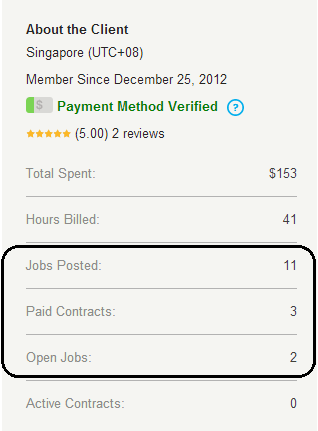 This freelance client has posted 11 jobs and has hired only 3 people (so many paid contracts). However, I wouldn't bother applying as he has proven track record of low paying preferences. He has spent $153 for 41 billed hours – which makes it a little below $4 per hour payment.
To double-check this, I would go and see his history of contracts on the same page where we can find information about past contracts, at what rates, for how many hours (if an hourly job), etc.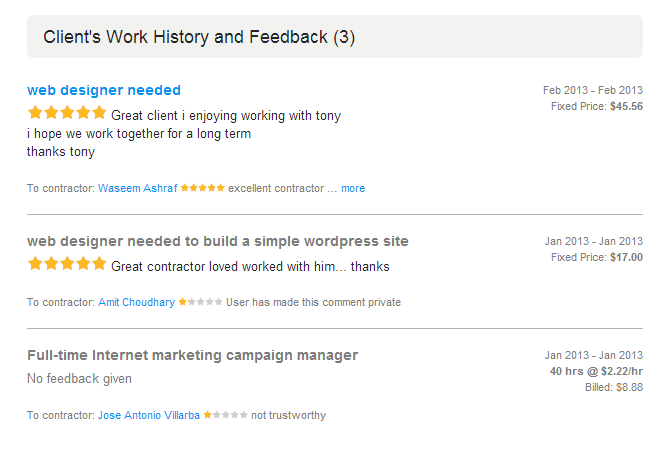 Ok, there were a couple of fixed price jobs so the math about payment per hour was not exactly correctly described. But we can clearly see that this client has hired marketing campaign manager at $2.22 per hour.
It is up to you if you want to apply. I would just move on as it is unlikely the client to change his behavior and start valuing (and paying for) my skills and competencies suddenly.
Next question – what feedback has the freelance client gotten for past projects?
If the freelance client is newly registered, obviously he won't have any feedback yet. We can draw conclusions if they have open projects for a few months, at least. If they have freelancers working with them on regular basis for long periods of time, chances are this is a good client.
If after all the client has feedback and ratings, pay attention what projects they are for – hourly or fixed price, long-term or short-term, etc.
If freelancers leave the freelance client 5 star feedback for fixed price jobs, this means the specific client pays well and doesn't withhold payments (as long as you do your job, of course).
If freelancers leave not so good feedback for fixed price jobs because of payment related problems and you apply to an hourly project where the payment is guaranteed – you won't be worried about payment issues. But be ware because if the freelance client is not paying to some, maybe he has other bad sides, too.
Another example – short vs long-term contracts. It is possible that the freelance client has excellent reviews for short-term jobs but bad feedback on long-term ones because he fails to communicate well, or is too controlling, or something else. So this client would be a good fit if you are applying to a quick job post but not for a 1 year contract, for instance.
Let's see a random post to analyze in realty: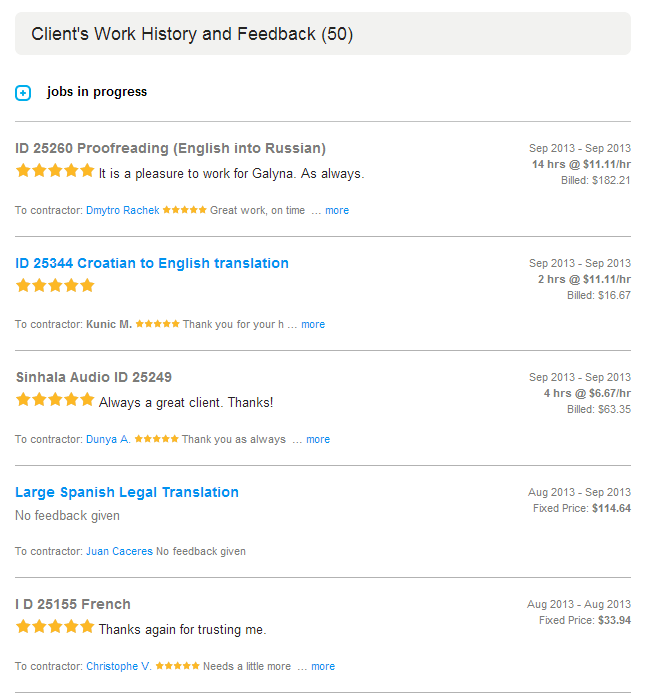 This freelance client has hired different contractors for the same type of job – translation, but in different languages. The rates vary from $5 to $15 per hour for short-term, and there are plenty open contracts which are on fixed price job. So my educated guess would be two-fold.
This freelance client knows that the price depends on how rare a certain language is and how good a translator is. So the client is willing to pay for quality. He or she hires for short-term assignments different translators to try them out. Those with whom he works best, he keeps on the team for long-term on fixed priced job.
If you click the screenshot above, you would see the job post and the full work history of the client, including open contracts. You will also see that his feedback and reviews are great for all type of contracts – long or short-term, fixed price or hourly. This is definitely a good client and if I were interested and suitable, I would apply to this job post.
Another question – what freelancers have applied to the job post, at what rates and are there active interviews?
Depending on the active interviews (or lack of such), we will now how urgent the job post is. If it is published a day ago and there already are 10 interviews, this means the freelance client is in a hurry to hire someone. If the job post is published for days and there are still no active interviews, this means the freelance client is taking their time to filter candidates and gather resumes. Quality for the latter is much more important than finding someone and soon.
The price of the contractors who have applied and/or are being interviewed will help you find out what the budget for this project is. For instance: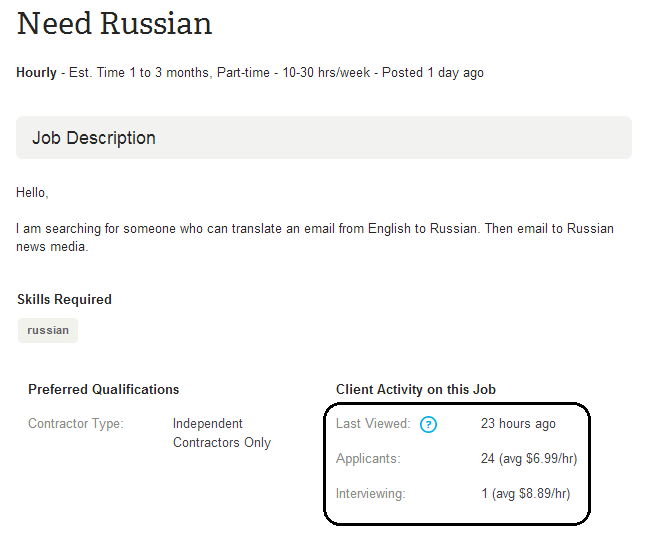 The job post has been published a day ago and out of 24 candidates, there is only 1 active interview at a higher pay rate than the average rate. This means three things:
1) the freelance client is most probably in a hurry – there is an interview on short notice
2) the client is not willing to make too much compromise with the quality – the rate is higher than the average
3) the client is on a tight budget – the rate of the interviewing contractor is relatively low for the type of task required
While in this next example, the situation is slightly different: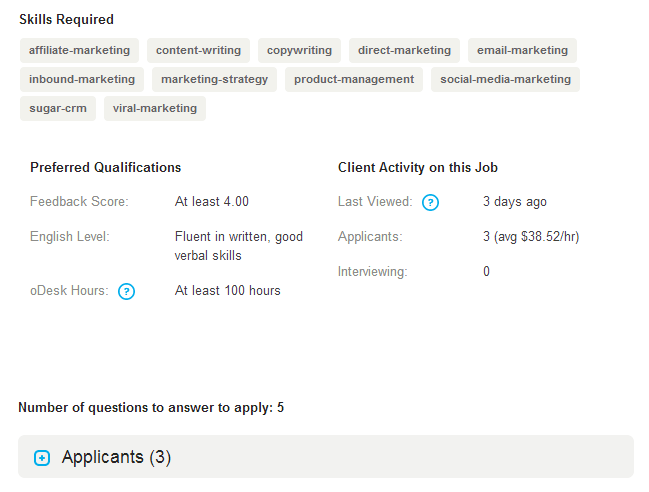 Here, the freelance client knows what he or she wants and for that reason, he has made it tough for the freelancers to apply and to cover all requirements. This is also the reason why there are only 3 applicants and the price – so high. The fact that for 3 days there are no interviews yet means the client waits for more applicants before he or she starts the interviewing process.
Your turn – was this post helpful and did it change the way YOU get to know your potential clients by looking at the job posts they have published?