By now, we all know how important it is to follow the potential client's instructions in their freelance job post when applying to a project. Today, I will show you how the client sees our freelance application on oDesk and how easy it is to filter the candidates because they failed to follow instructions or don't meet the requirements. It is also as easy to report freelancers as spam due to obvious mismatch or for sending a recycled cover letter.
The client sees everyone's freelance application in his or her dashboard.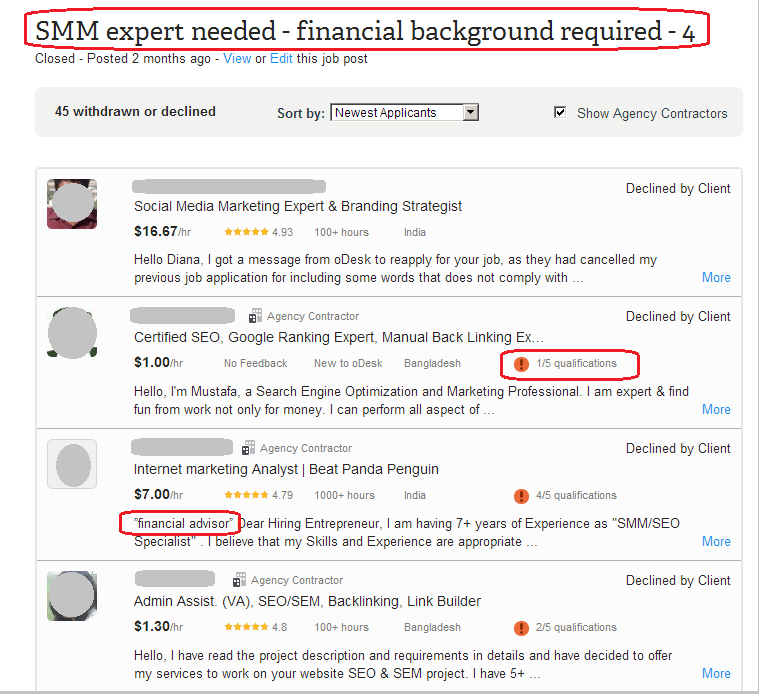 As you can see in the screenshot above, I can see many details about each specific applicant – their pictures, names, by-line of their profiles, hourly rate, number of hours worked, reviews score, where they are, and the first couple of lines of their cover letter. I also see if they match my requirements and to what extend.
Now, this is an old job post and I don't have an open one now to show you, but in the upper right corner – do you see how it says "Declined by Client"? If it were an open job post, it would be a button allowing me to take different actions – hire, decline, report as spam, short-list, etc. I have a "more" link allowing me to see more details about specific cover letter and applicant – if I choose so.
I have circled a couple of important things which we have discussed before: the code word in the beginning of the freelance cover letter and the qualification match.
Here's why you should start your freelance cover letter with the code word, if required.
As you can see in the screenshot above, the freelance client can see at a single glance who of the applicants matches all the requirements and if they have started with the requested code word or not. Remember – the potential client sees all applications here, not just yours.
Often I get hundreds of freelance applications within a few hours, most pf them recycled. It can be overwhelming and time assuming to read them all, so I don't. I use code word as well and I instantly decline all those applications which do not start with the requested key phrase. So if it says in the job post to start your cover letter with a code word – do start with it; including it somewhere not in the beginning won't help you.
And here's how the freelance client sees the details about your qualifications match (or mismatch).
In the job post, I have included 5 qualification requirements. On mouse over, I can see for each applicant what qualifications they do and don't match – as shown on the screenshot above. As a client, I can still review the cover letter and accept the application but it is a good rule of thumb to try to cover most, if not all qualification requirements.
If we take the example above, feedback score is not something you can change now but passing the Social Media Marketing Test is an easy thing to do if you are a SMM professional and it certainly would influence me when I decide on interviewing you or not.
When I click the "more" link on my dashboard for your freelance application,
It just opens the full cover letter you have sent me in the context of your contractor's details.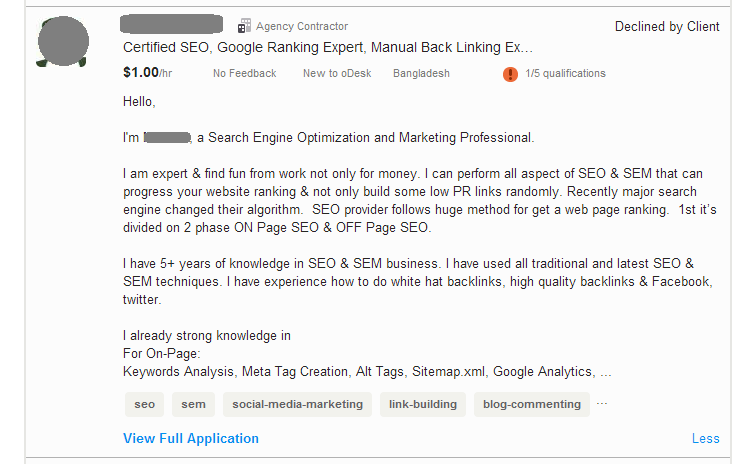 As you can see, this is the complete cover letter this freelancer has sent me. I can see here if he has addressed the questions asked in the job post. If he has and I like his answers, I can view his full application and consider him further.
It may look like too many clicks at first but I like this change that oDesk has made for a single reason – it's harder for the freelancer to trick you into reading their freelance application. Let me elaborate.
There are freelancers who know the importance of the code word now but they still don't bother following all the instructions. So they do start their applications with the code word but then, they fail to follow the rest of the instructions and don't answer the question asked – which makes them not suitable and wastes your time if you decide to see more details.
So as a client I have the option to see first if they started with the code word. If they did, I have the option to see the cover letter details. And only if they did address my questions and I like what I see, I can click once more to see their full application – including cover letter, profile details, and all; or decline right away.
When I click "View Full Application", I see the following: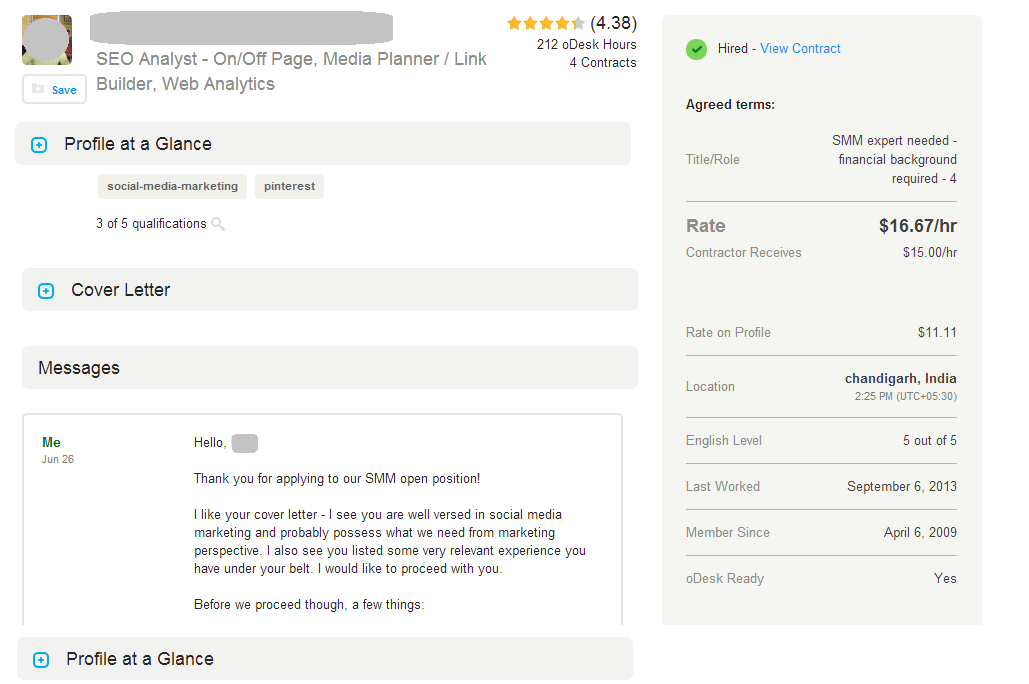 As you can see there are a few sections:
1) details about the freelancer – including their profile picture, by-line, reviews score, number of hours worked, open contractors, skills and again – how many of my requirements are met
2) cover letter – this is the same cover letter I saw in my dashboard. If I click on the plus sign next to it, it will show the full cover letter of the freelancer.
3) Messages module – here I can see all messages I have exchanged with the contractor during the interview phase (if any)
4) Profile at a glance – this is exactly what it says: the contractor's story in a nutshell including their profile overview details, work history and feedback, education, certifications, skills tests and everything else you can see on their freelance profile.
5) To the right, you can see details of the application (in this case, the contract details since the job post is old and there is a hired freelancer for it). If the job post was an open one, instead of the status "hired", there would be an action button to hire, make a different job offer or decline the freelance application.
I hope this blog post gives you a good idea how each client sees everyone's freelance application and how to have better success when bidding on projects on freelance websites. Remember, your freelance cover letter is all you have to make an impression on your potential client so use it wisely.
Tell me in the comments – was this post helpful? What else would you like to know about how the potential clients see your freelance application?