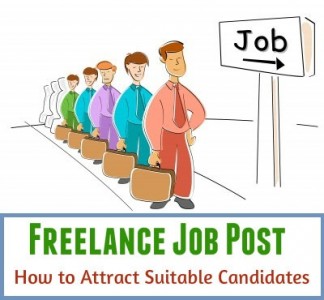 If you have ever published a freelance job post, you probably already know how difficult the hiring process can be, especially on popular freelance websites. Today I will share my insights about writing your job post which could make your life easier. Follow these tips and you will not waste your time going through hundreds of spam applications and you will not miss any suitable candidates either.
Choose a proper title of your freelance job post
The title and the first couple of lines in your job post is what motivates the freelancer to click to see more details or to skip your post and move on. The more details you give in the title, the better. Here's an example:
Bad title: Translator Wanted
Good title: English to German Translator Wanted
Excellent title: Bi-lingual English-German Translator Wanted for a Business Blog
Introduce yourself and your business – if you want 😉
If you look for a freelancer with whom to work long term, introduce your business briefly – what niche you operate in, what it does, how large the team is, etc. If it is not confidential (or something), you can even provide your website URL as early as this stage. This way you will be able to see who has made the extra effort to check out your website before the freelance interview. I bet the suitable candidates will have done that 😉
Give details about your project and needs
Don't give too much information but don't be too brief either. It's not a telegram – it's a freelance job post. It should contain basic information which a freelancer would need to make an informed decision whether to apply or not.
Such details might be expected weekly workload, estimated project duration, responsibilities, time table, budget, existing work flow and work process, and so on.
Ask specific questions in your freelance job post.
If you do that, you will be able to filter some unsuitable candidates as early as the cover letter application stage, before the freelance interview.
A lot of freelancers send semi-automatically recycled cover letters. They don't really read the job posts – they automatically apply to those which contain a given keyword. If you ask specific questions in your freelance job post, you will be able to filter out all those spam contractors who did not address the questions in their cover letter.
And vise verse – the freelance cover letters which contain answers to your specific questions are most likely submitted by suitable candidates.
If you are not an expert in the field in which you are looking for a freelancer, consult with a friend or a colleague. Find someone who can help you draft some specific questions to which every expert in the field would be able to answer.
For example, if you are looking for a marketing consultant to manage your LinkedIn profile and business page, ask them how they will use the group discussions on LinkedIn in their daily work.
Another example – if you are looking for a freelance writer,  ask what the difference is between writing blog posts and writing articles for print media, between writing for SEO positioning or creating website content, and so on.
To attract suitable candidates, give a realistic hourly rate and/or budget.
Depending on your requirements, your price and budget can vary. For instance, for a data entry job or a simple copy-paste task, you can focus on low price. How hard could it be to copy data from one place and paste it elsewhere, right?
If you are looking for a customer service agent or telemarketing representative though, the level of their language is much more important than their hourly rate. These people are usually the face or the voice of the company so don't risk finding out the hard way how cheap labor always ends up being more expensive to the company.
Research the freelance market for the specific skills you need and give a reasonable budget in your freelance job post. Your price will determine the type of freelancer who will contact you.
Place a "code word" if you are posting your job opening on freelance job boards.
This will help you filter most spam cover letters without even opening them.
In the end of your freelance job post, add a call to action like "Please, start your cover letter with the code word "something" to confirm you have read the full job post and you are not a spam bot".
I have used oDesk for finding freelancers and this tactic has saved me a lot of time and energy to differentiate spam contractors from legit and suitable candidates.
Your turn – what tactics do you use when writing your freelance job posts to find suitable candidates?