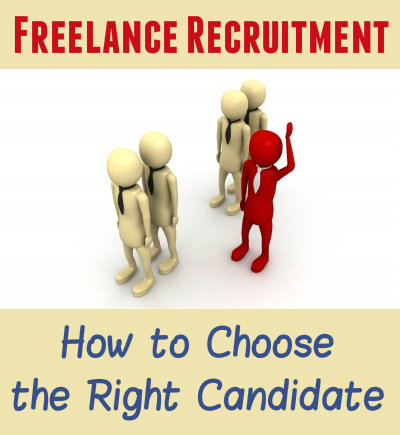 Not so long ago I published a blog post how to write a freelance job post to attract suitable candidates. Today, I will build on that post and talk some more about freelance recruitment and how to choose the right for your needs candidate.
Often a client gets tens and sometimes even hundreds of cover letters within one hour after posting their freelance job post on freelancer websites like oDesk and Elance. So how do we handle the situation without wasting time in filtering through spam candidates and in the same time – making sure we do not miss any suitable candidates?
Delete all cover letters that didn't start with your code word.
I suggested you add a code word in the end of your freelance job post, remember? That was with the sole purpose to help you filter spam candidates and recycled cover letters.
For example, on oDesk you have a preview of the first couple of lines of each cover letter you receive. Here's how the client sees the freelance cover letters they get. I apologize if the design is a bit outdated – I have not posted a job post recently to update my screenshots. Regardless the interface changes, the same principles apply.
So, if someone has not started with the required code word, they probably didn't get to the end of your job post where you requested that code word. This is a red flag – if the freelancer doesn't bother reading the job post till the end when trying to land the job, we can only imagine how much attention he or she would pay to their work once the job has been landed.
Once you delete all cover letters which lack the code work, the applicants will be at least twice less than the initial ones.
Now, it's time to take note of the quality of the remaining cover letters.
Because asking for a code word has become a common practice, some candidates make sure to check for such requirement and after starting with the required code word, they still paste a recycled cover letter. They don't make any effort to write a proper cover letter specifically for your job post but instead, they tell the story of their life without any regards of its relevancy to your project and needs.
Decline the application of all candidates who did not answer the specific questions you asked in your job post. It doesn't matter how good the "story of their life" is – if they didn't reply to your questions, they probably didn't read your job post; which in turns mean they probably aren't that good in their job either. Most probably they apply to every single job post that contain a certain keyword and they send many cover letters semi-automatically, hoping to land any job they can get their hands on; not yours specifically.
Once you take this step, I think you'd have eliminated at least half of the remaining candidates. 😉
Now focus on the competency of the remaining freelancers who applied to your job post.
Assuming all remaining candidates did answer to your specific questions from your job post, the level of competency will be your next filter.
I know it's subjective – you will have to decide on your own if the freelancer has copy-pasted general and theoretical answers he or she found on the internet or the freelancer addressed your questions from experience. It's definitely a good sign if the candidate has backed up their theoretical answer with real-life examples. And what's even better  – if they have tied their answers specifically with your website, business and niche of operations (if you have given your website and name in the job post, of course).
Appreciate the proactive freelancers!
If you still have more than a couple of freelancers left to choose from, after taking the above steps, consider yourself lucky! 😉
I would suggest choosing the freelancer who has asked additional questions – about your job post, about your project or business. Or choose the freelancer who has demonstrated engagement with your business and project as early as this stage of the application process – e.g. they have suggested a way to improve your business or project even though you didn't ask them just yet.
Both of the above described testify to a very important freelance quality – the freelancer puts their heart in their work; once they get on a project, they give their best for real and for good. They care.
Attracting proactive freelancers to your team is always a good thing – your team, your project and your business sure can benefit from having such people on your team.
And what other tactics would you use for success at this stage of the freelance recruitment process?