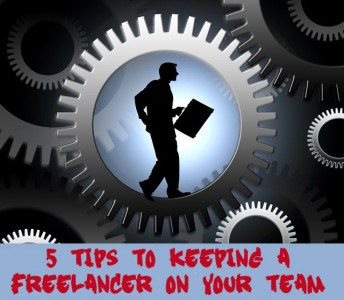 If you are working with freelancers, you know how hard it can be to find the right fit – an independent consultant who does their job well and with whom you work well. I know you want to keep that freelancer on your team for as long as you can. So here are a few tips to help you do just that.
Communicate your desire for a long term relationship
It doesn't matter if you have a large scale project with ongoing workload or you have a series of small projects on 'as needed' basis. What matters is you tell that freelancer you want them on your team, regardless the project.
If you don't do that, you risk missing an opportunity to bond with the freelancer. You may lose him or her as a team member because of other commitments he or she has made, unknowing of your desire for long-term relationship.
Give your top freelancers financial bonuses
Like employees, freelancers work for the money, not because they don't have anything better to do 😀
In other words, no freelancer would be offended or would refuse if you gave them a bonus for a job well done. To the contrary! A financial bonus will make your relationship stronger because the freelancer will feel appreciated – it's nice when reaching a milestone translates into a financial incentive for them as well.
Update your freelancer's wage on regular basis
Giving financial bonuses might be a recommended tactic but updating the pay rate on regular basis is more or less mandatory, if you want to keep working with that specific freelancer.
As time goes by, their experience grows and their skills improve. Naturally, new clients seek their services at a higher pay rate. Their schedule is filling up quickly. Eventually, they start filtering active contracts depending on their revenue.
In other words, if the freelancer's work has direct or indirect impact on your business bottom line, you must update their pay rate every 6 to 12 months. How often you will do this depends on the workload, the freelancer's role in your project and how complex his or her tasks are.
Discuss your plans on regular basis
When you discuss opportunities for future cooperation, you strengthen your client-freelancer relationship. Such conversations give the freelancer a feeling of belonging and security. They feel appreciated and better see themselves as part of the bigger picture when it comes to your projects.
Make sure you send them work on ongoing basis
Even if you don't have any immediate tasks for the freelancer whom you want to keep on your team, continue the communication with them. Don't hire new freelancers for a quick job – give it to that specific freelancer you want to keep in the long term. This way you show your loyalty to them as a team member. It matters. Lead by example – be loyal to your freelancers and they will pay you back the same way.
Your turn – what do you do when working with freelancers to keep them on the team?