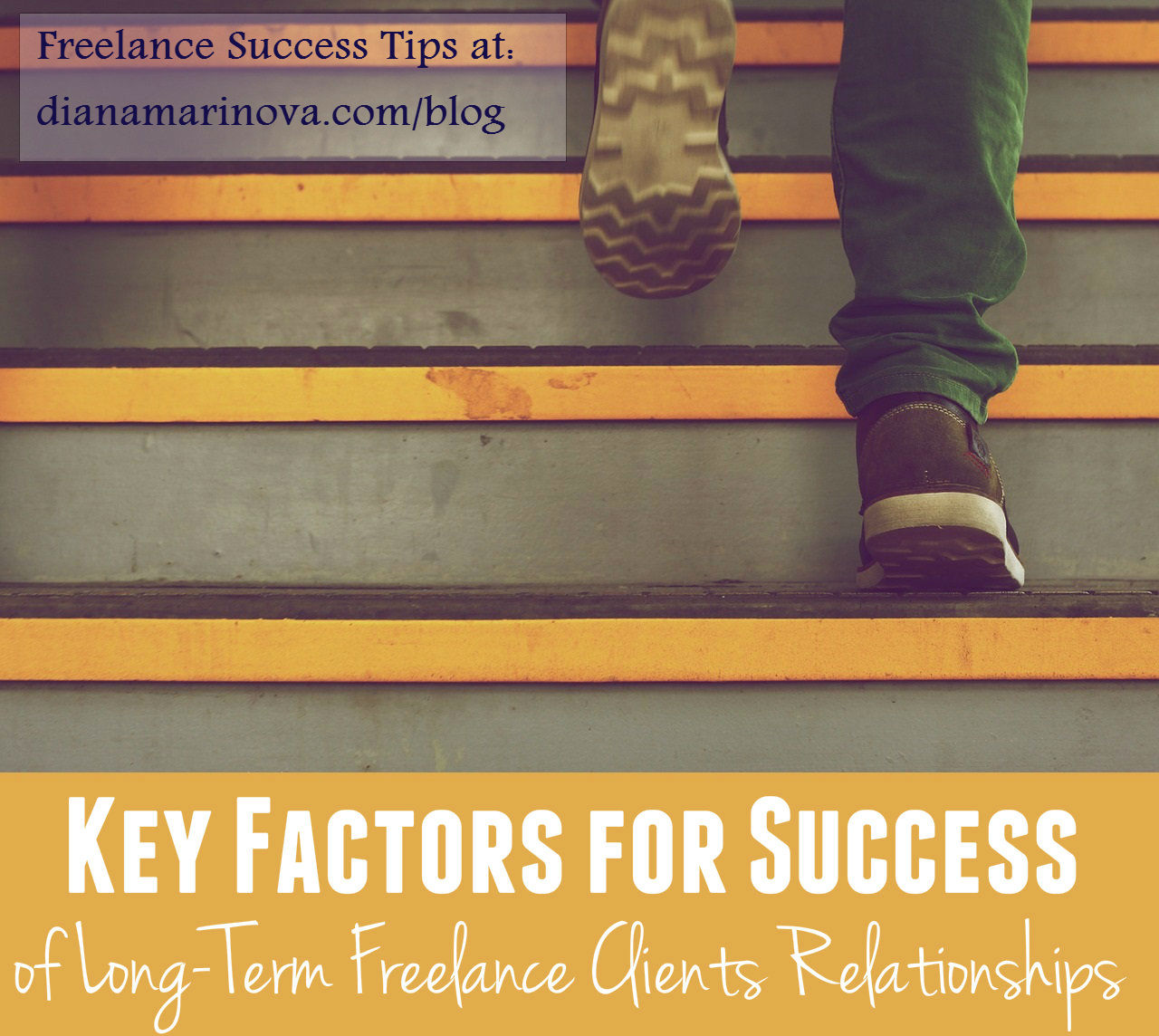 You started working with a new client. You passed your trial period successfully and you want to keep the client for the long term. What do you do? Here are some key factors for success, regardless your profession, experience, nationality, and field of work.
5 freelance tips for successful long-term relationships with clients
#1 Always do your job well and deliver your work on time.
Always doing your job well is a key factor for success – that's common sense. Pay attention to details. If something is not clear – ask follow-up questions before you start working; otherwise you risk doing something totally out of the scope of your project.
Deliver your work on time, with the agreed quality, and within the budget. Don't make it a habit of sending your work early, even if you are ready. Sounds odd, I know – let me elaborate.
Let's say you have regular workload from this client (e.g. writing two articles per week, or designing 2 images for their blog posts, or creating a weekly newsletter). And you continuously send in your drafts ahead of the deadline. But that one time, you were busy with life and you sent your work just 1 day before the deadline; or on the due date itself.
Now, your client's wondering if you are still a reliable writer/designer/marketer because you sent your work so late (Duh?! He always gets it at least 1 week in advance – sending it on time means you are late – or so you have taught them by continuously sending your work early!)
So while you technically are not late, your client may think you are… Do yourself a favor – when working with freelance clients on a long-term project, deliver your work close to the deadline, not way ahead of time.
Nevertheless, if your client needs an extra hand – be there for them. If you are available, that is – and if there's an extra pay for the extra work; we all know 'freelance' ain't free work 😉
#2 Have a schedule and established communication channels
In order to be flexible for those extra tasks I mentioned earlier, you should have a schedule and established communication channels.
For example, your client should be aware that you plan your work schedule on a weekly basis and if there is some unexpected task they want to assign to you, they should send you an email on Sunday when you are planning the coming week (or earlier, of course).
If that's not possible – then they should give you at least 2 days' notice so that you can reorganize your schedule.
In case your client wants to assign a task with a deadline 'yesterday', they must be prepared to pay a higher than your usual price. After all, their last-minute assignment causes you a lot of inconvenience and totally messes up your work schedule. You are doing them a favor by accepting that unforeseen work 😉
I'd like to draw your attention to the part where I said "send you an email on Sunday" – it could be email or any other communication channel your client and you have agreed on to use. But it is very important to have agreed in advance on what this channel is. It will allow you to avoid miscommunication and missed opportunities.
Say you didn't agree on a communication channel before. Your client sends you a 'real quick Skype message' asking you to do something extra for them – and he does that on Sunday so that you have the opportunity to plan for it. Good! But the thing is, you don't log in to Skype unless you have an appointment.
As a result, you never get your client's message. They don't have the work done on time and you miss an opportunity to make some extra cash. And more importantly, you risk damaging your reputation because end of the day, the client will blame you for not getting their message.
If you have agreed in advance that they need to send you an email and not a Skype message, it sure won't be your fault that they broke the communication channel rule. So you won't be held responsible for it either.
#3 Show your client you want to work with them in the long run.
Be proactive. Be interested in the development of the project and the business. Let's continue the example where you write 2 blog posts per week for your client, and every now and then a few extra articles for web 2.0 sites.
You can show your long-term interest by giving them ideas:
for guest blogging opportunities
how to increase the loyal audience and readers of the blog
how to craft blog content to help product sales
what topics to add to the editorial calendar for better user engagement or attracting new market segments
and so on.
Be interested, give ideas, take part in the brainstorming sessions, and show your desire to be part of the team in the long run.
#4 Meet for discussions at least once a month
Having regular meetings sure is a key factor for the success of any long-term freelance contract, at least for me. Depending on the project, the nature of the work and the workload, the frequency of the meetings could be daily, weekly, bi-weekly, or monthly. I don't recommend meeting less than once per month so that you don't lose touch with your freelance client and their immediate project needs.
The real-time conversation gives opportunity for discussion, questions and instant feedback about specific ideas and problem solving sessions. Such regular meetings help both the freelancer and the client remember why they chose to work with each other in the first place. It also is a good way to make sure you both still look in the same direction and meet the other party's expectations. And finally, a monthly meeting helps you stay organized and plan your work together for the coming weeks.
#5 Have an action plan for crisis situation
For a healthy long-term relationship with your freelance client, you need to discuss and agree on a procedure in case of a crisis. If we continue with the example of writing blog posts – do you know what to do if one day you go ahead and publish your post but the blog shows 500 internal server error? Should you write an e-mail, send sms, call your client, contact the server provider, do nothing, do something else?
There are different ways to act – the important thing is that you have discussed them and have agreed on an action plan in different crisis situations. This way the client will know that he or she can rely on you in crisis, too.
What other key factors for success would you add? Remember it's about long-term relationships between freelancers and clients.