You might think social media interactions are a simple thing to do. Truth is many are missing on countless opportunities when just saying "Thank you" to someone who has re-shared your update. Read on to see how to bring the conversation to the next level.
Why simply saying "thank you" isn't a good social media interactions tactic
Not to sound snobby in some way, but chances are we know the blogger whose post we just shared on social media is thankful to us for spreading the word, right? So does it make sense for the blogger at all to say "thank you" is that's all they will say? For me – it's stating the obvious…
Social media interactions that bring the conversation to the next level
When someone shares my blog post, of course I thank them – but I also try to bring the conversation to the next level. There are different ways to do that and a few that come to mind are:
Ask a follow-up question – e.g. if the blog post that someone shared is about freelance trends in Q1 2013, I will thank them for sharing and ask them what's their freelance profession. Or if I know the person is not a freelancer, then ask them maybe what's the most appealing niche if they were to become a freelancer one day.
Build on their shared update – this works when the person who shared your content didn't copy the blog post title but created manually a question or a comment for their followers to see and interact on. For instance, if someone shares my blog post about knowing the potential freelance client from their job post with the update "Didn't know a job post can reveal so much about a potential client…" – I can thank them for spreading the word and ask them what the most eye-opening tip in the article was.
Say something funny – people love to laugh 😀 I cannot give an example right now (sorry!) but I am sure there are often situations where we can make a joke as a result of the update someone posted on social media 😉
I am not saying these tactics work every time and you become best blogging buddies with everyone out there. I am just saying that adding something meaningful to your "thank you" encourages the other person to continue interacting with you – on this topic or another.
The way you share other bloggers' content can help you bring the conversation to the next level, too
I will skip the theoretical explanations and will give a real life example instead. Here's a twitter conversation that one of my tweets started: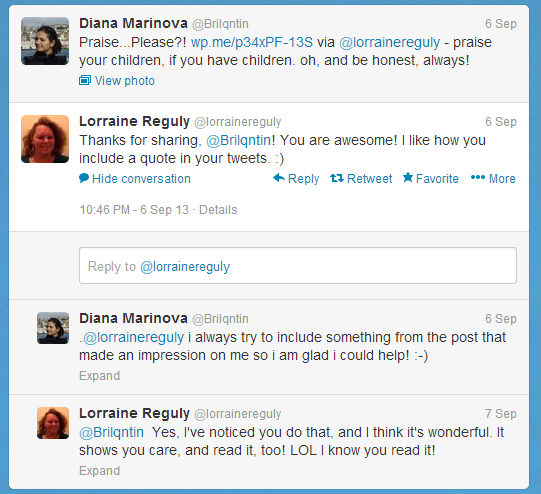 When Lorraine (here's a link to her blog) tweeted back with the appreciation that I take the time to read her posts and include my takeaway in the actual tweet – I thought it's time to blog about it 😉 As it is fairly easy to do this and I believe many are not doing it simply because they have not thought of it…
When sharing a blog post on social media, don't just copy its title. Add something you liked from it for better engagement.
Tell me in the comments about your social media interactions.
Do you say only "thank you" when someone shares your content? Have you noticed the above tactics to improve the engagement on your social media properties? What other tactics you have to add to this list? If you tested these tactics – what was the result?