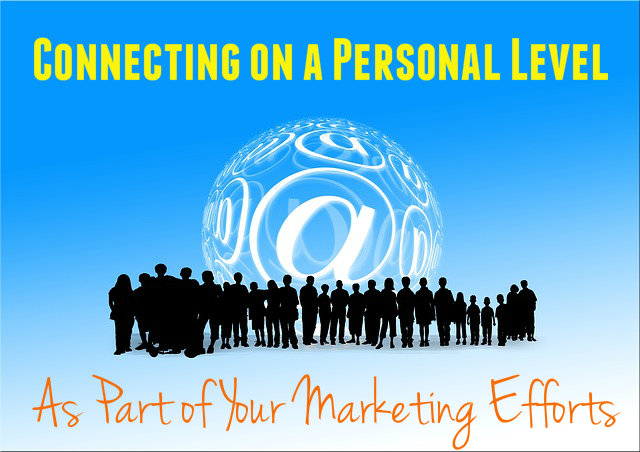 Connecting on a personal level with your target audience is very important for the success of your integrated marketing communications, regardless if you are running a business or just blogging for fun. Today I'll briefly look into why it matters and I'll give you a few ideas how to do it.
What connecting on a personal level really means
Some will argue personal connection means knowing your customers or readers by name; knowing their purchase history if you are a business and reading history if you are a blogger; knowing their opinions on certain topics based on the conversations you have had with them.
This is connecting on a personal level, alright – but it certainly isn't all there is to it.
Can you imagine doing it with everyone if you have hundreds or thousands of customers and readers? Any decent CRM system can help you with the technical details but will it be really "personal connection" if you rely on a software to do it all for you?
Here's one more aspect of connecting on a personal level – a bigger and a more important one which is often overlooked.
Whatever your business, you are a human being – and so is your client, reader or visitor. Get to know them. It's not necessary to become friends with each and every person visiting your website or store but it does help if you get to know them as people in general.
What does your customer care about?
What their pains are? And I don't mean the pain your product or service solves but their worries as human beings.
Do they have children?
Do they like going to the movies?
How often do they go on holiday?
Do they get upset by animal cruelty?
And what about child abuse?
Or maybe they are passionate about cars?
Do they read books and magazines or prefer TV?
Do they go out with friends often?
Do they go to the seaside or to the mountains for a vacation? Or both?
These have nothing in common, I know. I am randomly suggesting questions because depending on your business and/or blog, you will ask yourself different questions. You will have different audiences and you will care about different things.
Asking yourself the right questions and getting the answers you need will help you connect with your audience on a personal level.
To put it simply, connecting on a personal level is when the reader or visitor can relate to what you are saying and vise verse – when you show the reader or visitor you can relate to what they are saying.
In order to connect on a personal level though, you'd need something in common.
One way to find the common ground for an active conversation is to ask questions. And listen to the answers afterwards 😉
Contrary to some popular (among my freelance clients) misbeliefs, it's not rude to ask questions. As long as your questions are appropriate, they are the easiest way to connect on a personal level. You show genuine interest – and people are inclined to answer.
Solving problems and relieving stress is another way to connect on a personal level. But again, be yourself. Don't pretend… You would never connect on a personal level with your audience if you pretend to care when you actually don't.
Here are a few ways to improve your marketing efforts and start connecting with your audience on a personal level.
We all know how powerful storytelling can be for business. What not everyone knows is that storytelling is a skill you can acquire. Make your first step to becoming a great storyteller today.
Images attract more eyeballs – that's for sure. But if all you share is stock images and quotes on a colorful background, you won't get the personal connection you are looking for.
Share your photos – e.g. if you are a blogger, have a section on your blog or publish posts once in a while which are about you and what you've been up to. If you are a business owner, you can do it by sharing news about your team members or partners.
Give a glimpse behind the scenes
Shoot photos and videos from your office or work area. Show your audience how you work and what's going on with you and your team before the end product, service or content makes it to the general public online.
For example, show what the creative room looks like and more importantly, how it sounds like using a short 30 seconds video. Or tease your chief copywriter for his inability to function before he has finished his morning coffee by posting a photo of him, sitting on the office couch with only one shoe on and holding his coffee mug.
Use your social media channels to reach out to your audience and invite them to come and say hi. Remember to take tons of photos and videos so that you can further interact on social media after the event.
Always deliver on your promises
When you say you'll call – call. When you are asked a question but you need time to come up with an answer, do follow up with that answer one you have it. Reply to questions, emails, comments, anything and everything that is networking with your audience.
Your turn – is connecting on a personal level part of your marketing strategy? How do you do it?
If you don't feel like commenting, check out how to bring the conversation to the next level. 😉