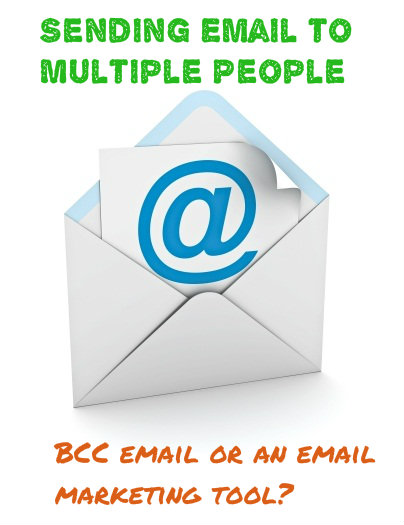 Sending email to multiple people is necessary sometimes. However, using bcc email address field is not always the right approach. Read on to learn when using an email marketing tool is better than sending a bcc email.
Use BCC email when sending a FYI type of email copy.
It can be personal or work related. Let me give you one example for each case to illustrate my point.
Let's say you are planning a family getaway. You have discussed with your sister the city you are going to visit next month – but you have not decided on a hotel yet. She couldn't care less about the exact place of accommodation so she leaves to you that decision.
You coordinate the accommodation with your favorite travel agency.  You exchange several emails with them discussing requirements and various details. You finally like a hotel they have offered you. You make a reservation.
You want your sister to know what hotel you are booking but you don't want to waste your time retelling everything that you have discussed with your travel agent. For that reason, when sending that last email to the agent with the reservation details, you also include your sister's email in the bcc address field.
This way, your agent will get the reservation inquiry and in the same time, your sister will also get the reservation details and the emails history, if she needs more details of how the decision was made.
If you are wondering why use BCC and not CC address field – blind copy (bcc email) protects your sister's privacy and email address. The other party (he travel agent in this case) does not see the email address which is inserted in the bcc email field.
The same logic can be applied if the email exchange was work-related and not personal. You discuss a design with your marketing department but you don't want to involve the designer with the little details of the decision making process. However, once a design is approved, you want to notify the designer about it as well. You can do that with a bcc copy of that last confirmation email – for their information only.
Use an email marketing tool for your email marketing needs.
Never ever use BCC email when sending an email to multiple people as part of your email marketing efforts. For email marketing purposes, you should always use email marketing tools like MailChimp, ConstantContact, Aweber, and alike. There really are a lot of them out there. The one common thing for all of them is the recipients of your emails are willing participants.
It amazes me how many people use BCC emails to send their newsletter. That is very close to the definition of spam.
It is unethical (not to mention prohibited) to send a newsletter to someone who has not opted in to get it. It qualifies as unsolicited bulk email (UBE) and is one of the main reasons many small business owners without marketing knowledge think email marketing equals spam. Read more about email spam, if interested.
People should request you to send them email. You should never ever send email in bulk to your blog readers, for example, or to your client base, or to your existing customers, etc.
The only legitimate way for you to send them an email in bulk is if they have specifically requested to get emails from you that way. Email marketing tools have opt-in forms to facilitate that process.
In conclusion about blind copy emails and email marketing tools
BCC emails protect the privacy of the recipients when used right, but also sends the wrong message when used wrongly instead of an email marketing tool.
It's ok to send a BCC emails to a single person or individuals who are somehow related to the conversation. It is definitely not ok to send blind copy emails in bulk to announce news, blog updates, product releases, and so on. Use an email marketing tool when sending email to multiple people.
Over to you – have you ever sent a BCC email because you didn't know better? Do you now use an email marketing tool?