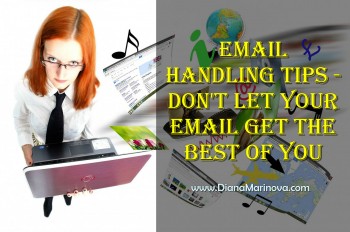 Recently I came back from a long trip abroad and I realized I have hundreds of starred emails to attend to. Those were readers' questions, inquiries from prospective clients, comments on my blog or group discussions I take part in, and so on.
See, when I get an email, I usually check it out and do one of three things:
Delete it – if it's spam, a newsletter which doesn't take more than two minutes to read through, a notification of some kind, etc.
Reply to it – if it takes two or less minutes to handle, I always reply instantly so that I don't forget later.
Star it to attend to it at a later stage when time permits – as you might imagine, I star most of my emails  because they always require more than two minutes to handle.
It takes time to look through a prospect's website and send them a proposal based on their initial email.
It usually takes more than two minutes to look into that reader's specific situation and problem, think about the best course of action, and explain to them in details why I think that is in fact the best course of action.
The same is valid when I am replying to a comment on my blog, or adding value to a LinkedIn discussion through a comment, for example. It takes more than two minutes to get acquainted with the situation, read whatever I have been emailed and then reply with a useful thought of my own.
All of these emails get starred.
I have always suspected it but now I am dead sure that starring my emails to attend to them later is a very wrong approach.
If you are starring your emails to attend to them later, you are setting up yourself for failure. Here's why.
If you have been handling your email in the above described method for let's say a week, then the worst case scenario would be to spend a couple of hours over the weekend to catch up with all of your starred emails.
Now imagine if you've been on a trip for two months and you have about 200 starred emails, waiting for your attention. True story – read on!
Because I chose to focus on having fun while traveling and getting to know new cultures, my blog as well as my email took a backseat. Just the other day I had to spend 8 hours sifting through email, answering readers' questions, replying to comments and apologizing to prospective clients about the delay of my replies.
If you are thinking – "OK, eight hours, that ain't so bad. If eight hours is the price I have to pay for a two-month-almost-email-free period, it won't bother me much. I'll spend those eight hours cleaning up my email inbox."
Fair enough.
But let me tell you the implications on your freelance reputation when you let your email inbox get the best of you.
I had customer inquiries dated as early as May 5 which were starred but never attended to. How professional is that?!
I may be a very good marketer, I may be very professional, I may not miss deadlines once I take on a project, but go explain that to the guy who sent me an inquiry in May and I failed to reply before August!
Losing control over your email inbox can affect you in all kinds of different ways. You may miss a great opportunity to work with a suitable client. You may miss an interesting article or discussion which would have provided you a solution for a problem you've been struggling with for ages; if only you had read that article or discussion from start to end earlier. You may even ruin a good relationship and make people question your integrity and professionalism if you are unresponsive for a long time and without prior notice.
Not to mention the stress that email build-up may cause you – you are constantly thinking about that pile of email you have to address but for some reason don't have time to. As a result, your work-life balance suffers and your productivity falls because you worry.
Having said this, I strongly urge you to find a system of your own which would help you regain and retain control over your email inbox, regardless your circumstances.
Whether you are home doing nothing, traveling and conquering the world with limited internet access, or just working at your home-office and chilling like any other ordinary day– this system of email control should work impeccably. Because, let's face it – it's easier to spend 10 minutes here and there to clean up your email, rather than set aside eight hours to catch up with emails which should have been addressed a long time ago in the first place.
Here's what I think will work for me in my quest to take back control of my email.
Three easy rules to follow:
block time on my calendar for email handling
don't open emails outside those time slots
act on every opened email – reply, archive, delete, forward to somebody else to address it, but do NOT leave it for later by putting a star on it. If I do, I'll end up with tens, maybe even hundreds of starred emails which I have to address later and I never will because, who am I kidding – I don't have another eight hours to spend on email alone, right?
A special note which is worth making – if there is a customer inquiry which you need time to address and the allocated time slot for email handling wouldn't be enough, then reply to that prospect, confirming you received their inquiry and inform them when you will be sending your proposal. Then go ahead and block some time on your calendar to handling that specific email when you have an opening in your schedule. This way you reply in a timely manner to the original inquiry and you make sure you set aside the time needed to reply with your detailed proposal.
Do share any other tips you have for successful email handling 😀