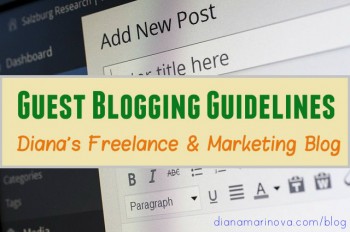 When you start getting guest blogging inquiries more often than quick call requests from clients, it's safe to assume it's time to open your blog for guest authors, right? That time has come for me, too.
First, some guest blogging ground rules if you want to get published here
Ideally, each post should be about 800 words for better user experience. I could accept longer blog posts as well but no more than 1500 words and only if they are free of "filler content".
Each post should be useful. I would not accept generic content which is common sense and lacks actionable tips. Needless to say, the content should be original (not published else-where) and relevant to my blog and audience.
I add a contextual image to each blog post, one image per roughly 500 words. It would help me a lot if you provide contextual images with your guest posts. If you do – please, send them over with source and proper credit to the photo author. If you don't, that's ok too. I can find a contextual image myself.
Some "technical details" about your guest blog posts here
I am very particular about formatting for search engines and readers alike – with short paragraphs, section titles, etc.
While I won't change your content (I am not an editor) I might change formatting if you have not followed the formatting guidelines. You can check them in the free ebook which I give away to newsletter subscribers.
(If you don't want to subscribe to my newsletter but really want to get your hands on the formatting guidelines, let me know – I will send it over to you if we agree to move forward with your guest post writing.)
Although it's more work for me as a host, I prefer if I am the one inserting all blog posts in my WordPress. So you won't be required to do any blog post uploading or linking. All you will have to do is send me the blog post via email (after all other preliminary communication though – don't send me your posts just yet, read on!)
For better user engagement, I add at least 3 internal links to existing content on my website (blog posts or pages). If you have something against this, better don't send me your pitch. I will not make an exception for you.
You will get a link back to your website, blog and/or social media properties from your author bio. I won't include a text link within your blog post unless it is super relevant and exceptionally valuable to my readers to have that external link right there, within your guest blog post.
Please don't do any of these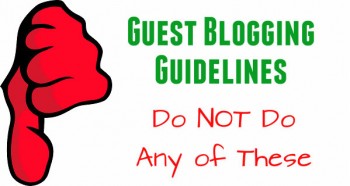 If you do any of these, your guest posts will not be accepted and I may even not respond to your email at all…
Don't pitch me topics which are obviously irrelevant to my blog. Don't pitch me at all if you are solely after a backlink.
Please, spend some time getting to know me through my content. Read my blog to get the feel of content I publish and what my audience is interested in. If you need help with that – say so, I will gladly send you a detailed audience profile if need be.
But don't include me in your link-building schemes – believe me, I can tell when you think of me as "just another blogger who might give you a backlink".
And no, starting your email with my name and including my domain as reference does not count as research and customization of your pitch 😉 
Don't send me your written blog posts. I will not accept guest posts which have not been written specifically for my blog after my approval of the topic, the blog post direction and purpose.
Don't send me reminders and follow up emails. Once I get your pitch, I will confirm getting it so that you know I received it. Please allow some time for me to look through your pitch. Don't send me the same email multiple times. Don't send me a follow up email 2 days after you sent your pitch. I get a lot of emails – it could take 2 weeks before I can actually get back to you.
Don't demand payment for your guest posts. Unfortunately I don't pay for guest posts, not yet anyway. For now, all I can give you in return is exposure to my readers, promotion on my social media properties and to my email list, to my network in general.
What's the process to get your guest post published on this blog
First, send me your topic suggestion via email with a writing brief, so to speak – what's the purpose of the post, what points it will cover, what the reader will be able to do after reading the post – that type of info. If you want to pitch me more than one topic – include the above info for all topics.
Also, tell me in a couple of sentences who you are and why I should have you as a guest author. Please, don't tell me the story of your life – I am asking this just so I get the feel what type of person you are and what we have in common.
Remember to give me 2 or 3 links to materials you have written. Don't give me all the blogs you have ever written for. The best thing to do is give me 2-3 links to specific blog posts which you are proud of and which pertain to the topics you are pitching. This way I can see exactly what type of content (in my niche) I can expect from you. No need to refer me to a post about healthy eating if you are pitching a freelance related topic, right?
Tell me if you have any constrains or special requests – e.g. time you'd need to write the blog post, provided I like your topic suggestion; or you want me to publish the blog post within certain time period due to time sensitivity of the matter. Anything you might have in mind – tell me in this initial email.
If you have any questions – feel free to ask! I love questions – if you have read enough of my blog posts, you know I am an advocate for asking questions 😉
Once I get your guest post request, I will confirm receiving it – just so you know, I got your mail! This doesn't necessarily mean I will have a look at it immediately. Sometimes it can take up to 2 weeks to look into the details and get back to you about your topic and/or with follow up questions.
Once I look through the details of your pitch, I will get back to you via email. We will then agree on time-line for the blog post writing, due date, publish date, and so on.If you have followed all of these guest blogging guidelines, I believe I will accept your topic suggestion and then – publish your guest post with minimum or none edit requests.
That's it. Have fun now 😀
You can send me your pitch via my contact form – choose "Guest Blogging Opportunities" as subject. You can also email me directly at Diana @ dianamarinova . com (make sure you remove the redundant spacing in the email address I have given). Please, insert as subject "Guest Post Inquiry – Title of your suggested post".
P.S. I reserve the right to add more requirements or details to these guest blogging guidelines so if you pitch me more than once, make sure you revisit this page now and then 😉