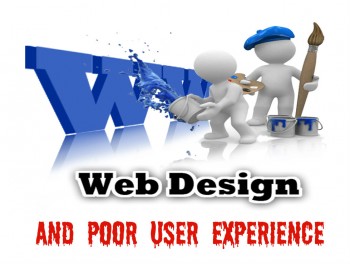 The incredible cheesiness (or should it be cheesy incredibleness?) of flamboyant websites does manage to hook us to them. The unrestrained use of colors, the prettily scattered widgets and animations, and the glossy landing page are the result of the go-for-broke ambition of a web designer.
Does such a website look fab? Darn straight. Does 'fab' guarantee great user experience? The answer lies somewhere between "oh yes" and "not quite".
If your definition of a "good user experience" is leaving your visitors spellbound with the visual charm of your website, you might as well be going astray in your synthesis. And this is a problem much too common. Despite their best intentions and high ambitions, brands have often been widely off the mark in their perception about what "works" as a design. What we described is part of massive flawed cloud many webmasters and designers are living under.
First problematic approach: "I am gonna overwhelm my visitors with addictive colors and effects on my site"
There are far more tempting addictions in the world than a gaudily designed web page. Boiling your website with colors and fancy details might make it look great (if not done in a non-amateurish  manner), but have you ever paid notice to how much time the website takes to load on the browser of your average visitor?
Let's positively assume that inspite of filling it with extravagance, it takes an avg. 8 seconds to load on a desktop with an average Internet connection, and maybe that's a figure that you aren't all that worried about. But, keeping up with the trends, you need to realize that a larger chunk of the Internet audience is leaning towards accessing the web on their mobile phones, and this is where your website's responsiveness is likely to take a major hit.
The patience of your audience is what you should rather be worried about. If there is one thing the folks on Internet-verse can't make a boast about, that is their patience. We would instead type in some new website in the address bar than wait for as much as 10 seconds for the current one to load. And patience runs thinner on mobile phones where a slow website turns abysmally slower.
But besides slow loading times, all the extravagant design elements of the website may not load on the mobile phones. You have a host of operating systems and devices that have assorted configurations and screen sizes respectively. And more often than not, heavily loaded websites do toss at visitors the compatibility issues. And once your visitors start getting those error messages while they access your website, you can bid your chances of gaining loyal visitors goodbye.
Another reason for poor user experience – navigating through the site is a real pain
Alright, you kept things minimal with the colors, but is your site's layout optimized for good user experience? Simply going with subtle and gray tones and increasing your website's speed and responsiveness may not guarantee spring times.
What you also need to be sure of is that when someone visits your website and is looking for certain categories, they are not hard to locate. All the necessary widgets, the menu and the call to action buttons should be located in a way that your users don't have to squint hard to find them.
And these is not a reason in the world that should coax you to not include search box on the site. It is the first thing users look for when they wish to read about something that they can't find on the homepage and when they can't locate a search box, they might as well bounce off to your competitor, thus increasing your bounce rate in the process.
If you have a hard time making your website a concoction of simplicity, elegance and user-friendliness, then hiring experts is most recommended.
Not going beyond the default typography may be another reason for poor user experience on your website.
Now, not trying variations with the fonts on your site won't make you lose traffic, but experimenting with them might just gain you some more. The webmasters of the world are usually content with the default font settings their content management system equips them with. And this eliminates all the possibility of trying out new things with typography in the terms of different font sizes, different font colors, etc.
It serves you well when during writing you create content that's scannable. Arranging it through subheads, bullet points, short paragraphs and most importantly, highlighted piece of texts makes your content more readable. You can simply use separate colors for the subheads or the highlighted text so that they stand out even more. Not doing so might make the content look bland.
What's even worse than poor user experience is if your design is a rip-off.
If originality isn't your strong suit, your competition on the web might just get the better of you. Every once in a while, we stumble upon a website that we are absolutely taken by, and probably unintentionally, we end up getting overtly inspired and use the same slider, the same tones and textures and the similar style of displaying widgets.
What you are doing here is that you are not allowing your brand to have a character of its own, and that's just about everything you need to know why ripping off is wrong.
At times, you need to give yourself a free rein over how you design your website. But then, there shouldn't be a misuse of the freedom you give to yourself. Web designing is a complex affair and every rough spot has to be carefully identified and addressed. Branch out to ideas which may not seem all too feasible in the first place and let your website make a bonafide boast.