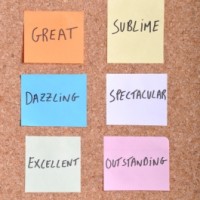 Whether you are a content writer or a small business owner who's trying to figure out where to start with their marketing, remember – positive words do matter. And here's a quick overview why.
Choose your words wisely – people might just remember what you say.
I see so many websites that tell their readers what not to forget, what not to do, what not to believe, and so on. Well, why not tell them what to remember, what to do or what to believe instead?
Think about it – when you tell your kids "don't drink soda – it's bad", I bet you all they hear and remember is "soda". So no wonder they start craving it as long as you finish your sentence. Instead, tell them to drink fresh juice because it's good – they won't even know to think of soda as an alternative.
Now, let's pretend you are a business owner and you're building your emailing list. Why end your blog post with "don't forget to sign up to my newsletter"? Tell your readers what you actually want instead. "Sign up to my newsletter" is a way better ending of your story, don't you think? Although a cliché, telling people what to do has a better chance to make them do it indeed. 😉
When trying to convince your reader to buy your product, telling them how others are worse than you won't do you any justice. It will just place you as "less bad" along with everybody else. Instead, tell your reader how you are better. It's a thin fine line but it counts. Try it – take out a sheet of paper now (or, well, open a new word doc :D) and write 5 things you do better than your competitors without even mentioning your competitors' level of expertise. It's hard, I know – but it will pay off, eventually.
Positive words are better than negative ones even when the meaning is the same.
You are just coming back from a party and you have to describe it. Would you say it was "insanely good" or would you prefer "great", "fabulous", "excellent"? It's the same thing basically, but why turn it into insanity? It was a pretty good party after all and describing it as "insanely good" might unintentionally hurt the other person's perception by calling some crazy pictures in their head.
If I may, I would go back to the example with the soda I gave earlier. Why tell your kids that soda is bad? They don't care – they like soda, and as long as they hear its name, they want it! Tell them something is good (fresh juice, anyone? :D) instead of how bad something else is… People remember the word regardless its context (positive or negative) – so be sure to use positive words. You'll spread some positive attitude and your readers will perceive you in a positive way, too.
Positive context counts though – and positive words build it.
When you complain about how hard your work is, or how tough the competition in your industry is, all you do is create tension. Your readers probably will feel a bit of empathy but end of the day, they will be tired of their own hard work or tough competition and won't come visit you again. They will be afraid they will get some more tension from your blog or website.
On the other hand, if you share your experience and tips about making your work easier, or standing out from the crowd of competitors, you will now turn from a whiner into a winner. You not only don't complain any more about your hard work and life; you share tips and help others counter the same problems you once had.
It IS the same thing (work is still hard, and competition is still tough) but the perspective is different – the context is positive. And that's what will make your reader come back and read some more – or not.
Back to you – how do YOU see and use positive words in your writing or marketing?
Or if you are not in the mood of commenting, read some more marketing tips 😉