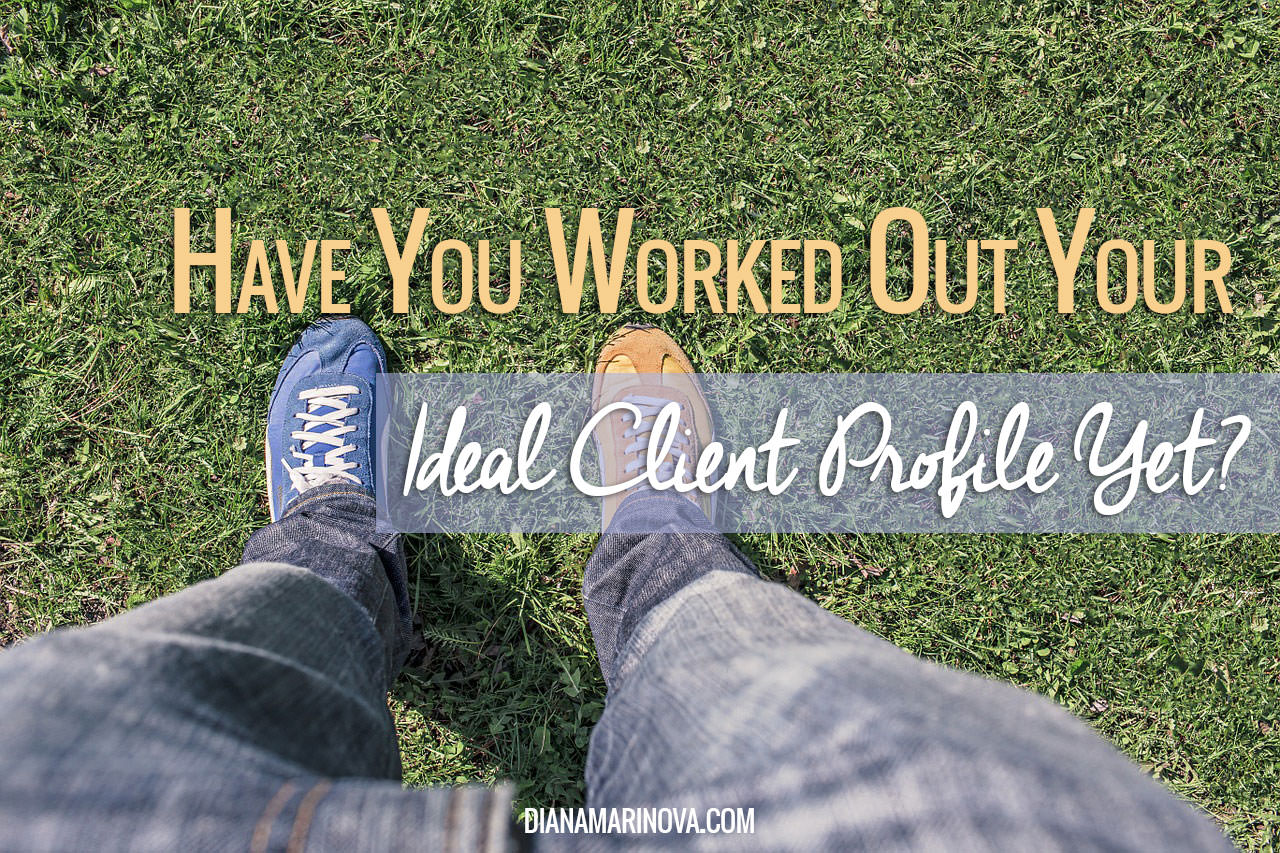 Sometimes freelancers are stuck working on a boring project or with a client whom they don't quite like. This happens mostly when they don't pick carefully their prospects and clients. They cannot say NO and end up working with everyone who is interested enough to offer a contract. This doesn't sound like a sound strategy, wouldn't you say?
A reader once emailed me a great analogy – you don't invite in your home everyone who comes knocking on your door. Why then so many freelancers are eager to please every prospective client who sends them an email? Why do so many freelancers agree to work with people they don't like?
A great way out of this situation is working out your ideal client profile.
Why it's important to have an "Ideal Client Profile"
When you have an ideal client profile, it will be easy for you to filter out the clients who come your way. You can simply reject prospects who don't fit it or enter negotiations with those who do.
Knowing who your ideal clients are will also help you come up with a value proposition. Only if you know the type of businesses you want to work with, will you be able to emphasize those of your strengths that would appeal to them specifically, not to any business there is.
After all, your value proposition is all about what the client will get if they hire you. How could you possibly come up with a good value proposition if you don't know who that person or business is?
What's an "Ideal Client Profile"
Marketing your services as a freelancer is hard enough of a task. Having an ideal client profile will make it less hard. Not for some other reason but because it'll give structure to your efforts.
Your ideal client profile is basically an outline of the companies and the people you want to work with. Armed with this one-page document, choosing a prospect would be as easy as ticking boxes on a checklist.
Are they a big or a small company? Are they well established on the market or just starting out? Are they growing, or maybe rebranding, or launching a new product? Are they entirely online based or also with offline locations? How many employees do they have? Do they allocate a budget for freelancers once every year or is it more of "on as needed" basis? Or maybe they are just exploring the option to hire freelancers instead of hiring people on staff? What niche do they operate in (e.g. travel industry, fast moving goods, furniture, etc.)?
These are just a few of the questions you should ask yourself when constructing your ideal client profile. The purpose is to focus you on the type of clients you seek. Here's an example of an ideal client profile:
A small online-based business, operating in the travel industry, with 5 to 10 employees – mostly young freelancers from all around the world; the company is aware of best practices for work in an online environment, and needs help to gain market share and become a market leader in the industry; socially responsible company with company values and environmentally friendly policies, values the cultural diversity and friendly team environment.
Another aspect of your ideal client profile should be the point of contact in your target company.  This is the person you will directly communicate or work with, or the very least – who'll interview you before awarding you the project – are they men or women? How old are they? What's their marital status? Do they have kids? How much money do they make and what is their position in the company? What are their hobbies and passions in life? What do they do in their free time?
Again, these are just a few of the questions you should ask yourself when constructing your ideal client profile, in order to get a clear idea what type of people you want to work with. Here's an example of an 'ideal client profile' not on the company level, but for your point of contact:
Women between 25 and 45 years old, single or married, with or without children, living in the suburbs of large cities in the US, Canada or Western Europe, annual income of more than $75K, team leader in their company (not necessarily C-level), with interest toward gardening and dogs, a passionate traveler, subscribed to travel blogs and magazines, environmentally friendly habits, socially engaged (social media but also – cares for causes like animal shelters, etc.), prefers reading books than watching TV.
Both of the above examples are with illustrative purposes. You should include your own preferences and keep your own goals in mind when outlining your ideal client profile – both for businesses to work with and people to reach out to for possible collaboration with their companies.
How to come up with your ideal client profile
If you already have some projects under your belt, look back – which projects did you like the most? Which clients did you enjoy working with the most? What were the circumstances of your most successful and enjoyable collaborations? You can use those as a basis for your ideal client profile. Take note of all the traits and business characteristics those projects and clients had in common to lay a foundation for your ideal client profile.
There are certain demographic and psychographic characteristics which you can and should take into account when drafting your ideal client profile. If you want to receive the template that I use, leave your email address below and I'll make sure you get it 😉

Sign up to
download

this template

You will also receive a free ebook, my ideal prospective client checklist, new posts via email, monthly freelance or marketing tip, and occasional email update from me.
Coming up with an ideal client profile is one of the most overlooked steps in the marketing process for freelancers. It can be tough, too – especially if you have absolutely no marketing background, knowledge or experience. This post and template will help you narrow down your ideal client profile.
An important note before I leave you to your day – know that your ideal client profile is not set in stone. You can have more than one ideal client, if you please, and their profiles can and should evolve as you grow as a freelancer, and as your goals or preferences change with time.