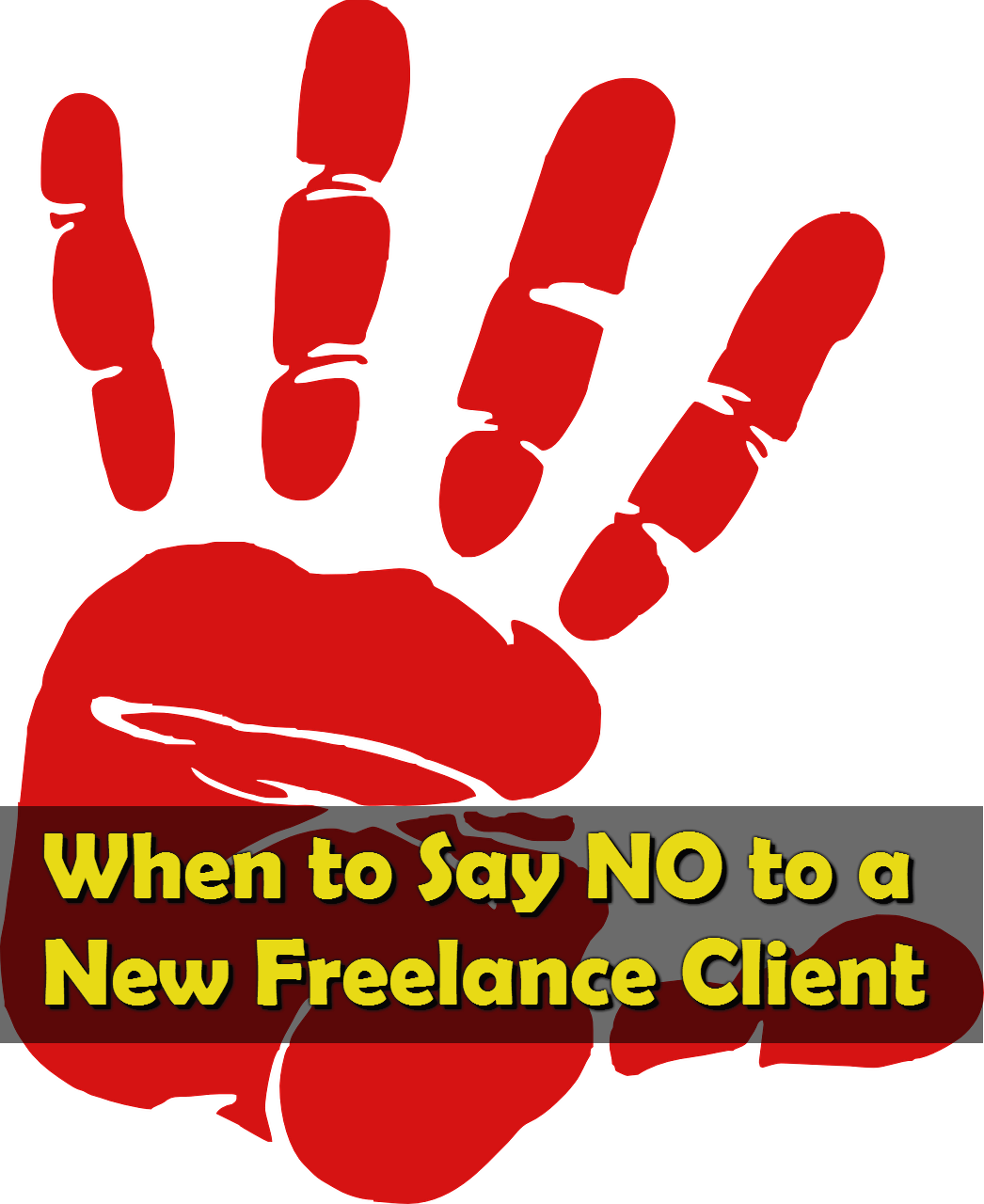 If you are in your 7th stage of the freelance cycle, 'all is perfectly well', you are already used to declining work. However, if you are earlier in your freelance career, check out these 5 situations when to say NO to a new client and why.
#1 When the new client has a bad reputation
It doesn't matter if they have bad reviews on freelance job boards or you have heard from fellow freelancers bad things about the way they conduct business. If their reputation is bad, stay away from them! Even if they seem nice at first, you don't want to find out first hand that they were just a wolf in sheep's clothing.
Check out these two posts to improve your client filtering process:
#2 When you don't like the personality of your prospect
As the years went by, I learned to trust my intuition. I don't know if all freelancers stick to this advice but now I do. Let me elaborate.
I had a couple of clients whom I didn't quite like when starting to work with them. They were nice, treated me professionally, had good communication skills, answered questions promptly, and so on. And yet, there was something I didn't quite like about them; I just couldn't put my finger on it.
I thought it is because of my mood or something else, unrelated to the client per se. So I started working with them, only to find out eventually that we don't work well together for some reason. Let's say 'personal incompatibility'.
The takeaway here is not to ignore your intuition. Trust your gut and decline work from clients you have second thoughts about. You don't need to justify your decision with anyone when you say NO.
#3 When you don't feel well
Whether you have the flu or just feel under the weather because you miss your best friend, not feeling well predisposes you to making mistakes. Unless the client can't wait to discuss project details and award the project to someone, refrain from entering contracts when you are sick or worried about something.
#4 When the client is insecure or needy
If a prospect comes across as insecure or needy, they probably are in one of the following situations:
They are looking for a freelancer for a long time and for some reason, nobody wants to work with them.
They are looking for a freelancer for a long time and they never seem to find anyone who meets all of their requirements and criteria.
They are used to always getting what they want, here and now.
They don't accept NO for an answer and when you say NO to them, they just feel more motivated to have you on their team, just because…
They are desperate.
Whatever the reason for their behavior, the decision to work with you is probably based on the wrong reasons. Entering a contract for the wrong reasons can only bring trouble down the road. It is better for your peace of mind and business profits if you just stay away from insecure and needy clients.
#5 When you are too busy with work on current projects
In the beginning of the post, I mentioned the freelance cycle. One of its stages is having too much work and working crazy hours to keep your deadlines. When you find yourself at that stage, it is wise to say NO to new clients. Check out this post to see how to say NO to new clients when you are busy and still keep them as future clients.
And when do you say NO to a new client?