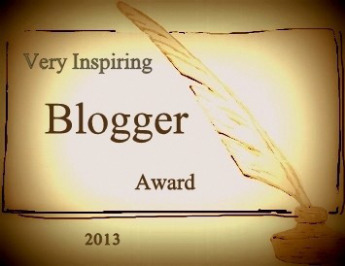 Almost a month ago, I got a comment on my blog that I have been nominated for The Very Inspiring Blogger Award. I was busy traveling the world and then – catching up with work, blogging, commenting and replies but I am finally here to humbly accept this award and continue the thread.
Rule 1 of the Very Inspiring Blogger Award
Display the logo of the award. There are plenty of them available online but I chose the one that best suits my personality, I think. And it has the year, too 😉
Rule 2 – Link back to the person who nominated me
Well, thank you Lorraine from Lorraine Reguly's blog Wording Well (the link is to her post about the same award). Actually, this is the second blog award that Lorraine has nominated me for. The previous one was the Liebster Blog Award back in May this year.
So thank you, Lorraine, not so much for the awards but for coming back to my blog and being an active member of the community; for appreciating my posts and tips; for making me feel special by spreading the word and giving me credit repeatedly.
Rule 3 – State 7 things about myself
Let's see – what I have not yet revealed 😀
I am planning to move to Spain for a year in a couple of months
I somewhat speak 5 languages – native Bulgarian, fluent in English (obviously), and have basic language skills in German, Spanish and Greek
I don't take up clients whose products or services I don't like and wouldn't use myself
I am allergic to cats
I am just learning snorkeling as a stepping stone to scuba diving
I don't handle well small changes like switching coffee brands or sleeping on the "wrong" side of the bed
I drink 3 liters of water every day, sometimes more
And a bonus one from me:
I am again (or still?) trying to quit smoking LOL
Rule 4 (last one!) – Nominate 15 bloggers for this award and link back to them
Now, I am not sure if I will be able to come up with all 15 bloggers to nominate since I am fairly new at the blogging-in-English arena (I suppose Bulgarian blogs don't count?) but I will do my best!
Number of appearance is irrelevant – they all inspire me one way or the other in their own way 😉
Sherryl Perry and Keep Up With the Web
Leora Wenger and Sketching Out
Kirsty Stuart and her freelance writing blog
Ashley Faulkes and MadLemmings
Daniel Sharkov and Reviewz'N'Tips
Johnny Bravo and The Sales Pro Blog
Stef Gonzaga and The Freelance Pinoy
Desi Velikova and her marketing blog
Jeri Walker-Bickett and What Do I Know
Susan Cooper and Finding Our Way Now
Sophie Lizard and Be a Freelance Blogger
Well, almost! 11 is almost as good as 15… The important thing is that ALL of them are truly inspiring and I am happy to nominate them for the Very Inspiring Blogger Award – hope they all will accept it 😀
So, tell me – do you know me better now? How do I inspire you?