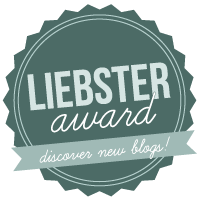 I heard for the first time about the Liebster Blog Award just last week when Lorraine nominated me for getting it at her blog Lorraine Reguly's Life (now Wording Well). The idea behind this award is to recognize new bloggers and help them get some buzz and promote their blogs. There's no real (tangible) award – it's a sign of recognition and it means to you (the blogger) exactly what you want it to mean. 😉
Since there is indeed a lot of information about the Liebster blog award online, and many different sets of rules, I will just stick to Lorraine's version of rules. Here they are:
Lorraine's official rules of the Liebster Blog Award:
If you have been nominated for The Liebster Award and you choose to accept it, write a blog post about the Liebster award in which you:
thank the person who nominated you, and post a link to their blog on your blog
display the award on your blog by including it in your post and/or displaying it using a "widget"
answer the 11 questions about yourself, provided to you by the person who nominated you
give 11 random facts about yourself
nominate 5 to 11 blogs that you feel deserve the award, who have a less than 1000 followers
create a new list of questions for the nominated bloggers to answer
list these rules in your post. (You can copy and paste them from here.)
Once you have written your post, and published it, you then have to:
Inform the bloggers who you nominated that they have been nominated for the Liebster award – remember to give a link for them to your post so that they can learn about it (they might not have ever heard of it!)
Note that you can nominate someone who has been given this award already, as long as they have less than 1000 followers/subscribers.

Let's get down to work, now 😀
Thank you, Lorraine, for nominating me for the Liebster Blog Award! Despite the confusion when I got your invite and then – did not make it to the initial nominees list (you can see the details about this in Lorraine's Liebster award related blog post) – I feel honored you liked my blog and content so much that it was worthy of Liebster Blog Award nomination, thank you!
Here are the 11 questions from Lorraine (along with my answers):
Who has had the biggest influence on you?
Now, this is a very broad question – different people have had influence over me about different things during the course of my life. Since we're talking about blogging experience and I am doing this for the Liebster Blog Award, I think it's only fair to give credit to my boyfriend, who helped me see beyond the "rat race" as Robert Kiyosaki calls it. He was the one who encouraged me to start as a freelancer and follow my dream life. He was the one who held my hand during desperate times. He was the one who helped me understand that life is what I make it to be, not what others tell me it is…
What do you like about blogging?
My favorite part is when I see my writing helps other be better at what they do. There's no greater feeling when I get a thank you letter from a reader, whose life I have changed through my posts!
What do you dislike about blogging? (Be honest!)
Hm, the tight schedule. It's true that I set my own goals and schedule but when I make a commitment to my readers, it's tough sometimes to write new posts when I lack the inspiration or I am not in the mood to do so. I dislike internet trolls, too. And while I don't have them on this blog (yet), I've encountered many unhappy, mean and unthankful people on my other blog – I definitely dislike that kind of experience which is an integrate part of blogging, I guess.
What makes you laugh out loud?
Almost everything! From stupid things like someone tripping over something, through funny cat picture on Facebook, all the way to Jim Carrey's movies 😀 I love laughing – I often laugh out loud about many things. Here's a funny cat pic i saw on Facebook that made me laugh out loud today: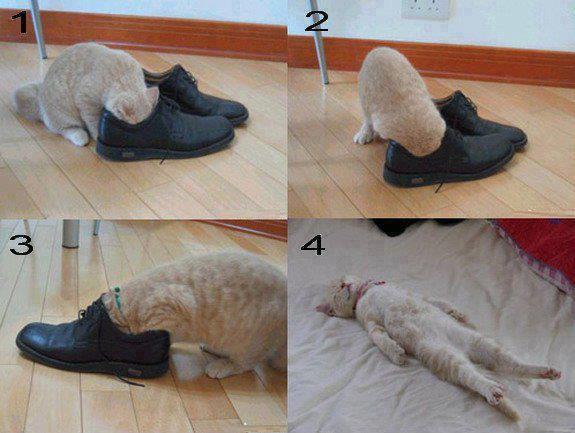 What is your favorite book?
Bummer, I'm not a reader… the first book that comes to mind is a non-English one – "Tobacco" by Dimitar Dimov. I like most of Paulo Coelho books, too – "Veronika Decides to Die" in particular.
What is your favorite quote?
I'm not sure whose quote this is (and if it's even a quote) but a motto I have is: "Good things take time, great things happen at once!". I also live by Jimi Hendrix words "When the power of love overcomes the love of power, the world will know peace. "
What is your favorite form of social media?
Facebook, definitely… maybe because I am used to it, maybe for some other reason – although it is a huge "time waster" so if you are off Facebook, stay off! LOL
Do you like poetry?
Not really…
What is your favorite movie or TV show?
My favorite movie is definitely "Inception"! And TV show? I love tons of them – from cartoons like Family Guy and American Dad, through tv series like Seinfeld, Arrested Development, The Wire, West Wing (and many many many more), to somewhat political shows like the Daily Show with Jon Stuart. Indeed, I love many tv shows, and different types, too…
What is the hardest thing you have ever done, or the biggest obstacle you have faced in your life?
The biggest obstacle I think was when I lost a really close friend I loved at the age of 20 (car accident) – in hindsight, I learnt early that life is not something you just have; you should enjoy and cherish every moment as if it were the last. The hardest thing I've ever done was to let go of the popular beliefs that life is all about work-family-kids-work, etc. and turn toward reaching to the stars and chasing my dreams 😀
What are 3 of your future goals?
Write a book, speak Spanish fluently, travel around the world to find the place I could call "home".
And here are 11 random facts about myself:
I am a native Bulgarian
This is my last twenty-something year
I have always wanted a dog
I don't care much about my appearance or what others think of me
I hate dishonesty and false pretenses
I love Mojito and I have had a better Mojito than mine only once – in Malaga
I played the violin for 10 years as a kid
I am trying to quit smoking (again) as I write these lines
I am not a morning person and can't function properly before my morning cup of coffee (and I mean real coffee, not like US large coffee ;))
I am a certified tour guide
I like camping and being outdoors
And my nominees for Liebster Blog Award are:
I have many more bloggers and blogs to mention and give credit to – unfortunately, they are all well established blogs with big following and couldn't include them as nominees for this new-bloggers award.
And now, my 11 questions for the bloggers who choose to accept the Liebster Blog Award:
Why did you start blogging?
Where and/or when you like best to write your blog post?
What's the biggest challenge yet to face as a blogger?
What do you do for a living?
What was the most recent a-ha moment for you when it comes to blogging?
Where do you draw inspiration for your blog posts from?
WordPress or blogspot?
Why do you or don't you keep a blog editorial calendar?
What's the best means of traffic attraction for you and your blog?
How do you give back to the blogosphere and other bloggers?
How do you envision your blog in 5 years?
I hope everyone would accept the nomination for Liebster Blog Award and soon we'll get to know better all seven new bloggers 😉
Oh, I forgot – rule 8 – I am now sending notes to all seven bloggers to let them know they've been nominated for a Liebster Blog Award here. Looking forward to your replies and comments 😉