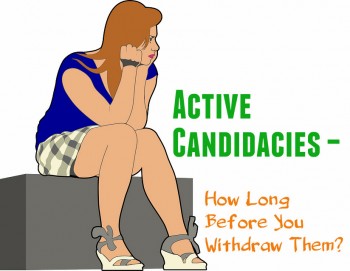 Several readers asked me how fast or slow prospective clients hire someone through popular freelance job boards. Freelancers apply and/or get invited to an interview; exchange a message or two with the client and then nothing. So their question is – for how long should they wait for something to happen before they decide to withdraw their active candidacies move on?
Recruiting freelancers through popular job boards is very subjective and individual process. We shouldn't talk about it "in general". Every case is different so we should approach each case differently as well.
While I cannot tell you to wait for 1 week, or 1 month, or forever, I can give you a few pointers how you can decide for yourself and for each specific situation when it's better to wait a bit more or it's time to move on.
First question to ask yourself is – is there any activity on the job post on the client's end?
Look at the "time-stamps", if I may call it this way. Each job post on oDesk has information when it was posted, when was the last time the client viewed it. Each post on Elance also has information when it was published and when it was edited (if edited).
If the job post is published 1 week ago and the client has not viewed it or edited since then, wait. Maybe this client likes gathering candidacies for a week, then one week for interviews and only after 1 month they proceed toward hiring someone for the position.
However, if your candidacy is active for 6 months and the client has not viewed the job post in the last 5 months – probably they have hired someone through an alternative channel and they simply forgot about the job post and your active candidacy. You can send a reminding message asking for an update but I would suggest simply moving on.
Of course, other scenarios are possible, too. For example – you are invited to apply to a job post. You review it, like it, accept the invitation which automatically turns your candidacy into an active one. A month passes and you don't hear anything from this prospective client.
You see the client is active and viewed the job post during the past 7 days. You also see he or she interviews 2 people (one of them, you). But you have not heard from the client since you accepted their interview invitation.
Here are a few possible scenarios:
Your price is too high and the client is looking for a cheaper alternative without compromising with quality – that takes time.
The client is new to the freelance website and is still unsure how to proceed.
The client has hired somebody else through an alternative source but is keeping their options open in case the chosen freelancer doesn't work out as planned – you are their plan B.
Whatever the case, if you are available, still interested in the project, and don't have new and better proposals, you can wait a bit more before moving on. As you can see, the most important thing is to decide what you want in this specific case.
When deciding whether to keep an active candidacy or close it, look at the project scale.
My experience shows that the longer and/or the larger the project, the slower the hiring process.
For example, if a client is looking for a translator for a couple of pages text, they can hire a freelancer within 2-3 days – if they are well organized and know what they want.
However, if their project is ongoing and they need a reliable translator for the next 6 months for average workload of 20 hours per week, the recruiting can go on for weeks and even months if the hiring process is not streamlined.
Before you withdraw an active candidacy, check if the client has hired someone on the specific job post.
oDesk provides the client with the option to hire a freelancer and still keep the job post open. Possible reasons that come to mind are:
 Testing different contractors for the same job
Fulfilling the need of multiple contractors who work on the same task
Expecting larger workload for the same task and thus, hiring multiple contractors for it down the road.
So, if the client has hired someone else for the job not so long ago, you can wait. Maybe the client is testing the contractor's skills and determining if they will work well together. Or maybe he or she is keeping the job post open because soon they will need a second or third contractor for the same job.  You may be the next in their short list of suitable candidates.
If they have not hired anyone – then you still need to factor in the previous points about how much time has passed, what their activity on the post is, and so on.
Be sure to consider the prospective client's answer to your cover letter before making a decision, too!
If you haven't heard from the client for a month and/or since the day he invited you – that's OK. Follow the above tips.
However, if you have heard from them – you can take different actions depending on their message and what information they provided you with.
For example, the client told you something like:
I like you but your price is a bit steep for me. Give me some time to figure out a way to increase the budget. Thanks!
If you don't have a better proposal, wait it out. Allow some time for the client to develop their business and get back to you when they have a bigger budget. Or let them hire other contractors at lower rates to see that quality costs more money and your rates are reasonable for the quality you offer.
Another scenario is a message like:
Something's come up – I apologize for the delay. I will need some time to re-group and reorganize my work. I will get in touch when I am ready to proceed with the project. Thanks!
Whatever the message, the fact that the client bothered to send you an update means he or she is a correct partner and the wait might be worth it. Keep your active candidacies intact.
You can always send them a reminder email later, asking for a status update and inquiring about their plans and progress in terms of project needs.
Here's a good rule of thumb "generally speaking"
If you have liked a job post enough to apply, don't withdraw your active candidacies only because a lot of time has passed and you have not been hired yet.
If you have exhausted your applications quota and you have come across another interesting project you want to apply to – find the least appealing project you are waiting an update for and withdraw that active candidacy.
But if you are not pressed by the number of your available applications – wait it out. You never know why the process is delayed. You might win a great client only by giving them the time to figure things out on their end.
What do you take into account when deciding whether to withdraw an active candidacy or wait a bit more?