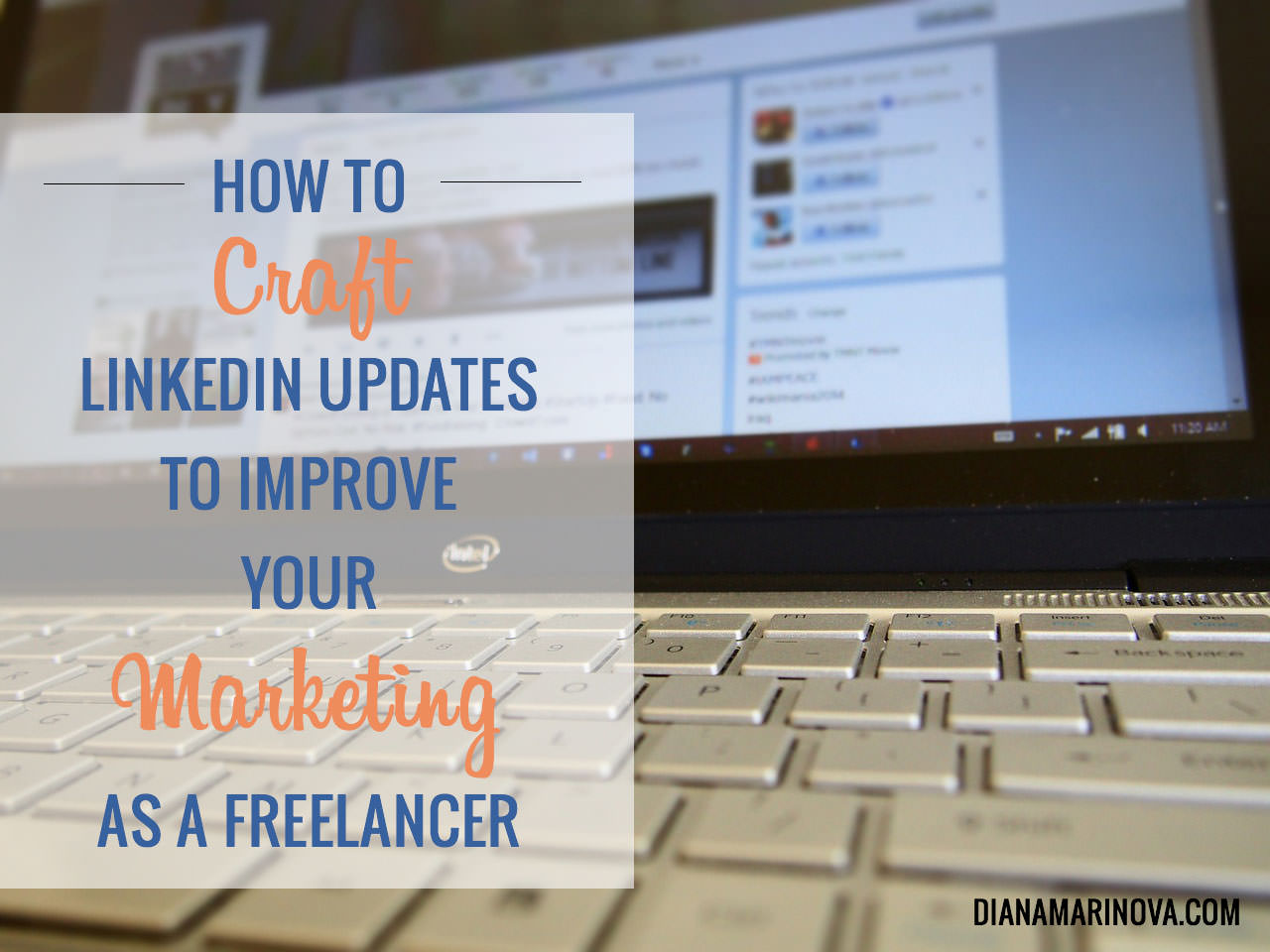 Many of my readers struggle with crafting LinkedIn updates. I know it, because many of you have asked me for help in that domain.
So in this post I'll share four steps how to write better LinkedIn updates. Furthermore, I'll show you how to put the tips into practice through a real-life example. Read on.
How to craft better updates for LinkedIn
STEP 1 – Decide the type of LinkedIn update
Figure out where on LinkedIn you want to post your update – on your profile, on your company page, or in a LinkedIn group discussion. Depending on the place, often the length of the update would be different – shorter for your profile or page, or a descriptive title and paragraph for a group discussion.
STEP 2 – Consider the audience of your LinkedIn update
Make sure you know the profile of your target audience – e.g. people who follow you or your company page, or group members who will be exposed to your group discussion. Don't go for a generic type of discussion – always make it specific to your target audience needs and pains.
STEP 3 – Make sure your LinkedIn update brings value
Think about the value your update will bring to the people reading it, regardless its distribution channel (profile, page, or group). What's in it for them? Don't tell them how cool something is – focus on which of their problems this thing will solve and how.
STEP 4 – Tell the user what to do next
Make sure you include a call to action – after all you want your target audience to do something after reading your update on LinkedIn, right? Make sure you tell them what it is – like, share, read, subscribe, tell their network, call you, anything else? But again, make your call to action about solving their problem, not about buying your stuff.
You should absolutely make sure your updates are not salesy – LinkedIn members hate to be sold to via LinkedIn . . . Always remember it's a professional network and that you are there to network, not to sell.
Let's put the above LinkedIn updates tips into action.
For the purposes of this example, I'll use an update that a fellow blogger (Ashley Faulkes from MadLemmings) wanted to share in a LinkedIn group a few months ago, about the mega marketing giveaway he was running at the time.
(The giveaway is closed now so don't get too excited. You can still check out Ashley's site – loads of useful info and services there!)
His update went like this:
Huge Giveaway – LinkedIn for Business, Video Marketing, Blogging Community Building and Lots of Free Pro Marketing Tools

Why not start of the new year with a Pro LinkedIn for Business course (3 copies to win) as well as other marketing courses (Video Marketing and Blogging) and lots of Pro marketing tools (Web Hosting, SEO, Social Media, Marketing)

Prizes such as Web Hosting, SEMRush and Long Tail Pro (seo research), King Sumo (Create your own giveaway), MavSocial (full social media dashboard and sharing), Paperli (content distribution and personal newspaper) as well as 3 marketing courses (Linkedin for Business, Blogging Community building, Video for Marketing)
Did you understand what this update was about?
Did you understand what should you do to participate?
Did you understand why should you care?
The main problem here is the update is very generic and definitely too salesy for the LinkedIn environment.
If Ashley's lucky, he would be flagged as promotion . . . If he is not lucky, he'd be reported for spam because, as I said, LI members hate sales pitches and although this is a giveaway related update and nothing is being sold, it definitely sound too hyped up.
Let's see how to improve it, following the above tips.
STEP 1 – figure out where on LinkedIn you want to post your update – I want to start a discussion in a LinkedIn group. This means it should have an informative title and a paragraph or two, describing what is it that I am sharing and why the reader should read and click through.
STEP 2 – make sure you know the profile of your target audience – the target audience in the specific LI group consists of experienced freelancers, especially from US, Canada and UK; primarily writers though (at least the active ones who comment; those who read without commenting are from all professions).
STEP 3 – think about the value your update will bring to the people who will read your update – provided the target audience consists of writers and hangs around in LinkedIn, it's safe to assume they use LI for networking and finding new clients so a possible problem for solving would be improving their LI presence and/or marketing efforts. Another problem newbie freelance writers might have is running their own blog so all products relating to hosting, social media marketing and community building would be relevant, too.
STEP 4 – make sure you include a call to action – after someone reads the group discussion, I want them to enroll in the giveaway and share it with their friends and colleagues. So I need to tell them how to enroll and that sharing brings them more entries (to encourage sharing).
Here's an update I would have crafted for Ashley's giveaway for the specific LI group:
Super prizes for freelance writers included in this Mega Marketing Giveaway

A starting marketing agency, Entice Online Marketing, is running a mega marketing giveaway with over $6500 worth of prizes. You can learn more about the event and the products here: http://enticeonlinemarketing.com/giveaways/mmg/?lucky=81 – but I wanted to mention a few of the rewards since they are particularly good for freelance writers:

LinkedIn for B2B online video course – to help you improve your presence on LinkedIn and find more and better freelance clients – this course is included in all 3 prize packages

Blogging community online course – being a freelance writer, you probably know how important it is to run your own blog; this course will help you make it a successful one when it comes to building a loyal and strong community around your personal brand. This is included in the 1st and 2nd prize packages.

And if you are just starting your blog or playing with the idea to move your existing blog to a new hosting provider, 1 year Site Ground hosting is included in all 3 prize packages (different level of hosting though)

These are just to get you started. A lot more prizes are included – for better SEO, online business development and online marketing, social media, blog promotion…  $6500 worth of prizes, so check the details and enter here: http://enticeonlinemarketing.com/giveaways/mmg/?lucky=81 – 5 more days left to enroll.

And be sure to share it with your friends and colleagues – the more people sign-up from your link, the more entries you earn and the better chances you have to win any of the above prizes 😉
Do you see the difference between Ashley's original update and my proposed version?
Tell me in the comments – if you were a freelance writer in the said LI group, would you click on either of the updates? Why or why not?
And remember that Ashley's giveaway is now closed. No need to go about sharing or trying to enter it – you can't. I used this giveaway update with illustrative purpose only.