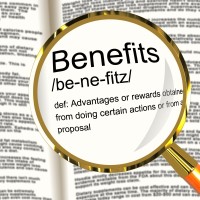 Small business owners often make the mistake of advertising a product and its features instead of focusing on the product benefits. And the benefits directly relate and speak to the consumer needs. Today I'll show you how to easily focus on the benefits of a product and not its features.
First off, let's see what's the different between product benefits and product features.
Product features describe what the product is – e.g. this is a personal blog with freelance and marketing tips.
Product benefits describe what the consumer gets out of it – e.g. you will become a better freelancer, marketer or small business owner if you read this blog and practice the tips you find here.
Generally speaking, the product features are promoting the product itself but today, when the market is so competitive and there is such a wide choice of all kind of products, and similar, too – product features marketing isn't working any more. The consumers don't care what your product is; they want to see "what's in it for me?", and quickly, too!
So, in short – product benefits give a straight forward answer to the consumer's question "what's in it for me" 😉 This is what drives the user to take interest and eventually buy a product or a service. And I am amazed how many of my clients still focus on the features rather than on the benefits of their products and services – hence today's post 😀
Next step is to identify your consumer needs.
When you are developing a product or you are trying to penetrate a market – first thing you should ask yourself is "what does my target audience want?" You shouldn't develop a product and then try pushing it onto your potential consumers. To be successful, it should be the other way around – consider what your consumer needs are and then develop a product which addresses those needs.
To continue the example with my freelance marketing blog – I didn't just wake up one day and decided I have to start blogging. There were two key factors and two needs I meet with this blog:
1) the freelance side of things – there is a lot of crap out there on the internet about freelance and there are many newbie freelancers who are struggling with their "career choice" and cannot find straight-forward answers to basic questions like how to price their services, how to build their profiles, etc. So, this is one of my audiences' needs – need for practical, useful, and use-right-away tips how to become a better and successful freelancer.
2) the marketing side of things – there is a lot of info about marketing on the internet as well, and good info, too. However, most of it is for marketers or very dedicated business owners who have big budgets and plenty of time on their hands to learn and experiment. With time, I saw that majority of my clients are small business owners who have limited budgets and often they are very intelligent and willing to try new things. They don't have the time to become marketing experts themselves though – and apparently, there is shortage of blogs which give simple action tips about marketing – like this post.
You don't need to become an expert in product development to reach the realization that focusing on product benefits will make your communication and advertising more successful, right? So this is another of my audiences' needs – need for useful tips for small business owners to make the most out of their time and budget and still improve their marketing communications.
Now that you know what your audience wants and needs, time to define your product benefits.
Considering how many people have trouble extracting the product benefits and not focusing on the features, maybe it would be better if I just give a few examples. It's not exact science and there's no formula that we can use to shift the focus from features t product benefits so I truly hope I'll illustrate the process through these examples.
Lt's start from something simple, easy, a product that everybody has and uses on daily basis – an office chair 😀
Product features would be:
Mesh Back
Padded Mesh Seat
Black Nylon T-Arms
Pneumatic Seat Height Adjustment
Available in black, white, red colors
In the same order, product benefits I would extract are:
Doesn't sweat your back and keeps you cool in the summer with its Mesh Back
Gives you comfort and takes the shape of your body thanks to Padded Mesh Seat
Easy to maintain one of the dirtiest part of every office chair – the t-arms; easy and quick to clean with a wet wipe thanks to its Black Nylon T-Arms
Very comfortable and beneficial for your health and posture, too – thanks to Pneumatic Seat Height Adjustment
Suits your personal color preference and matches your office interior – available in black, white, red colors
Another example, for instance – a hairdryer. Product features would be its color, how many speed levels it has, what its voltage is, what its level of noise is, how long the plug-in cable is, etc. However, the benefits would be things like:
You can use it worldwide thanks to its compatibility with both US and Europe power networks
You can use at any time without bothering anyone who might be sleeping because of its low noise levels
You can use it literally anywhere in the house (not only in the bathroom) because of its long plug-in cable
You can choose your preferred color, and so on.
You can turn features into product benefits this way for any and all product or services. Some more random examples:
24/7 support and customer service – the consumer doesn't care if the support is 24/7, or if there are 100 customer service agents available – he cares about his call being taken within 30 seconds; or getting a reply to his inquiry ticket within 1 hour
Best price for hotel reservation – the consumer doesn't care if you have the best price for hotel reservations (maybe your hotels are shitty?); the consumer cares that he or she will save money and get best value in the same time.
Greatest burger in town – the consumer doesn't care if you offer the best burger in town. For him or her, it's more important that the food is fresh, healthy (if possible), the service is good, there's parking to leave their cars or convenient location to walk to it, and so on.
Tell me in the comments – what difficulties you have when it comes to product features vs benefits?
And if you are still at the planning stage of your business, see how having a plan matters.