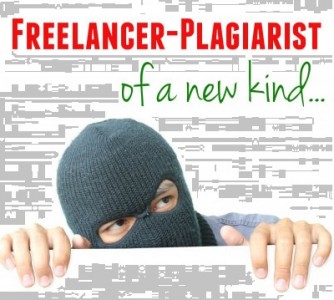 Plagiarism is usually associated with pirated movies, music, software, and in the context of freelance – copyrighted content such as written text, design, code, images, and more. I'd like to draw your attention to another type of freelancer-plagiarist though. Read on.
The backstory how I became aware of this "other" freelancer-plagiarist type, why I care and how I resolved the situation
Back in 2011 a reader of my Bulgarian blog left an alarming comment. She had come across a freelance profile on oDesk which had my profile objective word for word. I was surprised and flattered, and very disappointed in the same time. People say imitation is the sincerest form of flattery but I strongly disagree that plagiarism is a compliment.
I was very disappointed because I was blogging in my free time with the sole purpose of helping young people in my home country to find career opportunities in a tough economy, and for free.
The whole idea of my blog was to share my thoughts and experience with people who want to succeed; to help fellow freelancers build their profiles; find their strengths; formulate and stand by their own principles… My goal never was to give my readers some kind of a formula to succeed; my goal was to help them find their own way.
And it hurt me when I saw this woman not only didn't appreciate my advice; she straight forward stole my work. By copying my description, she gave a reason to prospective clients to question my integrity.
I put my heart and soul in my profile objective. It took me days to carefully craft every single word in my description. It was a good description for the time being and it was working well for me – my success ratio in getting invited to interviews and landings jobs was higher than 50% at the time.
The moment this freelancer-plagiarist put the exact same description on her profile – it was no longer customized and personal on my profile. It looked like a cheap readily available template everyone can snatch online and use. Should a client check the originality of my profile objective, they would have seen it as duplicate content and would have had a reason to question my integrity altogether.
I could hear a client thinking: "She is a marketing consultant and she uses a template for her profile description. I wonder, what kind of services she really offers if she cannot write her own presentation?" I would be dismissed as a candidate before even starting…
Long story short, I got in touch with that freelancer-plagiarist. She didn't do anything about it and acted as if it's not a big deal and I am crazy to spend time worrying over such things and chasing after people who allegedly (she said) stole my copy.
So I contacted oDesk support team and explained the situation. I was pleased to find out they take plagiarism reports very seriously. After collecting the needed information and proof that it is my copy on this freelancer-plagiarist profile, they sent her an official warning to remove the plagiarized copy. After she failed to comply within the next 24 hours, they pulled her profile down until she did.
Since then, I have filed over 30 such freelancers-plagiarists reports on oDesk alone and a few more on other freelance websites and LinkedIn. All of them were resolved by the platform as described above.
How to protect yourself from such freelancers-plagiarists if you are a freelancer
Firstly, please don't be tempted to go down the plagiarism road if you are a freelancer. Research other freelancers' profiles, take notes of things you like, borrow ideas if it will help you, but never ever copy exact words, phrases or profile objectives. Even if it helps you once or twice, it will definitely hurt you more in the long-term.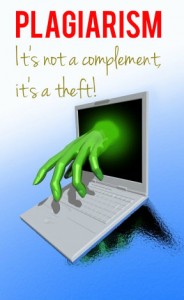 If you are serious about being a freelancer, spend some time crafting your own profile objective. If you are not good with words, pay someone to do it for you. Don't steal.
And if you are proud of your profile objective, check it for plagiarism once in a while. I try to do it once per month. And remember that someone can copy your full description or only parts of it. Here are a few steps you can follow if you don't have access to plagiarism checking tools.
Step 1: select the first sentence of your profile (e.g. "Joining the oDesk family of providers was a decision which I embraced at once.")
Step 2: open google.com, open quotation marks, paste the selected text and close the quotation marks (this way you search Google for the specific phrase between the quotation marks)
Step 3: start the search – all pages which contain your profile objective's first sentence will be listed in the SERPs
Step 4: click the link "repeat the search with the omitted results included" – just to be sure you see all pages.
Step 5: repeat the process with your second sentence, third sentence and every other piece of your profile objective.
If you come across a freelancer-plagiarist who has fully or partially copied your profile description, report them to the corresponding site support. Remember to provide them with as much details as possible – for example:
What copy has been plagiarized
Where is the original copy (direct link to it is preferable)
Include a screenshot, if needed.
Make sure you get acquainted with the website's plagiarism report requirements (if any) and comply with them when filing your report. If you use the same copy to present yourself on multiple websites, give those links in your report as well for credibility
How to protect yourself from such freelancers-plagiarists if you are a client
If you follow my tips for writing a good freelance job post and choosing the right candidate afterwards, you most probably won't cross paths with freelancers-plagiarists of this kind.
Not for some other reason but because you would filter them out early in your recruiting process. Freelancers-plagiarists usually don't have work ethics or principles, don't communicate well, slack from work and wait others to do their job, don't take responsibility or initiative… They simply don't fit the profile of the freelancer whom you'd hire if you follow my tips.
If for some reason you do e-meet such freelancer-plagiarist who is a specialist in his non-writing and non-marketing related niche of expertise, ask them straight-forward: "Why did you copy your fellow freelancer's work?" 
Decide whether to give them a chance (or not) based on their answer to this question. Will they deny? Will they try to avoid the question? Will they admit and give the true reason for their actions? What will they do?
Whatever the case, always be careful with such freelancers… If they lied in their profile objective (by plagiarizing other people's content), chances are they regularly lie in their work, too.
Your turn – have you met freelancers-plagiarists of this kind? How do you protect yourself?