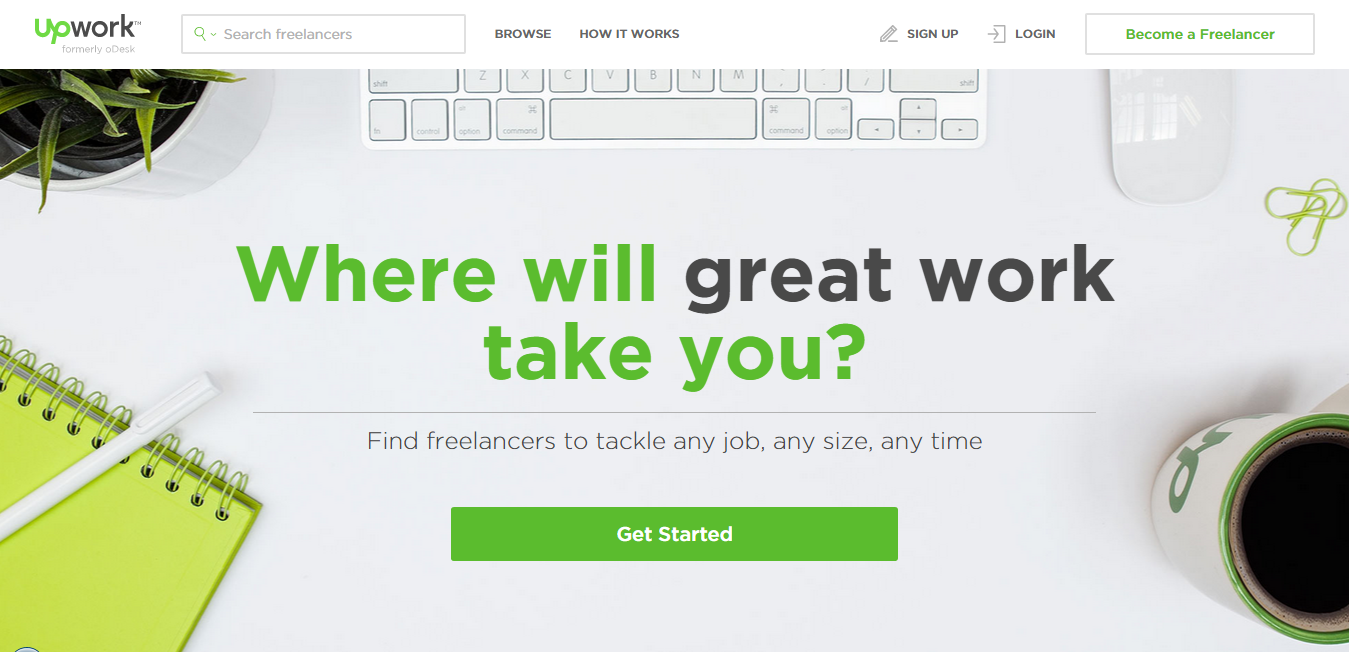 On May 5, 2015 oDesk relaunched as Upwork. The news dominated the internet for a day or so. Various online media and freelancers blogged on the topic, listing all the information they have received from the company's PR department. But what does this name change really mean for us, freelancers and clients who have been using oDesk for years?
First, let's see the official information about Upwork (formerly oDesk).
"Upwork is a new name, and also a new platform for connecting businesses with talented professionals, faster and more easily than ever before," says Stephane Kasriel, CEO of Upwork, in a blog post announcing the relaunch.
The key areas of improvement in the coming months are:
Faster hiring
Two are the new features, expected in the near future:
Real-time availability status for freelancers, enabling freelancers to set their online status and get contacted in real time by clients who are posting their job and filtering applicants at any given moment.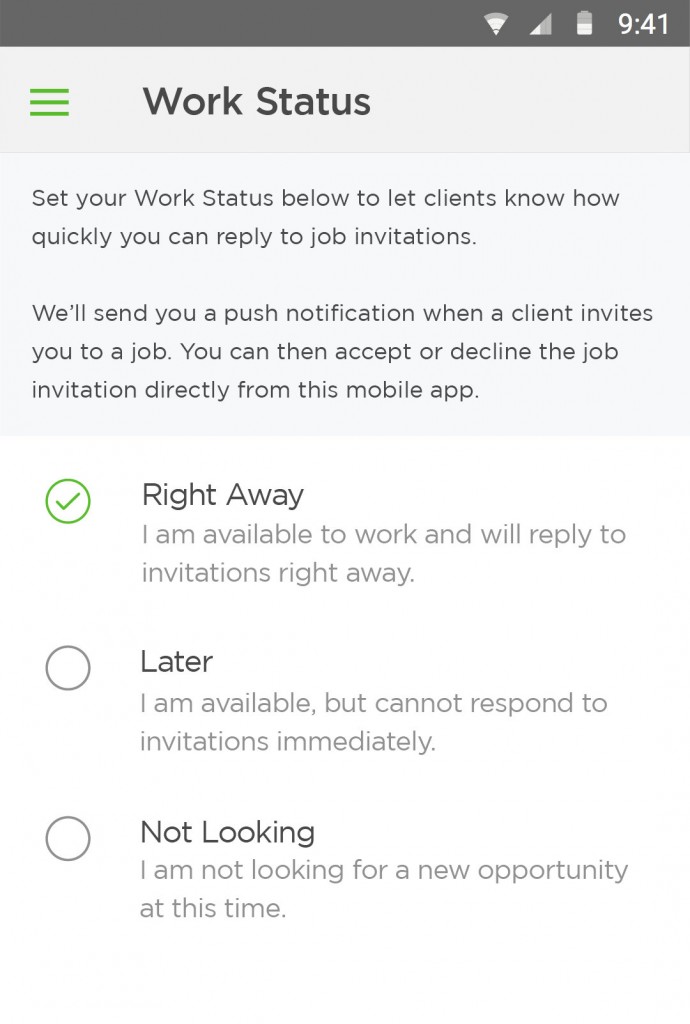 Improved tracking of applicants because of the better user experience for clients – Upwork promises it will be easier for clients to invite, review, communicate with, and hire freelancers. Also, they promise improved algorithms for suggesting freelancers to clients, according to the specific project requirements and needs.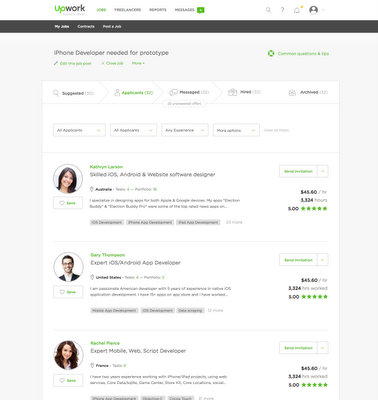 For me, the new features are not what makes me happy (I couldn't care less for online availability of freelancers, to be honest), but the new direction Upwork is taking – the relationship focused approach.
Upwork seems to put communication in a central position when developing new features. This enables freelancers and clients alike to find each other and match their communication styles and preferences before they even exchange a single word about the project details.
Improved collaboration
The second area of improvement on Upwork in the coming months is the improved collaboration.
oDesk used to have a message center which was a very basic email box, so to speak. It is still available on Upwork, for that matter.
Elance has a work room where clients and team members can exchange messages, share files and collaborate in various ways but it does not offer good user experience, not for me anyway.
What Upwork is planning to do is take the best of both worlds and release one kick-ass message center, enabling clients and team members to collaborate anywhere and anytime.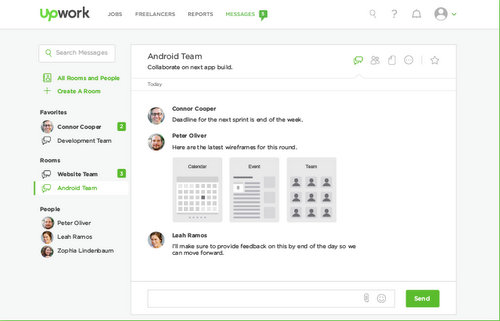 With the ability to have chats and even video calls, using Skype or other real-time conversation programs during interviews will become obsolete and will unarguably make both freelancers' and clients' work easier.
There are some developments for Upwork Enterprise, designed specifically for collaboration with larger teams. See the details here.
And for those who like working on the go, new apps for Android and iOS will be available. They will enable freelancers to receive job alerts or messages on their phones and communicate with clients, especially prospective ones, even when "out of office". This would result in more landed projects and better matched freelancers and clients due to faster communication.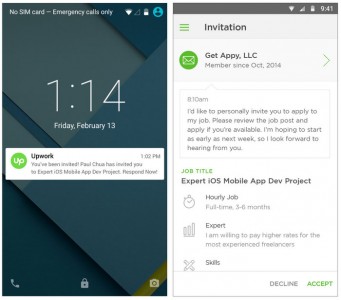 Professional growth
The third area of improvement on Upwork in the coming months is the emphasis on freelance success and the opportunities for contractors to thrive.
Top Rated status, job success score, work history statistics, top skills in demand – all of these are aimed at helping you be the freelancer your clients need and pay top dollar for.
These new features at Upwork make it easier for clients to find contractors with stellar reputation and to hire the one who is best suited for their project.
Furthermore, the new "Hiring Hub" on Upwork provides tips and actionable advice on how to make the most of the platform and also teaches both freelancers and clients some best practices for working with remote teams.
For more information, I'd recommend reading the following materials:
But what does the relaunch of oDesk as Upwork really mean?
No doubt all these features that Upwork is about to release will make the collaboration between freelancers and clients easier. But I can't help but ask myself – did they really need a new name? Why?
If you look through Upwork blog and forum, LI group discussions, internet forums where former oDeskers, now Upworkers discuss various issues relating to their work and life, you'll see that, as expected, this change was not received very well. The fact that oDesk relaunched as Upwork literally overnight without telling anyone anything about it, didn't help either.
The majority of people seem to hate the new name, the new platform, the new everything. It's the human reaction of people who don't like change and don't handle it well. It's only natural to be frightened when facing the unknown. And working on oDesk one day and forced on Upwork the next day can be quite intimidating for the freelancers who are yet to establish themselves as authority and are still making a name for themselves.
I get that. But how different do you think could Upwork be from oDesk right now, really?
Why do people hate it so much?
I urge you to pause and think well about the opportunity that Upwork is offering everyone.
If you think about it, it is basically the same platform – just a new name, new website colors and new font types. One can and will easily get used to them with time. None of those are essential to your well-being and good work as a freelancer.
However, a major pro that all nay-sayers are overlooking is the opportunity for freelancers and clients alike.
oDesk and Elance, and most freelancer job boards for that matter, are always confused with content mills by freelance writers, or race-to-the-bottom websites by freelancers from all professions. Although there are plenty of success stories and opportunities for making a good living on oDesk and Elance, the public perception of the platforms simply seem to be rock solid negative.
So the launch of Upwork is nothing more than the first step toward establishing their brand as the best work marketplace there is, which by the way is totally in line with their goal from a couple of years back.
Let me refresh your memory what Elance-oDesk set to achieve when they merged in late 2013.
Elance-oDesk mission is: "To create economic and social value on a global scale by providing a trusted online workplace to connect, collaborate, and succeed."
Their vision is: "To connect businesses with great talent faster than ever before."
But they can achieve either of these only if they distance themselves from the negative public perception of oDesk and Elance. The launch of a new platform is the logical step toward bringing innovation and changing people's perception.
I find interesting the story behind the name, too. Here's an excerpt from the article on Techcrunch I cited earlier:
So where does the name Upwork come from? The word work can sound like a "downer," Kasriel explained. Projects offered on the platform, he says, are different. "It's really awesome work–better work than you could find locally," he said.
So in other words, Upwork stands for "awesome work", or "work, but better" 😉
Of course, the platform needs to change how it operates and connects freelancers with businesses. The launch of Upwork will be pointless if they cannot live up to the expectations they set with this relaunch and the secrecy around it.
But what I am saying is – I am happy oDesk relaunched as Upwork because it means only one thing – they want to break free from the image of a website with a lot of low-paying clients and spammy incompetent freelancers.
Instead, they want to establish themselves as the online work marketplace where high-paying clients and top-rated freelancers meet and grow their businesses together.
Now we just keep doing business as usual and wait as the new features start rolling out. I believe great things await us on Upwork 😀
And if you are just hearing about this Upwork (formerly oDesk) thing, and you want to give it a shot, check out my new book.
How to Succeed on Upwork (oDesk) and Elance – A Winning 7-Step Formula and Some Hard Truths from a Freelance Pro
It will help you lay a solid foundation of your freelance practice on Upwork and take full advantage of the platform, as it proves itself as the high-quality freelance job board it wants to be 😉