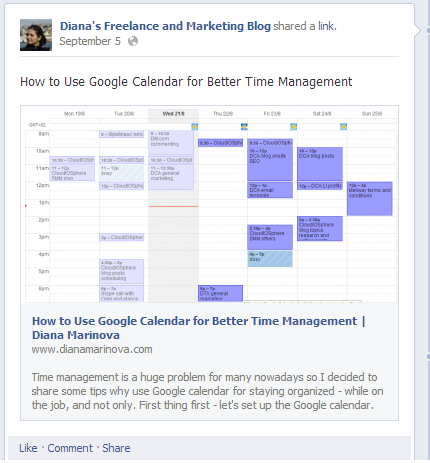 Maybe you've heard that Facebook rolled out larger images on Facebook – both for their links share posts and ads. Meaning: when you share a link to your Facebook page (or profile), along with the link title and description Facebook will no longer fetch a thumbnail but a nice large image instead.
Here is a good post by Ken Yeung on thenextweb.com explaining the details about image sizes on different devices and giving nice before/after pictures. Being a marketing consultant though, I wanted to draw your attention not so much to the technicalities of this news item but to why this is good and how it matters!
Larger images on Facebook attract more attention
According to Hubspot, "Photos on Facebook Generate 53% More Likes Than the Average Post". With the new Facebook insights we have very cool statistics how our own page posts perform, based on timing, type of update, and more.
Despite that, many fell victim of the popular belief that images generate more likes and started posting primarily (if not only) photos to their pages, omitting the balance on their pages (more about the balanced feed later in the post). The difference between their updates boils down to what goes with the image – a question; a text update; a few words and a link, else? But it is still an image that Facebook algorithms reports. So the balance goes out of the window.
Now, with the larger images on Facebook links share posts, we don't need to post a picture and then – attach a link to our text update. We can still post a link type of update and still enjoy the benefit of the visual content which attracts more attention and 53% more likes 😉
It just got easier to keep your Facebook page updates balanced
Keeping your Facebook page updates balanced is one of the most important things for a page to succeed. What do I mean 'balanced'? Too much of anything isn't good. So although Facebook is more visual than ever before, it isn't a good idea to post only photos on your page.
I have tested many times with different pages in different niches, only to find out that the best performing pages are always those with balanced editorial calendar. It saddens me when I see many potentially good pages turning into a Pinterest board of some kind…
What I was saying is that with larger images on Facebook when sharing link updates, we can now have more visual and appealing updates without actually posting an image. This way, we can keep the balance of the page; and have a variety of updates (links, images, text or video updates, and still enjoy the visually appealing content that comes with it.
The click-through rate of your Facebook ads just improved, maybe…
Before, when you posted a Facebook ad, the user should click specifically on the link to go to the content you are linking to. Now, with the larger images on Facebook ads, that is no longer the case. On click, the user is lead directly to your landing page. This is good as many people don't actually like clicking on links – they simply prefer clicking on images. If that is the case with your target audience, your click-through rate just got bumped up 😉
Tell me in the comments – what else you like about the new and larger images on Facebook?