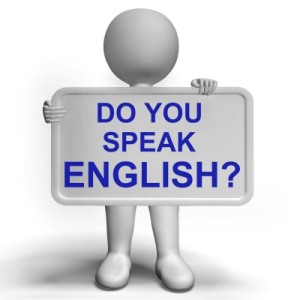 That's right – there is such thing as an English language barrier for freelancers. But I think it's pretty much misunderstood… Let me elaborate.
I often get in my mailbox the question if a freelancer needs excellent English to succeed. Truth is, like many other things in life, there isn't a right and wrong answer to this question. For example:
If you are a content writer and make your living creating content for international clients in English – well, of course you need excellent English to succeed. It is your job to know English fluently and maybe even native-like.
The situation is similar if you are a customer support representative and hope to land some freelance work in the field. There are even clients who require you speak English without an accent if you are going to answer incoming or make outgoing calls.
Any other type of profession, however, does not really require that much of fluency in English. As long as you are a professional in your field, working proficiency would be enough. This of course depends on the client. I am sure there are clients who wouldn't want to work with freelancers who are not 100% fluent in English. 😀
Why I say English language barrier isn't real for some freelancers
Let's pretend you are a designer or a programmer. Your creativity does not really depend on the level of your English proficiency, does it?! So you can be brilliant artist and barely speak English.
You should know enough English to communicate with your clients, understand their needs and assignments, work and present your work on time. I have worked before with a brilliant designer whose English was so poor that he sometimes used Google Translate to compile his emails. We never spoke – he couldn't. He could read and understand but he had difficulties writing back, too. However, he knew English enough to understand what I needed and to turn the assignments into great designs.
Fluency is way more important than vocabulary or sophisticated expressions.
In this particular case (for non-content creators) it is much more important that a freelancer knows 100 words and uses them wisely and fluently than knowing 10K words and being shy and not able to speak or write back because he or she is worried their grammar is wrong.
If you don't have any special skills and make your living with data mining, data entry, file conversion and alike, maybe you won't need English at all as your tasks would be copy-paste related. Basic English skills would be enough to understand what is required and to follow the client's instructions to the letter.
Remember that your English proficiency may be a factor in your pricing though.
Basic English skills would allow you to bid on data mining projects which are traditionally low paid (up to $5 per hour, if you're lucky). And if you have close to native English with little or no accent, you would be preferred customer support candidate at 2, 3 maybe 4 times higher pay rate. I have seen clients who prefer hiring freelancers from the Philippines with excellent English for higher hourly payment than Indian freelancers with heavy accent who ask for way less money per hour. It all depends on the needs of the project, and on the client.
In any case, if you want to handle the English language barrier – practice!
Here are a few ways you can easily practice and improve your English skills without changing too much your daily routine and habits:
Watch movies and tv shows in English with no subtitles
Watch the news on CNN or BBC instead of your local channel (provided you are outside the US)
Buy scrabble in English and play regularly with your friends, family or fellow freelancers 😉
Find a friend or a colleague who speaks English fluently and ask them to spend a few hours with you every week speaking with you in English
The more you listen to English speech, the better you will become yourself. The more you speak in English, the faster you'll forget about being shy or uncomfortable speaking in a foreign language.
Today, you are using 100 words and it takes you a lot of time thinking and structuring your thoughts (and sometimes even translating them from your mother tongue to English). In a couple of months, with practice, you will stop over thinking every single word you use and will be able to freely speak and understand others. Practice, practice, practice, consistently!
Start with this English Proficiency Test to self-assess your English level. Practice your language actively for a couple of months and take the test again. You'll see the difference 😉
The English language barrier has a lot to do with the interviews…
At least this is the most common fear among freelancers who don't feel quite confident with their English. Will the interview be a voice Skype call? Or a video call? Or a chat? Or just a few emails exchanged? I would refer you to an old blog post I've written on the topic of freelance interviews. What I would say in the context of language barrier – there is always a way to reach an agreement about it so that both parties (freelancer and client) feel comfortable.
Be realistic when you self-assess your English on your freelance profile though.
Many place 5 out of 5 stars to their English (when in realty it's not more than 3 out of 5, for instance), hoping more people will get in touch with them and give them a chance. This is a bad practice as clients who contact you because of your good English, will be very disappointed when they find out your English isn't that good at all. Even worse, both you and your client wasted your time and your reputation is soon to be ruined. Word of mouth travels fast, you know 😉
Remember: average English with limited vocabulary but great fluency and self-confidence can be just as good as excellent English in theory.
To recap…
If you are a content writer or a customer support rep, there's no need for me to tell you how to self-assess your English level. You simply need excellent English. You either have it or not. And if you do have it, most probably you won't wonder what your level is 😀
For everybody else who has their doubts, maybe you'd find interesting the self-assessment grid of the Common European Framework of Reference for Languages. There are 6 levels – A1 to C2. Let's say that the stars in oDesk are equal to A1, A2, B1, B2 and C1; C2 is basically for natives 😉 read the description of each level and decide for yourself what your level is.
Tell me in the comments – what is your English level and is it enough for your line of work?
I realize my usual readership is primarily from the US and may not have much to say on this post, but I did get plenty of questions about English language barrier from non-US wanna be freelancers so I decided I might as well put it out there, just in case 😉